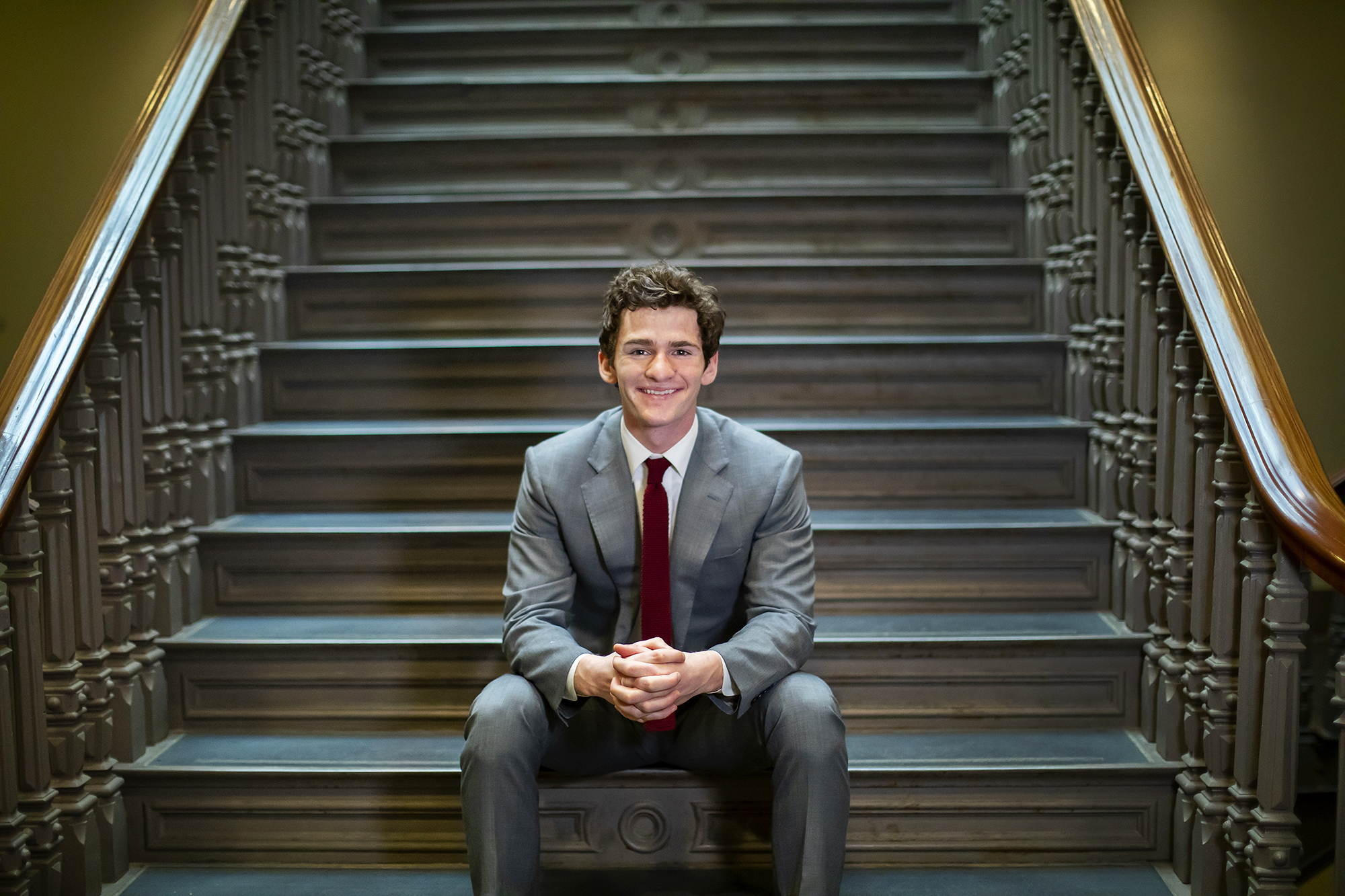 Pursuing what he loves while also making an impact in social justice has been the guiding principle for Penn senior Brendan Taliaferro.  
Last summer he interviewed more than two dozen people for his grant-funded research on Philadelphia homeless youth who identify as LGBTQ. The discoveries became his capstone project as a Penn Civic Scholar, a 78-page paper explaining the critical need for safe and stable emergency housing for LGBTQ youth experiencing homelessness.
A proposal to address that need was one of three selected for the 2019 President's Engagement Prize, an award of $100,000, and an additional $50,000 living stipend. Now in its fifth year, the prize is awarded to seniors to pursue post-grad projects with the potential to make a positive difference while also engaging community. 
"Winning this prize is a huge affirmation that as long as I'm doing what I care about I can make an impact," says Taliaferro, a comparative literature major in the School of Arts and Sciences. "I now have an incredible amount of resources at my disposal and a great security net. This is an amazing opportunity." 
Working in partnership with several Philadelphia nonprofits, his project will create a host-homes program, which will place LGBTQ youth, 18 to 25 years old, in the homes of vetted and trained adult volunteers for short periods of time. The host homes model is an innovative approach to housing youth that is now in use in several cities across the country. 
The call from Penn President Amy Gutmann came on Taliaferro's cell phone while he was walking to his work-study job in the financial aid office.  
"I started trembling and sat down on the grass in front of the LOVE statue and tried to utter a coherent response," he says, laughing. "Then I called my dad and said, 'Don't worry I have a job!' and he was super happy for me. He knows how hard I've been working on this proposal." 
The second of eight children in his family growing up in Lilburn, Georgia, Taliaferro was homeschooled with his siblings and was the first to attend his local high school. He chose Penn through the Questbridge Scholar program, which matches high-achieving, low-income college applicants to private universities. 
"The 18-year-old me could not have imagined what the 21-year-old me has been though or what he has accomplished, and I am extremely grateful for all of the opportunities I have had to grow and learn over the last four years," says Taliaferro. 
While at Penn he has been a Benjamin Franklin Scholar and a Robert Fox Leadership Fellow, in addition to his service work as a Civic Scholar. And he spends dozens of hours each week with the Mask and Wig student musical theater comedy troupe. 
A semester abroad in Paris through Penn Global helped him further his studies in French literature, leading him to write a comparative study of francophone Haiti and the U.S. South for his second thesis. He was also able to travel to Ghana to do development work in the summer of 2017, as well as work as a teaching fellow the previous summer at the Breakthrough Collaborative, an educational nonprofit that helps underserved students navigate high school and college. 
"I've always believed fervently that I should follow what I am passionate about," he says. "I feel very prepared to do this project. But mostly because I have a lot of really, really great people who are supporting me."
One of those mentors is the advisor on his project, Amy Hillier, associate professor in the School of Social Policy and Practice, along with her team of 10 graduate students, many of whom identify as queer or transgender and have experience working with homeless youth. 
"What I love about Brendan is that he listened. He was so genuine and so open to what other people thought that he got so many people to invest in this proposal, and ultimately that is critical to the success," Hillier says. "Brendan is carrying the torch, but many other people are invested in the success of this program."
Taliaferro first learned of the Host Homes model from philanthropists Arthur Kaplan and R. Duane Perry, who funded a Penn Undergraduate Named Scholarship he received for students interested in public service and LGBTQ issues.
Their conversation at a dinner two years ago is what prompted Taliaferro to use a The Hassenfeld Foundation Social Impact Research Grant through Penn's Center for Undergraduate Research Fellowships for his research in Philadelphia last summer. He conducted a systematic analysis of the network of resources for LGBTQ youth and evaluated the quality of those resources, he says. 
Taliaferro says he discovered that those who identify as LGBTQ youth comprise 40 percent of the homeless population in Philadelphia and across the country, vastly overrepresenting the proportion of youth who identify as LGBTQ within the general population.
In Philadelphia, more than 90 percent of LGBTQ youth experiencing homeless are also youth of color. Often estranged from their families and afraid of violence in shelters, they turn to living in the streets or staying wherever they can, he says. 
"This project is to offer an alternative, a safe and supportive place while they are waiting for long-term housing options," he says. "The goal is to see the youth that enter our program have improved long-term outcomes and exit homelessness." 
Taliaferro plans to use the prize to hire two social work professionals to help him create the program, working with several Philadelphia social service agencies and nonprofits and with continued advice from Hillier and her team.
"Efficient, effective homeless systems focus on housing, prioritize the most vulnerable, and ensure quality services. Brendan's partnership and project will help advance these efforts," says MaryBeth Gonzales, deputy of policy, planning, and performance management in the Philadelphia Office of Homeless Services. "We are proud to be part of this and are looking forward to next steps."
Host volunteers will open their homes to the youth for two to five months, receiving a small stipend to cover incidental expenses. Funding will go to other supportive services like therapy, health care, education, an employment program, instead of putting a roof over their head. 
The Host Homes model is "community-driven, relatively low-cost, and flexible," Gonzales says. "We look forward to implementing it in Philly."
Another nonprofit partner is The Attic Youth Center an LGBTQ youth community center in Philadelphia's Center City, which has committed to take over the program after this first pilot year. 
In the first six months, Taliaferro will work to coordinate his staff and the partners and maximize their expertise, he says. The second six months he plans to do fundraising and grant writing with the goal of making the program self-sustaining before transitioning administration to The Attic.
And after this project? Perhaps graduate school to pursue a policy or practice degree and someday running a nonprofit or foundation, he says. 
"I hope for Brendan that this will show him he can make a real contribution in social justice circles with his Penn liberal arts education," Hillier says. "I hope he will be emboldened in his ability to help change the world."