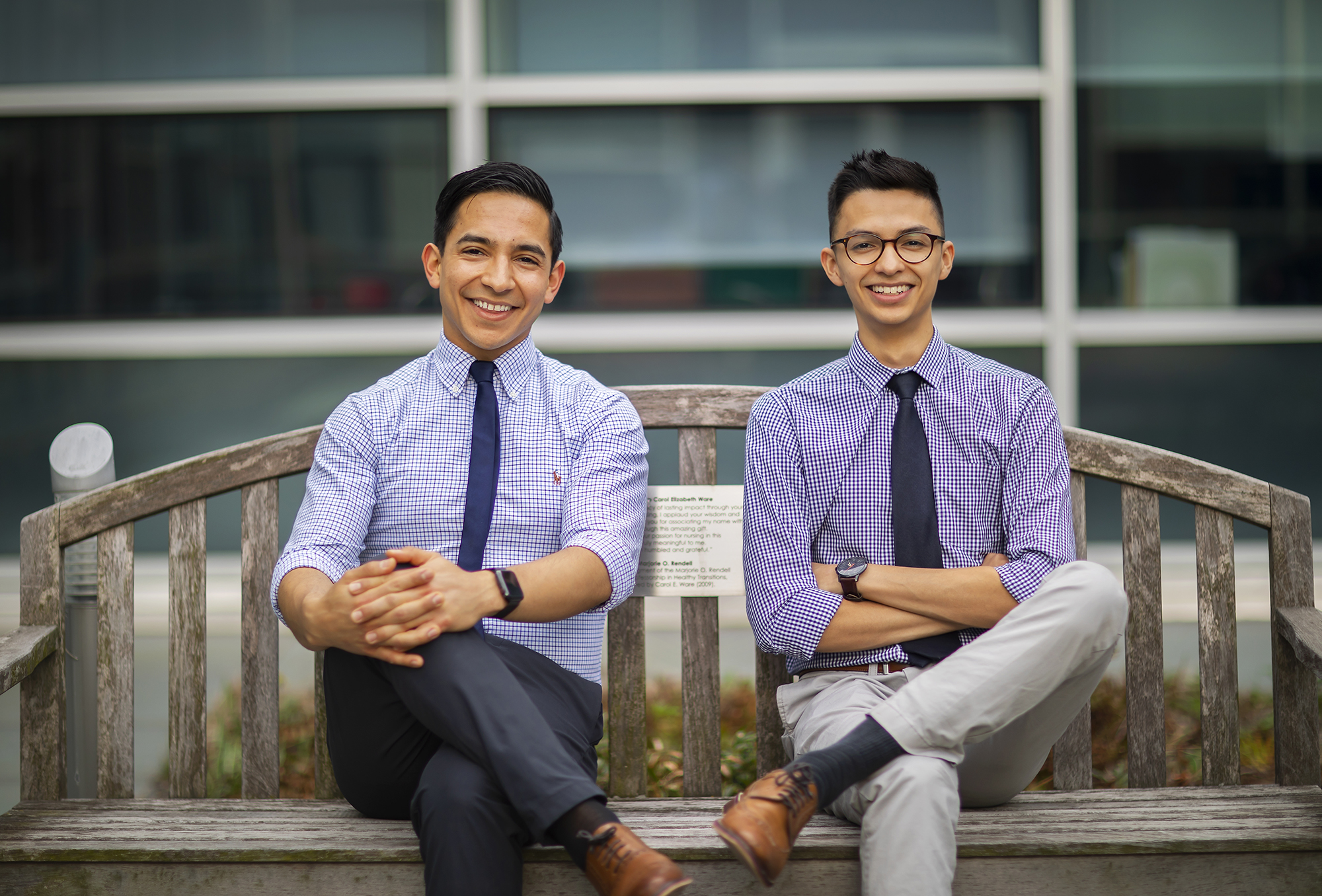 Many migrant workers in the United States won't live to age 50, a life expectancy that falls far short of the 78 that's average for the population as a whole, according to the Centers for Disease Control and Prevention. This disparity, coupled with encouragement from Penn Nursing assistant professor Adriana Perez, drew José Maciel and Antonio Renteria to the mushroom industry in Kennett Square, an hour's drive southwest of Philadelphia. 
The spot is the birthplace of modern mushroom farming and is still considered its capital today. In 2018, more than 50 farms there produced 570 million pounds of mushrooms. All that output requires heavy lifting and significant manual labor, often on hands and knees. The work is indoors, which means it can happen year-round and sometimes, under circumstances that pay laborers by crop yield rather than by the hour, they'll work seven days a week to maximize their take-home pay.
"That's where health habit neglect comes in," says Maciel, who will graduate in May with a double major in nursing and nutrition from Penn's School of Nursing. "Many of these workers have similar problems. We want to intervene at the workplace to introduce the idea of remembering and practicing healthy habits." 
Enter Cultivando Juntos or "Cultivating Together," a 10-week community-based curriculum Maciel and Renteria are building thanks to a 2019 President's Engagement Prize (PEP), a program begun by Penn President Amy Gutmann that provides a $100,000 award and a $50,000 per-student living stipend. 
The aim of Cultivando Juntos is to bring a range of subjects like nutrition and sleep directly to the Kennett Square farmworkers, reinforcing checkups and health classes already provided monthly by a local federally qualified health center called La Communidad Hispana (LCH). They'll conduct a pilot at South Mill Mushrooms farm, then use presentations recorded there for similar interventions at eight more farms. 
"We've been thinking about Cultivando Juntos for a very long time now. I packaged cherries and apples in Washington state; Antonio has family members in the packing industry," Maciel explains. "The farmworkers are trying to work as much as they can to support their families. Our program aims to promote diabetes prevention, heart disease prevention, and help with mental health issues as well. We want people to feel like they've saved rather than lost time." 
It can be a challenge for perceived outsiders to make inroads with a tightknit community like the mushroom farmworkers, many of whom are Hispanic immigrants. But Renteria and Maciel had an advantage: Perez, whose research partially focuses on aging farming populations, has been working with LCH for the past two years to implement "chequeos breves," brief wellness exams conducted onsite at mushroom farms. "We've been successful in getting the farmworkers to engage and establish primary care, but there was a missing piece around how to provide follow-up education and support to reduce cardiovascular risk factors," she says. 
Perez brought the Penn students into the fold, and the trio started meeting months ago, spurred by similar backgrounds and a mutual desire to help this particular population. "Being bilingual and bicultural really brings a level of skill that is so needed in this community," Perez says. "Plus, José and Antonio are both young men and nursing students who will soon be graduating. Less than 11 percent of the nursing workforce is male, and with most farmworkers being men all of this began to resonate." 
Though they're still finalizing intervention specifics, Renteria and Maciel envision a unique setup that builds a rapport with the target audience, enticing potential participants to after-work classes by providing a preview—a sample of the food they might learn to cook, for instance—during lunch and breaktimes. The format will follow that of the well-established Complete Health Improvement Program but in Spanish rather than English. 
The methodology and the idea as a whole seem to be resonating with the farmworkers. "Many individuals have expressed interest in wanting to break from their routine of waking up, working, going home to sleep, and doing it all over again," says Renteria, who will also graduate in May with a double major in nursing and nutrition. 
He tells the story of one particularly passionate farmworker who took their form, disappeared for a few minutes, and then returned with two pages full of signatures from people interested in what Cultivando Juntos was offering. "The paper was covered in mushroom dirt. It was a special moment for us," Renteria says. "We're not just moving ahead with what we think are the solutions but in a way that could actually alleviate some of these disparities." 
It's something Perez takes quite seriously. As a PEP mentor, she understands that Cultivando Juntos is representing Penn, but she also grasps that the project could save lives. "These are two young people I feel are going to make a long-lasting impact in this community and beyond," she says. "These are the kinds of efforts that can help farmworkers in America live longer, healthy lives."
For their part, Renteria and Maciel are already thinking beyond their year in Kennett Square. "We want this to be a sustainable program," Maciel says. "We're hoping to use technology to our advantage, to do this in a way that's easily replicable, not just in Pennsylvania but in other places like Washington, which is my home state. We're trying to publish research and make this an upstream intervention, to lead to policy changes and sustainable outcomes."  
Adriana Perez is an assistant professor of nursing in the School of Nursing and a senior fellow at the Leonard Davis Institute of Health Economics at the University of Pennsylvania. 
Six Penn seniors, including José Maciel and Antonio Renteria, were named recipients of the 2019 President's Engagement Prize. Awarded annually, the prizes empower Penn students to design and undertake post-graduation projects that make a positive, lasting difference in the world. Each prize-winning project will receive $100,000, as well as a $50,000 per-student living stipend.