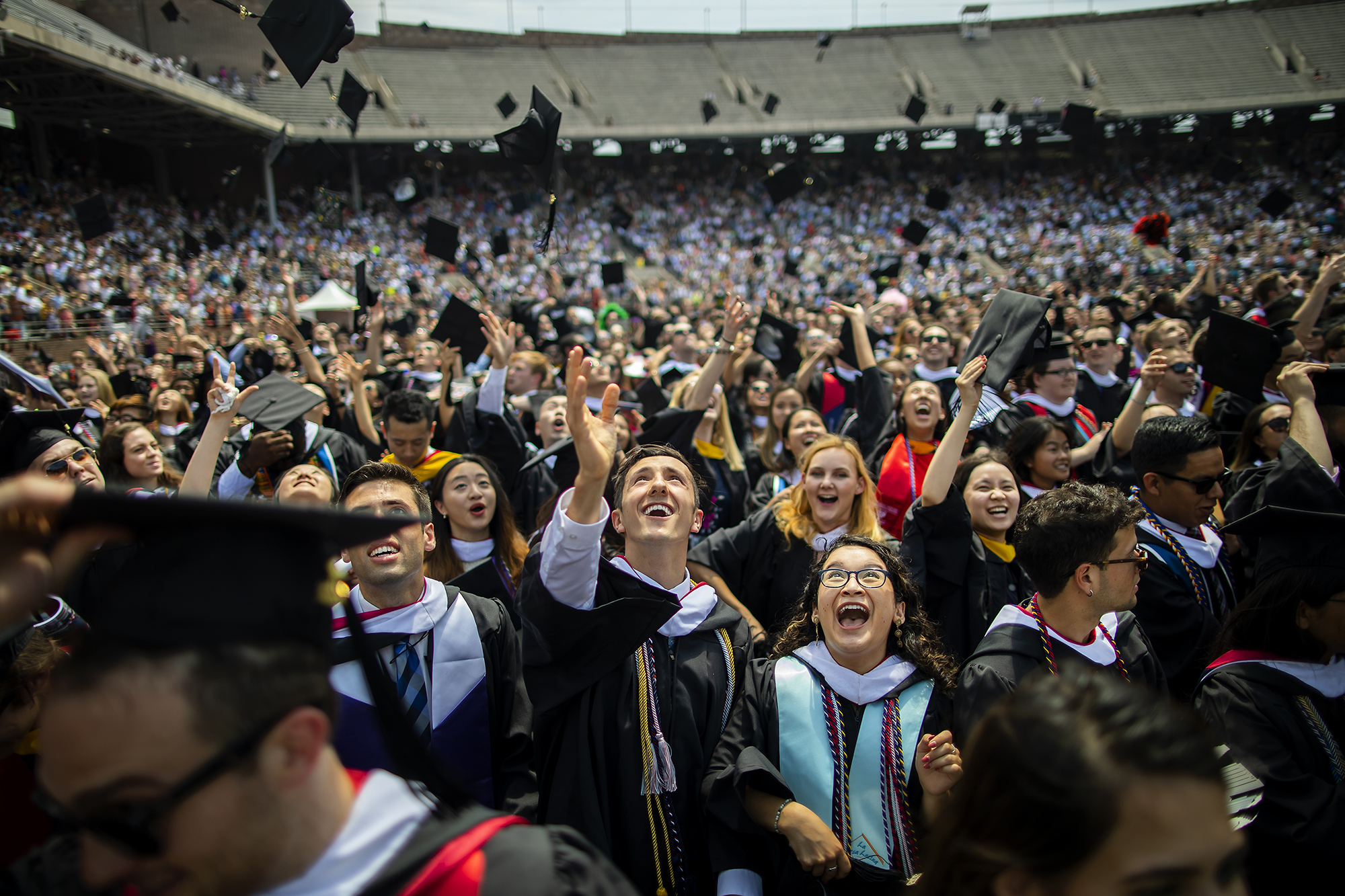 Clad in their caps and gowns—and wearing enormous smiles, too—Stefanie Wang, Xuerui Fa, and Grace Hua were chatting near the Covenant statue as they geared up to stroll the length of Locust Walk Monday morning. 
The trio, from Michigan, Canada, and Taiwan, respectively, were ecstatic to graduate together.
"It's incredible," said Wang, a computer science and cognitive science major, "especially to be here with the people I met on the first day of New Student Orientation." 
With a nod to both Wang and Hua, Fa, a computer science and economics major, noted how grateful he is to have met such close friends so early on at Penn. "I know I'll be hanging out with them for the rest of my life," he said.
"It's so surreal," said Hua, an international relations and philosophy major. "There's a lot of excitement in the air, it's a beautiful day, but I don't think that it's fully sunk in yet that we're graduating."
By 10 a.m., Wang, Fa, and Hua were filling into a sunny Franklin Field with at least 5,000 other Penn graduates for the University's 263rd Commencement ceremony; the stadium's bleachers already packed with family members, friends, faculty, and staff. The students would be part of the community that conferred, this year, eight honorary degrees, to Bryan Stevenson, Jon Bon Jovi, Temple Grandin, Richard G. Lugar, Denis Mukwege, Laurie Olin, Neville Earl Strumpf, and Jill Cornell Tarter. 
Ifeanyi Awachie, who flew all the way from London to see her sister Tochukwu Awachie graduate with her bachelor's in psychology, found some shade in the stands, alongside their other two sisters and brother, who traveled with their parents from their hometown near Atlanta. 
"This is our third college graduate in the family, and it's really special," Ifeanyi Awachie said. "We've been loving catching up over meals at Sabrina's Cafe and going around campus and seeing everybody, and meeting [Tochukwu's] friends."
It's inspiring, she said, to see her sister "come into her own" living in Philadelphia, and "going on a journey to discover what she wants to do with her life."
New York City-native Andrew Fischer, who majored in computational biology and computer science, had a similar experience of evolution, said his proud Penn parents—his mother taking her sunglasses off to wipe a joyful tear from her eye.
"It probably has been one of the greatest and most formative experiences both for him and for our family," says Howard Fischer, Andrew's father, who graduated from Wharton in 1984. "For him to grow so much and be such a fine and solid citizen, this place really helped make him that person."
Growth is, indeed, what college is about. It takes students out of their comfort zones and intertwines them into a new, influential world, boosting them for a future where they have the ability to have a positive impact like never before. (Consider, for instance, this year's President's Engagement and Innovation Prize winners.)
President Amy Gutmann, addressing the crowd, told her own, unique—but also familiar for many Penn students—story of going off to college as a first generation, low income student.
"As a scholarship student, suddenly, I was surrounded by people who were so astoundingly rich," she said. "I was also fascinated by other differences—different faiths, politics, ethnicities, and cultures. 
"Sure, at times it was uncomfortable," she continued. "There were many moments I wanted to turn around and go back home … but like every one of you, I made the best, most important choice of my life: I would pick up the threads of differences to weave myself a new community. 
This would become my cause, my mission, my identity. I had found my purpose, rooted in beloved community."
Talking with Ernestine Warner, from Freeport, New York, her son surely found his community at Penn. It was one that balanced academics with athletics, as Jared Warner graduated with a bachelor's from the School of Arts and Sciences and played on the men's lacrosse team. 
"It's been a very busy four years, but I think that he thoroughly enjoyed it," said Ernestine Warner, proud of her youngest son. 
Tracy Auerbach, who graduated with her bachelor's in French and Francophone Studies, defeated the odds of returning to Penn after taking a 29-year hiatus. Since 2016, she was a part time Liberal and Professional Studies student, balancing school with work and a family.
"It always really bothered me that I never finished school," she said. "Coming back to Penn when my children were adults and had already graduated college, themselves, was the sweetest chapter by far of my education. I savored every minute of it and it felt somewhat decadent—learning for the pure love and joy of learning."
"We're so proud of her," said Auerbach's cousin Samantha Vander Wielen, who was beaming. "And we are so excited for her for this accomplishment." Wielen joined Auerbach's husband, son, daughter, mom, sister (who flew in from California), 92-year-old uncle, friends, and an old college roommate to celebrate the newest Penn grad in the bunch.
"Each and every one of you today left behind comforting familiarity to come here to Penn," said Gutmann, looking out at the students. "You embraced a more intellectually challenging, inclusive, and demanding world. You have woven a rich tapestry of friends and memories."
Now, the task Gutmann placed before everyone: To stay at the loom. "Speak out and stand up. Weave together a world better, freer, and more inclusive.
"There are many overlapping and intersecting threads woven into a beloved community of humankind," said Gutmann. "Together you weave that beautiful, beautiful multi-faceted garment of human destiny, empowered by your Penn education."
In line with Gutmann's charge, Stevenson, an honorary Doctor of Laws degree recipient, and best-selling author, public interest lawyer, and advocate, delivered an inspiring Commencement address.
Bioengineering graduate Maddie Paliganoff, for one, took Stevenson and Gutmann's messages to heart, she said, as well as the wise words expressed during Commencement by Steven Kimbrough, chair of the faculty senate, and the Rev. Charles "Chaz" Howard, the University's chaplain. 
"Our world needs individuals who aren't afraid to take risks," said Howard. "So go forth fearlessly. Go and fail gloriously, learning from the missteps we all inevitably take."
From St. Charles, Illinois, Paliganoff has plans to pursue her master's in engineering at Penn next year. One piece of advice she takes with her from her undergraduate experience, she said, is to "never give up."
"Don't stop trying," Paliganoff continued. "Remember where you came from. And, keep moving forward because everything goes up from here." 
View the entire photo album on Flickr.