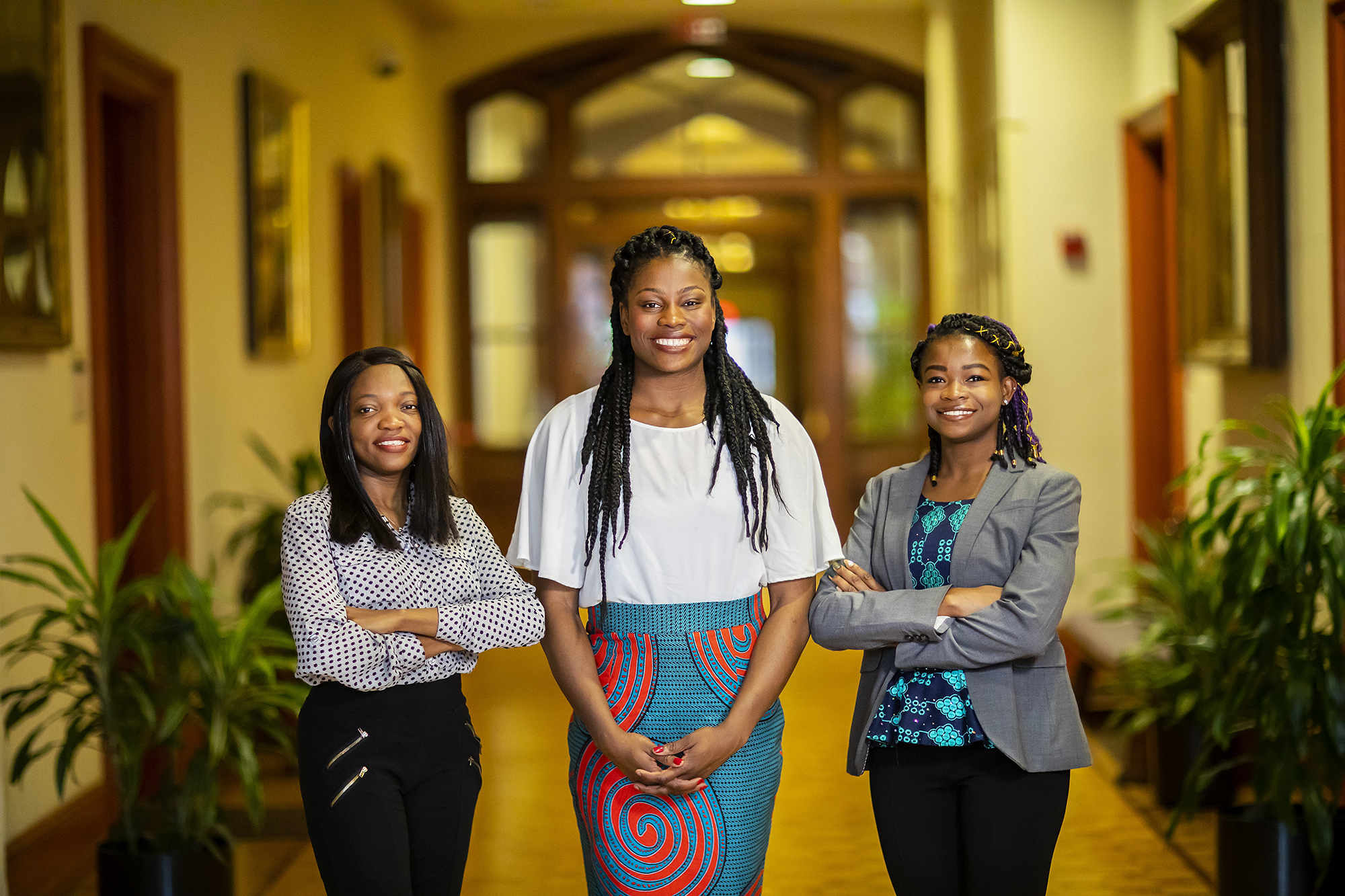 Fueled by the encouragement and support they received this spring and summer, the three Penn alumni behind Rebound Liberia are now laser-focused on carrying their mission of promoting education and empowerment straight to the basket.
The Rebound Liberia team is led by Princess Aghayere, Oladunni Alomaja, and Summer Kollie, all May Penn graduates who received the President's Engagement Prize—a $100,000 project prize and $50,000 living stipend per team member, awarded for post-graduation projects that make a positive, lasting difference in the world. The trio, each of whom has connections to West Africa and strives to give back, proposed an NGO that would bridge the literacy gap in post-conflict Liberia between male and female youth through workshops and a basketball program for women.
On Sept. 4, after months of preparation, the team relocated to Monrovia, Liberia, and is settling in.
"I think there's some cultural shock," says Aghayere, musing about the adjustment. "But Penn is a great place to travel and a lot of us took advantage of opportunities to travel. I'm not surprised, because this is not my first time on the continent, but there are things unique about Liberia. Getting used to the accents, the weather, the currency—but it's fun."
Aghayere and Alomaja were born in Nigeria, while Kollie is from Liberia.
Their days so far, they explain, have been consistently jam-packed with meetings. At present, they're planning an inter-school basketball tournament to introduce their program to Liberia; in recent weeks, they've made connections with school administrators, found their footing in the community, and worked through the logistics of organizing a tournament—which, they note, they had some practice with in 2018, creating a summer basketball clinic in Monrovia, Liberia, for girls that was hosted twice a week.
The upcoming tournament, which will include 120 female players on Nov. 22-24, represents a first step toward their larger intention to build a basketball court and program, and marry that with literacy resources. They aim to serve approximately 60 girls in their program. 
"We didn't think it would be wise to move in September and not have an event until the next June or so, so we thought [of] the tournament," says Aghayere, explaining the origins of the tournament. "At first, we were thinking we'd have a team and foster the game amongst girls here in Monrovia, and we wanted to include a lot more girls and create this sort of league of our own while introducing ourselves as this new social enterprise in Liberia. We thought a tournament would be a launch of Rebound Liberia and introduce us to the community here."
The basketball program, she says, is an ongoing development that will continue to flesh out as they learn more about the area's needs and receive feedback from the tournament.
"We want to start recruiting for girls in January and look into developing partnerships with some local partners like the YMCA," adds Kollie.
The curriculum of the program will be decided in January as recruitment kicks into high-gear. One change in their project since its inception, Aghayere says, is a shifted and narrowed focus to ninth- through 12th-grade girls.
"We started off wanting to improve literacy and it's still a big part of who we are," says Aghayere. "After being here for a while, we hope to give them the skills they need to be competitive for opportunities post-high school."
They've also been communicating with another organization in Liberia, Smart Liberia, to understand how they can best contribute to this effort. That exchange of information has also been helpful to know what pitfalls to avoid and learn faster.
Too, they've been able, this summer, to assemble a board of directors and an advisory board, formed with several Penn alumni.
Ocek Eke, the director of global and local service-learning programs in the School of Engineering and Applied Science and mentor to Rebound Liberia, was involved with the team as they previously renovated a basketball court in Monrovia and hosted the basketball clinic for girls. He's maintained regular communication with the team, offering advice on hiring decisions and logistics of organizing.
"It's their poise and determination to get the project done [that impresses me]," he says. "The commitment. They're all-in. And the fact that they're now doing it, that's probably fulfilled. And of course, the mission itself, if you look at President Amy Gutmann's vision for creating the prize, I think we are focused to make sure her investment and trust of us is not wasted."
Aghayere says they've felt especially well-groomed for interacting with different cultures as Penn alumni, and laughs that many are taken aback by their background.
"I think people are surprised by how young we are," she says. "Or that we're young and female but always show up making sure we have all our paperwork, are super-prepared, and have everything in plain sight.
"That's something we all took away from Penn."
The group encourages the Penn community to learn more about the project's progress and get involved at ReboundLiberia.org.