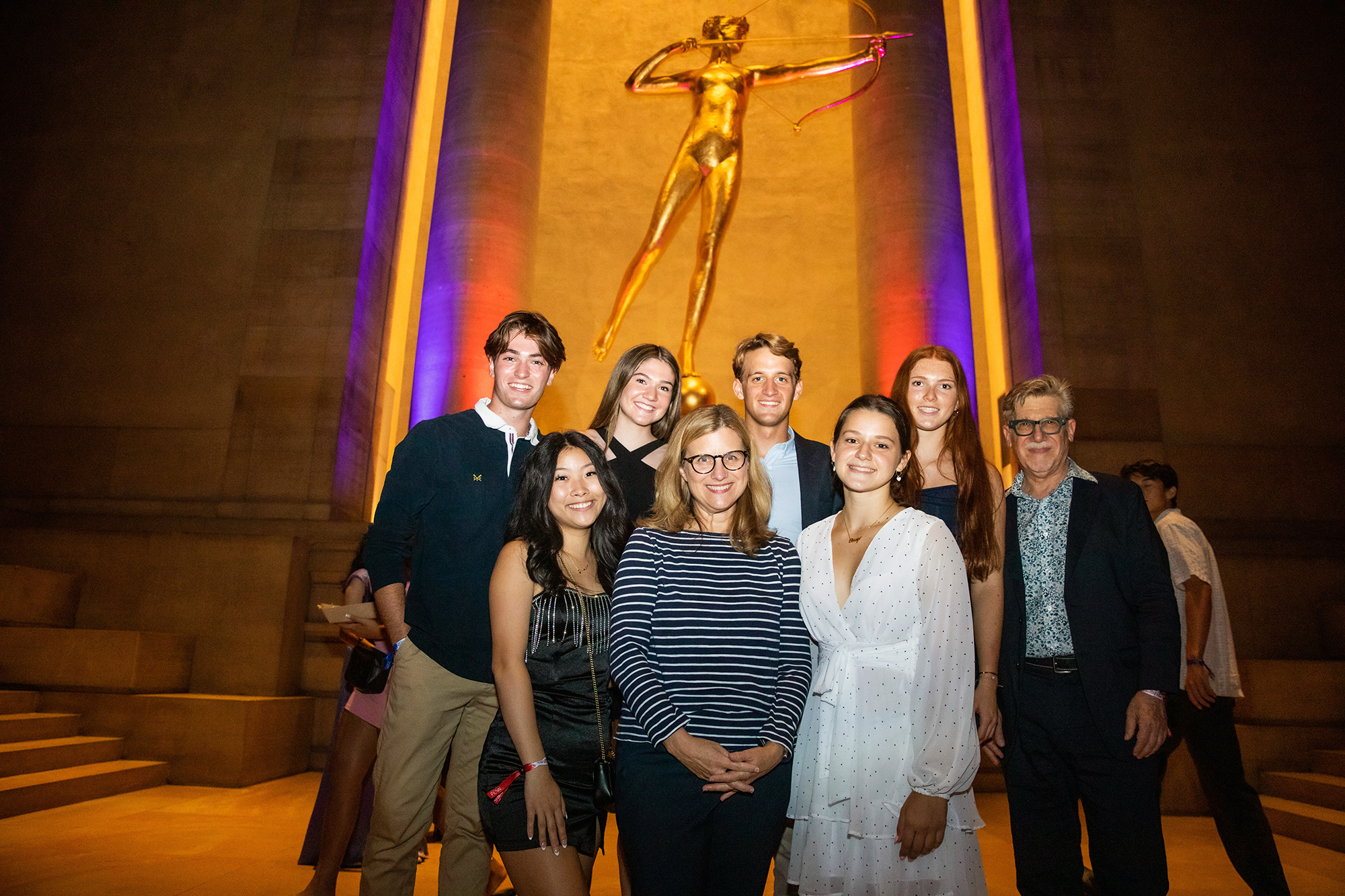 From small get-togethers in their College Houses to late-night activities fairs to dinner and dancing at the Philadelphia Museum of Art, the University of Pennsylvania Class of 2026 had dozens of opportunities to get to know the campus, the city, and each other during New Student Orientation (NSO). President Liz Magill, herself new to Penn, attended many of the NSO events, meeting students and their families.
The calendar had 168 events listed over nearly two weeks, and many more events were held specific to each College House. This has been the first full in-person NSO experience since 2019; it was all online in the fall of 2020 due to the pandemic and hybrid with pandemic safety restrictions in the fall of 2021.
"Over the course of the past couple of years, we learned a lot about how students want to experience NSO," says David Fox, director of New Student Orientation & Academic Initiatives. One of the lessons, he says, was to plan more small-group experiences.
"I always think there's a lot of excitement to being in Irvine Auditorium and seeing so many of your fellow students at the same time. There's a kind of an energy to it," Fox says. "But I also think that a lot of informational sessions and sessions that are exploring significant ideas are better done in small groups."
Many of those group get-togethers were in College Houses, to build communities where they live. Of the 13 undergraduate College Houses, first-years live in nine, five for first-years and four for students in all four years, according to Penn Residential Services.
Some events are mandatory, like welcome events to introduce key campus agencies aimed at health, safety, and well-being, and NSO adopted a schedule that was more modular this year, allowing students more flexibility in choosing when to attend, Fox says.
But most were opportunities to explore, from picnics on College Green to preceptorials in College Houses taught by Penn faculty. "My NSO Calendar," a customized list of mandatory events for each student, available by logging in with their personal PennKey, made scheduling easier.
The "signature events" included the First-Year Family Welcome and Highball to Hey Day, a carnival to learn about Penn traditions; three late-night student activities fairs, from 11 p.m. to 1 a.m.; an evening gala at the Philadelphia Museum of Art; and a first-year class photo, with students creating the numbers 2026 on historic Franklin Field.
Student Performing Arts Night showcased more than 50 dance, music, comedy, theater, poetry, and student performing arts clubs at Penn. And the Kelly Writers House had a "Speakeasy" open mic night
Civic engagement was a continuing theme threaded throughout the week's events, Fox says. During a Penn Engagement Presentation, moderated by Karen Detlefsen, vice provost for education and professor of philosophy, first-years heard from Penn students who have enhanced their education through engagement in the community.
"We want to give students a sense of the many opportunities out there to engage in community service," says Fox. "When you come to Penn you are also coming to Philadelphia, and you are a Philadelphian."
While the Class of 2026 includes 149 students from Philadelphia, most of the 2,417 first-years will be living here for the first time. To acclimate those new to Philadelphia, NSO includes walking tours of about a dozen neighborhoods. "I'm a great lover of my adopted city, and I really want students to get to know Philly, not just life on the campus but life in the city," says Fox, who moved to Philadelphia 32 years ago from Los Angeles.
Saturday evening's gala at the Philadelphia Museum of Art is the "crown jewel" of the introduction the city, Fox says. The event includes dinner and dancing and free admission to roam the building and view the collection. The museum's hilltop location affords panoramic views of the Benjamin Franklin Parkway and Center City, the boathouses along the Schuylkill River, Fairmount Park, and Penn's high rises. Says Fox, "You can see the campus and the city joining forces."