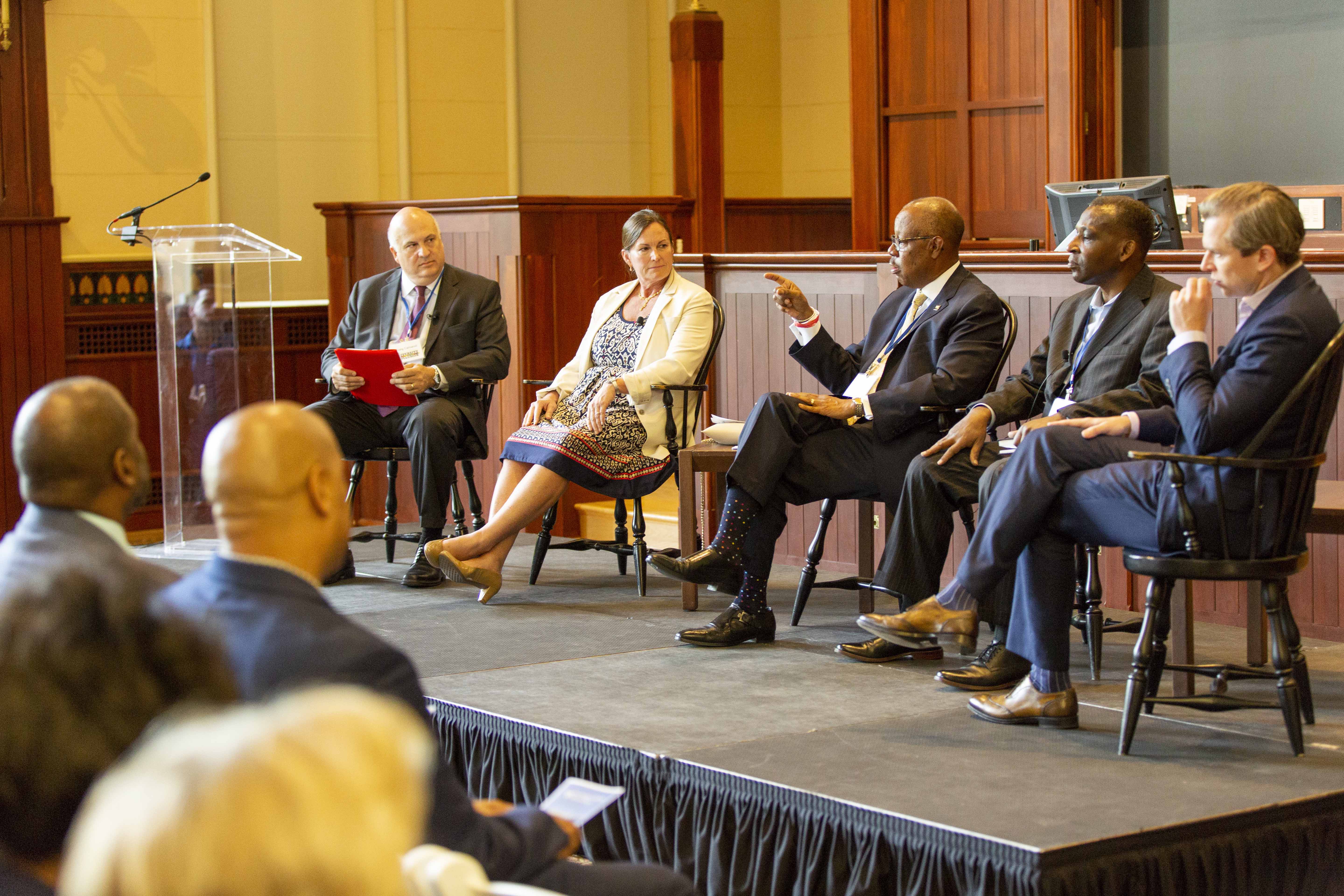 To raise awareness about the University of Pennsylvania's goals and objectives around supplier diversity, inclusion, and innovation, Penn hosted the second annual  Penn Supplier Diversity Forum & Expo on May 23.
More than 200 local LGBTQ, women, and minority-owned businesses, Penn buyers, and small business development agencies and organizations attended the morning panel discussion, with many more in attendance at the afternoon Expo.
The celebration of supplier diversity on campus and in the City of Philadelphia aims to strengthen the buyer-supplier network, communicate best practices in the business community and reaffirm Penn's goals and objectives to promote supplier inclusion and diversity.
In a video welcoming participants to the Forum, Penn President Amy Gutmann said that Penn places a high priority on advancing purchasing opportunities from diverse local suppliers, "Diversity and inclusion go together with world-class excellence."
She shared facts and figures related to doing business with Penn, Philadelphia's largest private employer:
Penn's supply chain generates 53,000 jobs within the region.
 
The annual impact of Penn's purchasing is more than $500 million in regional based business.
 
In West Philadelphia alone Penn spent $135 million with community based businesses just last year.
"We want to make sure that [that] tremendous economic activity finds its way to the most diverse and the best talent pool available," said Gutmann.
Craig R. Carnaroli, Penn's executive vice president, moderated the Forum at which panelists shared their perspectives on successful strategies that drive supplier diversity and inclusion in Philadelphia.
Celeste Corrado, director of the Wharton Small Business Development Center; Harold T. Epps, Philadelphia Department of Commerce director; Evan Urbania, CEO and co-founder of ChatterBlast Media, and Lin Thomas, founding chairman and CEO of SUPRA Office Solutions, Inc. and chairman and CEO of EMSCO Scientific Enterprises, Inc., addressed attendees.
Thomas has had a long career in companies that support hospitals and universities in science and technology sectors. When he sat in the audience at Penn's inaugural Diversity Forum & Expo in 2017, the minority business owner set a goal for himself to be invited back this year as a panelist.
In addressing the group, he emphasized the importance of developing longstanding relationships with central purchasing offices at large, complex organizations, like Penn.
"We had to prove ourselves capable and experienced," he said. "The University of Penn made us credible...whenever we say to someone that the University of Penn is our customer, that closes the deal in terms of credibility."
A poster session preceded the Forum. Participating organizations included the Asian American Chamber of Commerce of Greater Philadelphia; Greater Philadelphia Hispanic Chamber of Commerce; African-American Chamber of Commerce; Independence Business Alliance (Philadelphia's LGBT Chamber of Commerce); The Enterprise Center, (a Minority Business Development agency); Wharton Small Business Development Center; Netter Center for Community Partnership, and the Economy League of Greater Philadelphia.
The outdoor Expo outside College Hall was a highlight of the day.
Under a huge, white tent, approximately 40 diverse, local suppliers set up shop at tables and stands. They passed out brochures and office supplies as well as food and beverages for the Penn buying community and business representatives to sample while networking.
To conduct business with Penn, suppliers must be approved by the University and be listed as an approved supplier in a process facilitated by Penn Purchasing Services.