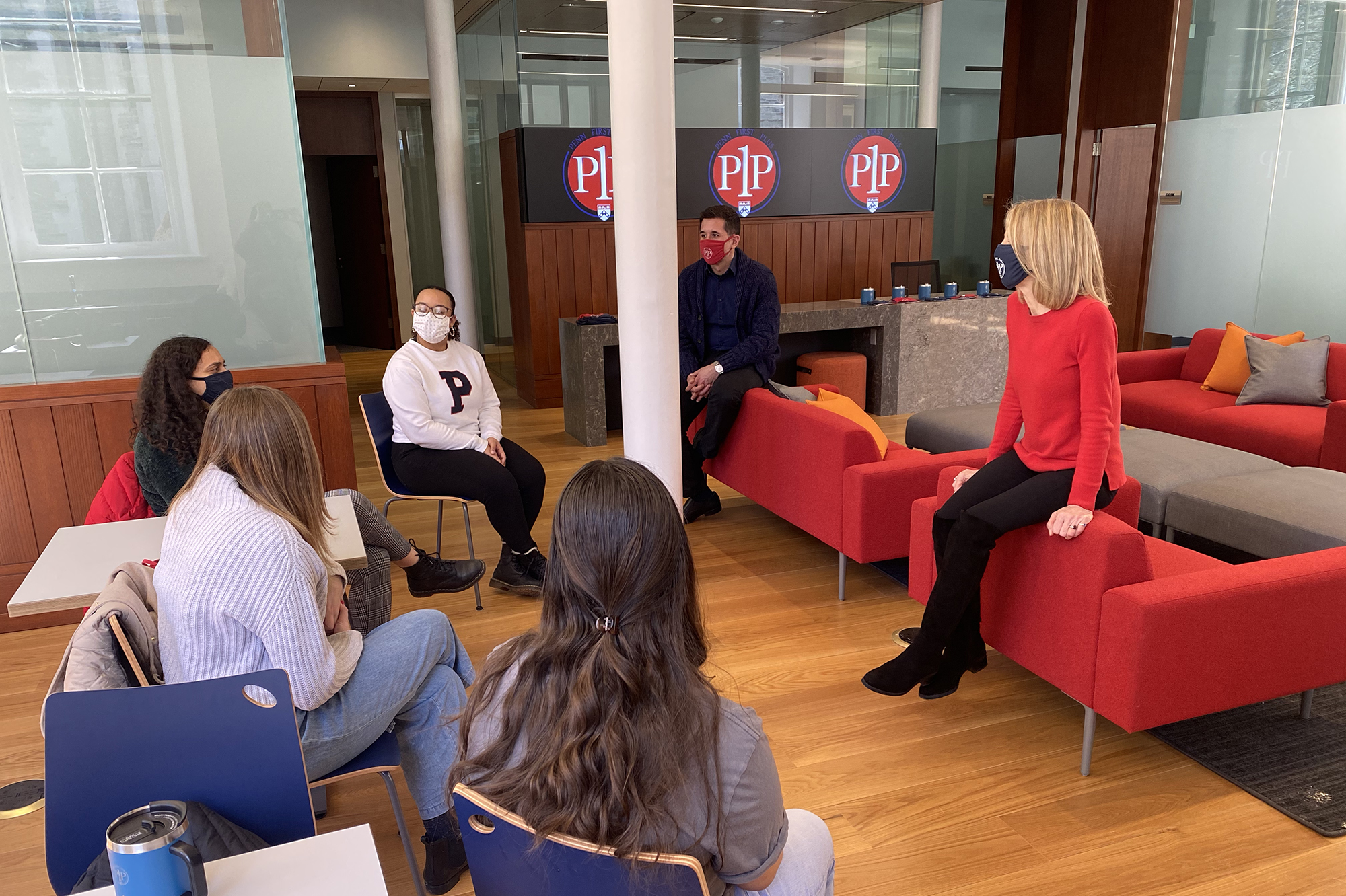 The University of Pennsylvania today announced an inspiring $18 million gift from Scott and Elena Shleifer to increase its support and critical resources for students who are in the first generation of their family to attend college and/or from households of modest or limited income. This philanthropic support for Penn First Plus (P1P) will have a transformative impact on the program which directly affects many Penn students. Nearly 20% of undergraduate students benefit from the Penn First Plus program, and this academic year, one in seven first-year students at Penn are first-generation to attend college.
Penn First Plus was created in 2018 by Penn President Amy Gutmann and leaders across the University to ensure all students—regardless of financial or family circumstances—can experience the full breadth of a Penn education. It is a comprehensive and multifaceted initiative featuring financial, academic, and programmatic elements, with a dedicated physical space in the heart of campus. That space, in Penn's iconic College Hall, will now be known as the Shleifer Family Penn First Plus Center.
"I am thrilled and profoundly grateful to Scott and Elena Shleifer for their amazing commitment to support such an important University priority as Penn First Plus," said Gutmann. "As a scholarship recipient myself, I know how significantly student aid changes lives. I also know that tuition support alone is often not enough. This gift will enable our University to foster an ever more welcoming and inclusive learning environment to prepare all Penn students for successful lives. We are proud to have the Penn First Plus Center bear the Shleifer Family name."
Increasing access and bolstering student aid have been fundamental priorities for the University during President Gutmann's tenure. The Shleifers' gift is one of the most transformative investments Penn has received for this community of undergraduates. It provides stable funding for the program through endowment, as well as incentive for others to join them in this effort. Their gift includes the creation of a unique challenge fund to offer a match to donors who establish financial aid endowments for Penn First Plus initiatives.
At the Shleifer Family Penn First Plus Center, students in the Penn First Plus community can access comprehensive resources from across the University. They can also meet with Penn First Plus professional staff and connect with experts in academic support, financial aid, wellness, and career services.
The Penn First Plus office is led by Executive Director Marc Lo and Faculty Co-Directors Camille Charles, Walter H. and Leonore C. Annenberg Professor in the Social Sciences, and Robert Ghrist, Andrea Mitchell University Penn Integrates Knowledge Professor of Mathematics and Electrical & Systems Engineering. These renowned Penn professors work with faculty to create an enhanced awareness of the attributes of Penn First Plus students. Their peer faculty trainings cover college transition, promoting academic success, and fostering a sense of belonging on campus. The Faculty Co-Directors and Penn First Plus Executive Director also advise the Pre-Freshman Program, which prepares students for their undergraduate experience through a four-week summer immersion into Penn's campus life and academic rigors.
"Our purpose is to ensure that any student, from any background, can make the most of a Penn education," said Lo. "With this phenomenal gift, we expect to deepen our efforts to enhance student academic achievement, create more opportunities for students to find community and a sense of belonging, increase participation in extracurricular experiences, and, of course, provide more relief to the financial pressures of college. We thank the Shleifers for elevating our ability to provide these unique and holistic services for students."
"Every student deserves the chance to have the best undergraduate experience possible," said Charles. "This remarkable gift not only strengthens the foundation of this program, but raises the ceiling for what we can do to fulfill its vital mission."
"Over the past few years, we have seen so many Penn First Plus students building a sense of confidence and belonging at Penn. These students earned their admittance at Penn and they, like all students, deserve the support that will propel them to success," said Ghrist. "The best part is, we are just getting started."
An important component of the Shleifers' gift will expand financial aid, which marks the cornerstone of Penn First Plus. Of Penn's nearly 10,000 undergraduate students, approximately half receive need-based financial aid. Ten percent receive the University's most generous and comprehensive financial aid packages for highly-aided students, covering needs such as laptops, holiday break meals and travel, emergency grants, and funds for summer internships, research, study abroad programs and academic courses.
"Attending Penn had an enormously positive impact on my life. I am incredibly grateful for the opportunities this great University opened up to me, and it is my privilege to help provide the same opportunities to other students," Scott Shleifer said. "Elena and I hope this gift enables many more bright young minds to benefit from a Penn education so they can create the best lives for themselves and their families for generations to come."
Scott Shleifer is a 1999 graduate of the Wharton School. He is a Partner of the investment firm Tiger Global Management and a cofounder of its venture capital business. Scott and Elena Shleifer's other gifts to Penn include several undergraduate scholarships, as well as support for the Graduate School of Education, the Wharton School, and other University-wide initiatives.