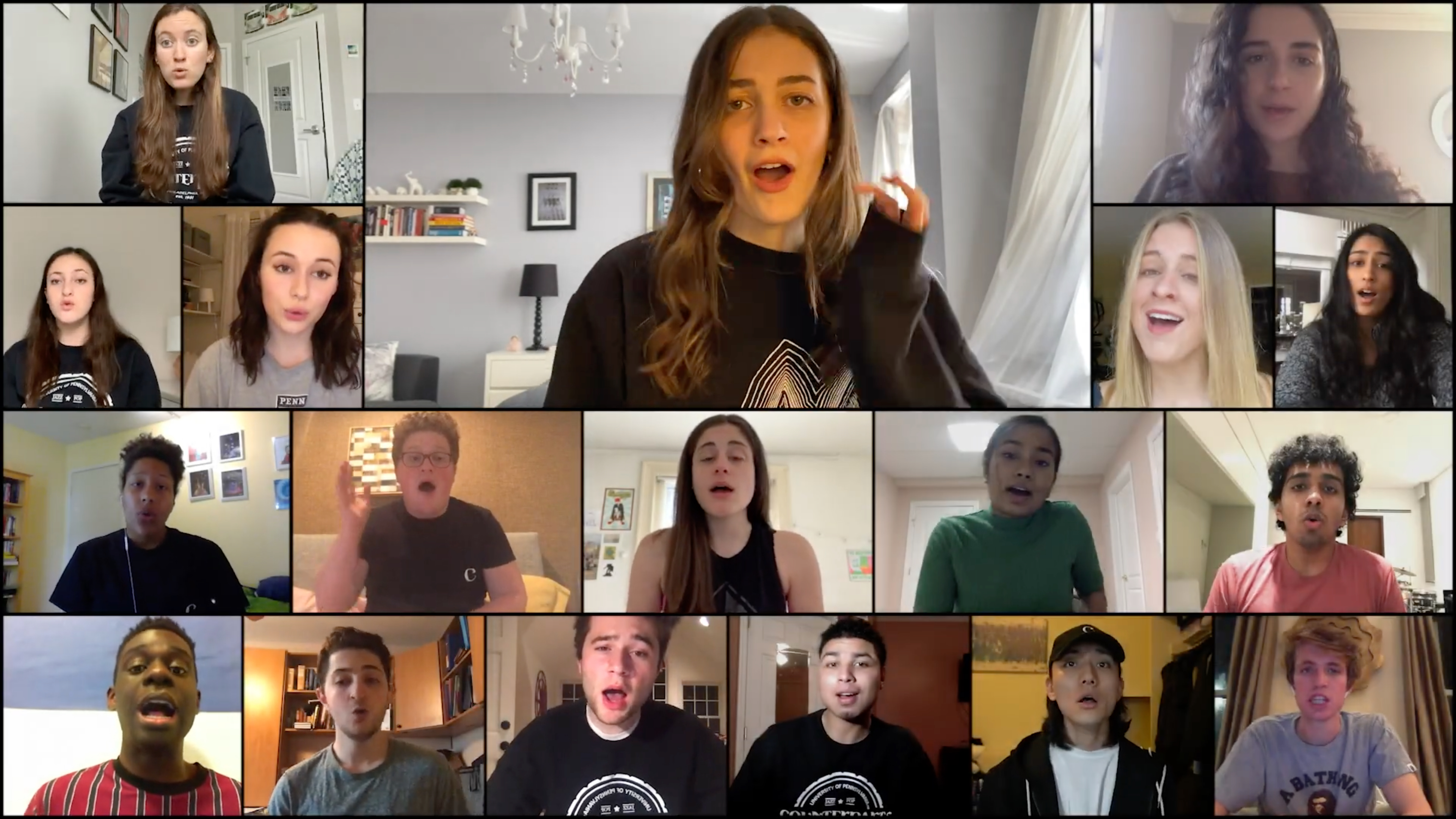 This spring and summer the student Performing Arts Council has been working with the Platt Student Performing Arts House to encourage and support the hundreds of Penn performers involved in student-run groups, finding ways from afar to promote their work on social media and stay engaged.
As the groups faced the cancellation of spring shows, they regrouped to create works that could be performed remotely. Many of them decided to highlight graduating seniors, and others have been working on fundraisers and matching gift campaigns for nonprofits. These efforts first focused on fighting COVID-19 and shifted to address racial injustice. Throughout, the Performing Arts Council, known as PAC, and the Platt House have continued to reach out to groups individually and as a community to offer support and encouragement. 
Responding to the changing needs of student performers has been key. Last week, the Platt House held a public "community check-in" videoconference with staff and PAC leaders to listen to concerns and to reaffirm their continuing commitment to accountability, visibility, transparency, and inclusivity with our current and future programming.
"We are so incredibly proud of this community for coming together to raise both awareness and funds to support Black Lives Matter, bail funds, and many other organizations that battle racial injustice," says Platt House Director Laurie McCall.  
"There is also a clear effort to educate, not only about the issues of white supremacy, but to spotlight Black artists throughout history. Our students are inspirational and give me hope for a brighter and more equitable future."
There are 47 student performing arts groups under the PAC umbrella that involve more than 1,000 students: 15 a capella, 12 dance, seven theater, and the remainder groups of singers, musicians, and comedians, McCall says. There are another 30 groups on campus that are not part of PAC but that sometimes come to Platt for support and guidance, she says. 
For one a capella group, Spring Break turned into a recording opportunity. During that time, the Penn Counterparts were at the Los Angeles home of a tenor in the group, Henry Platt, now a rising senior. His parents, alums Marc and Julie Platt, for whom Platt House is named, had invited the members to California in place of performing in London on a tour with Penn President Amy Gutmann, cancelled due to pandemic travel restrictions. When they learned that the rest of the spring semester would be remote, they spent the rest of the break recording four songs featuring solos by seniors Liza Babin, Rachel Baum, Caroline Terens, and Kwaku Owusu. 
Since then, as the University moved online, McCall and her staff have had a virtual open door. With all the spring shows cancelled, Platt House helped the groups work with licensing agencies about rights to shows and helped them tie up financial loose ends, McCall says. 
"They were so upset about not having their shows," McCall says. "A lot of the students really had a hard time at first." 
Then, as the pull of performing grabbed hold. the groups started putting their energies toward transitioning to an online format. The Platt House launched an online show, #PennsGotTalent, encouraging performers to make a video and send it in to be broadcast on social channels. 
"It started with the Penn Band," McCall says, referring to the first Penn Band video of a virtual performance featuring several members drumming on different objects around their homes. The band then created a "social distancing series" playing the songs "Joshua" and "Push It" and finally "Fight on Pennsylvania" and "Cheer Pennsylvania" that featured senior members.
Several of the a cappella groups worked remotely through videoconferencing to make arrangements and hired professional mixers to create a synchronized, harmonious video, or put the videos together themselves and posted them to their websites and social media.
"A lot of us started to recognize that there was a big push by people to be creative. When you realize other people want to see what you are doing, it was a positive balance, and more wanted to do it," says PAC executive board member Hannah Paquet, a rising senior from High Ridge, Missouri, who is a cinema and media studies and communications double major. "While we can't do it in the traditional way, the lack of tradition could breed something better than we even thought."
In preparation for graduation, the Platt House put together a senior tribute video. Seniors were also featured in a Penn-produced video singing "The Red and Blue" which was aired at the end of the online Commencement celebration, and was capped off with alum John Legend, who was a member of the Counterparts when he was a Penn undergrad. 
Several of the groups, including Penn Dischord, Penn Masala, and Pennchants, used their videos to raise money for nonprofits focused on coronavirus relief, and then later launched new campaigns, matching donations to nonprofits aligned with the Black Lives Matter movement. 
Although each group managed their video production and fundraisers individually, the Platt House promoted their work on social media, and the staff was available for consultation. 
During the spring semester and now this summer, Platt House and PAC have worked to keep the performers engaged as a community. Together they hosted several events: a town hall, a trivia night, an open mic night, a costume contest, and a podcast series with Penn students interviewing Penn alums in the performing arts industry. 
"I think trying to find some semblance of normalcy is why we keep doing this throughout summer," says PAC executive board member Adam First, a rising senior from New York City, who is a visual studies major and a theatre arts minor. "Any kind of outlet for the community and ourselves to stay in touch through doing things we love is an important thing to do." 
Under discussion now is how to recruit new members from the incoming Class of 2024. Usually there is a night during New Student Orientation to showcase all the groups during performances, and then each group holds individual auditions.
"The one thing everyone can agree on is that this is not going to be a normal semester coming up," says PAC executive board member Connor Beard, a rising senior from Warren, New Jersey, who is majoring in communications. "The Platt House is working hard to put things in place. We've been trying to work with what we have, coming up with ideas for various situations." 
Maybe there will be online auditions with shows later, or maybe the shows will be livestreamed. The Platt House leadership and PAC are reserving spaces for shows just in case they can perform on a stage together later in the semester. 
"I see the students stepping up, and they want to be with their groups and produce music, comedy, dance or do theater," McCall says. "They want to move forward and produce their art."