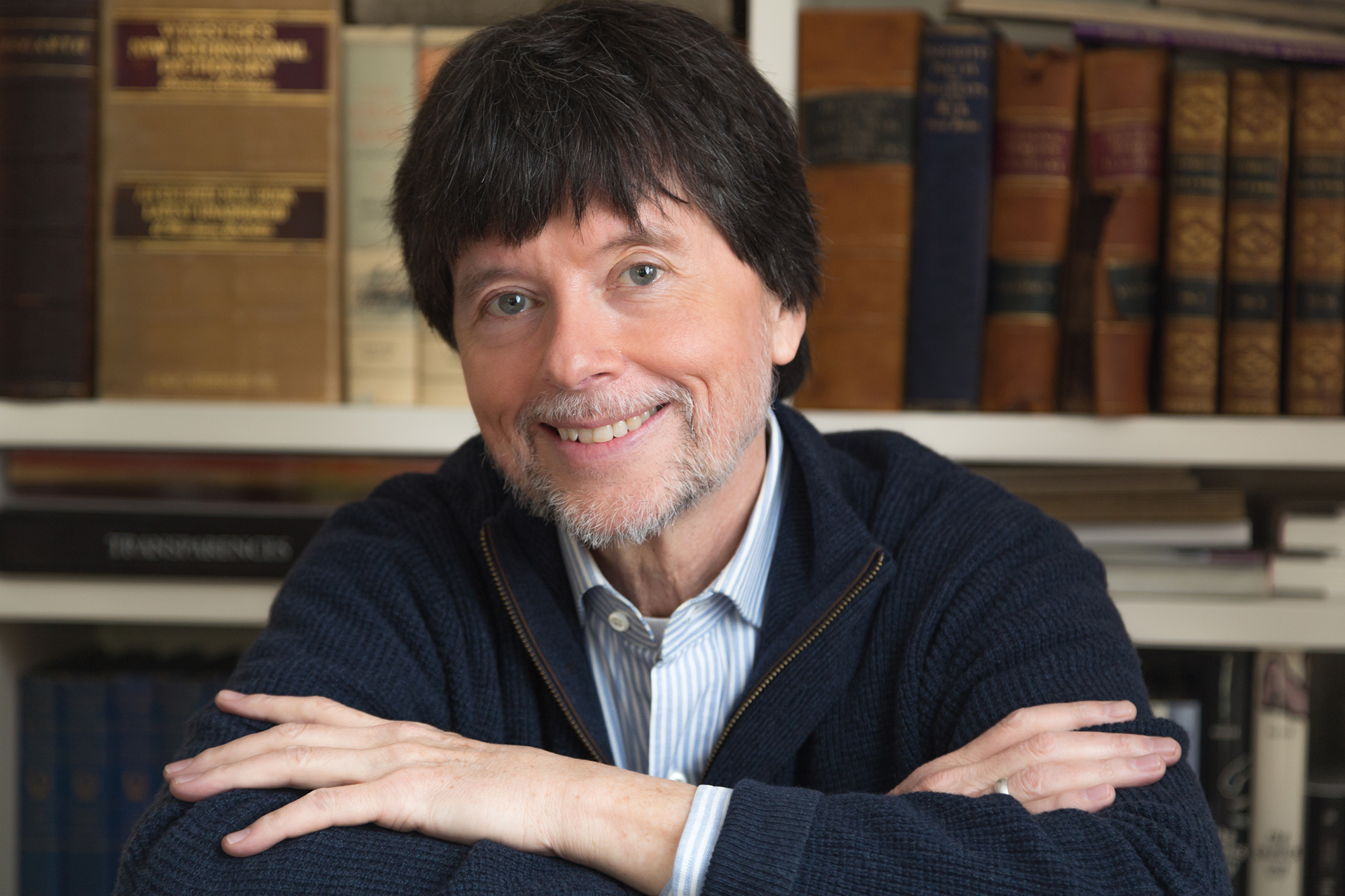 Award-winning documentary filmmaker Ken Burns will deliver the address at the 2022 University of Pennsylvania Commencement on Monday, May 16. The announcement was made today by Vice President and University Secretary Medha Narvekar.
"We are delighted and honored that Ken Burns will be the Commencement speaker for Penn's 266th graduating class," said Penn Interim President Wendell E. Pritchett. "Over the past several decades, he has created a prolific body of work, marrying the art of filmmaking with the history, politics, and culture of America. Again and again, he reminds us of the importance of understanding history and the perspective it provides, a valuable message for our students as they begin their lives as graduates of Penn."
Burns has been making documentary films for more than 40 years. Since creating the Academy Award–nominated "Brooklyn Bridge" in 1981, he has gone on to direct and produce many documentaries. This body of work includes a trilogy of epic documentaries: "The Civil War," "Baseball," and "Jazz," co-produced with Lynn Novick.
His groundbreaking documentaries also include: "The National Parks: America's Best Idea," "The Roosevelts: An Intimate History," "Jackie Robinson," "Country Music," "The Vietnam War," "Cancer: The Emperor of All Maladies," and "The Central Park Five." His latest project, "Benjamin Franklin," will premiere in April.
Burns's films have been honored with dozens of major awards, including 16 Emmy Awards, two Grammy Awards, and two Oscar nominations. In September 2008 at the News & Documentary Emmy Awards, he was honored by the Academy of Television Arts & Sciences with a Lifetime Achievement Award.
At the Commencement ceremony, Burns will receive an honorary doctor of arts degree.
Other 2022 Penn honorary degree recipients will be Mary Frances Berry, Atul Gawande, Amy Gutmann, Carla D. Hayden, George E. Lewis, Margaret H. Marshall, and Edward Witten.
"We look forward to welcoming this year's esteemed group of honorary degree recipients, including our speaker, Ken Burns," said Julie Platt, chair of the Trustee Honorary Degrees & Awards Committee. "As we celebrate our outstanding graduates, we will recognize the accomplishments of our guest honorees who represent the arts, medicine, science, public service, education, and the law. Each is a prominent leader and shining example of Penn's highest ideals, including our deeply admired Immediate Past President, Amy Gutmann, who led the University with great distinction."
Mary Frances Berry is the Geraldine R. Segal Professor of American Social Thought, and professor emerita of history and Africana studies at the University of Pennsylvania, where she has taught since 1987. A distinguished scholar of legal history and African American history, an author, and a civil rights, gender equality, and social justice advocate, Berry has received numerous honors. These include the Lewis Award for History and Social Justice (2021) by the American Historical Association and the Nelson Mandela Award (2012). She is the author of 13 books whose subjects include the history of constitutional racism in America and the reasons for the failure of the Equal Rights Amendment. Her latest book is "History Teaches Us to Resist: How Progressive Movements Have Succeeded in Challenging Times" (2018). She has also had a distinguished career in public service, having served as the assistant secretary for education in the U.S. Department of Health, Education, and Welfare during the Carter administration, and on the U.S. Commission on Civil Rights under five presidential administrations, first as a member and then as chair. She will receive an honorary doctor of humane letters degree.
Renowned surgeon, writer, and public health leader Atul Gawande heads global health at the U.S. Agency for International Development in the Biden-Harris administration. Prior to this appointment, he was a practicing general and endocrine surgeon at Brigham and Women's Hospital and a professor at Harvard Medical School and the Harvard T.H. Chan School of Public Health. His research and leadership have long focused on developing systems innovations to transform safety and quality in health care, including interventions to improve neonatal and maternal outcomes, systems tools that reduced the mortality of surgical care, and a randomized trial in collaboration with the Dana-Farber Cancer Institute to improve care and decision-making for patients at the end of life. He also co-founded the nonprofit Lifebox aimed at making surgery safer globally, as well as CIC Health, which operates COVID-19 testing and vaccination nationally. He is the author of four New York Times best-selling books: "Being Mortal," "The Checklist Manifesto," "Better," and "Complications," and was a staff writer for The New Yorker. Gawande is the winner of a MacArthur Fellowship and the Lewis Thomas Award for writing about science. He will receive an honorary doctor of sciences degree.
Amy Gutmann served as the eighth President of the University of Pennsylvania from 2004 to 2022. She was confirmed as the United States ambassador to Germany in February. During her tenure at Penn she made affordable educational access a priority, more than doubling the number of students from low-income and first-generation college families; created the Penn Integrates Knowledge (PIK) University Professorships driving collaboration across Penn's 12 Schools; and oversaw the creation of a robust innovation ecosystem on Penn's expanded campus, including the 23-acre Pennovation Works and its flagship Pennovation Center business incubator and laboratory. With $1 billion in annual research funding and recognition as a global leader in immunotherapy and mRNA technology development, Penn is today recognized as one of the world's largest, most innovative research universities. At Penn, Gutmann was the Christopher H. Browne Distinguished Professor of Political Science and a professor of communication. Named in 2018 one of Fortune magazine's "World's 50 Greatest Leaders," she is an award-winning author and editor of 17 books, including "Everybody Wants to Go to Heaven but Nobody Wants to Die: Bioethics and the Transformation of Health Care in America" co-authored with PIK Professor Jonathan Moreno. She chaired President Barack Obama's Presidential Commission for the Study of Bioethical Issues from 2009 until 2017. She will receive an honorary doctor of laws degree.
Carla D. Hayden is the 14th Librarian of Congress, where, since 2016, she has served as the first woman and the first African American to hold the post, having been nominated by President Barack Obama. Previously she served as chief executive officer of the Enoch Pratt Free Library in Baltimore. During her 23 years there, she led a revitalization prioritizing technological innovations and community access, and famously ensured the doors remained open during the civil unrest following the death of Freddie Gray. She began her career in 1973 as a library associate and children's librarian at the Chicago Public Library, returning there as deputy commissioner and chief librarian from 1991 to 1993. In the interim she held positions at the Museum of Science and Industry in Chicago and was a professor of library and information science at the University of Pittsburgh before joining the Pratt Library. In 2003, she was elected president of the American Library Association and in 1995 became the first African American to receive the Library Journal's Librarian of the Year Award. In 2010, she was nominated and confirmed as a member of the National Museum and Library Services Board. She will receive an honorary doctor of humane letters degree.
American composer, musicologist, and trombonist George E. Lewis is the Edwin H. Case Professor of American Music at Columbia University. He joined the faculty at Columbia in 2004 following 13 years at the University of California, San Diego. His scholarship explores technology, improvisation, race, and identity. His music, including "The Will To Adorn" (2011), "Emergent" (2014), and the opera "Afterword" (2015), has been presented worldwide. He is also a pioneer in creating computer programs that draw on artificial intelligence techniques to improvise in concert with human musicians. He is a member of the Association for the Advancement of Creative Musicians (AACM), an African American collective now widely recognized for innovative American music; his book "A Power Stronger Than Itself: The AACM and American Experimental Music," received the American Book Award and the American Musicological Society's first Music in American Culture Award. Lewis is a 2002 MacArthur Fellow, a 2015 Guggenheim Fellow, and a member of the Akademie der Künste Berlin, the American Academy of Arts and Sciences, and the American Academy of Arts. He will receive an honorary doctor of music degree.
Margaret H. Marshall is senior counsel at the Boston law firm Choate Hall & Stewart. Previously, beginning in 1999, she served as chief justice of the Supreme Judicial Court of Massachusetts, the first woman to be named to the position in its then-307-year history. She was appointed to the court as associate justice in 1996. Prior to that, she was the first woman to serve as vice president and general counsel of Harvard University. Born in South Africa, she is a longtime advocate of access to justice for all. As chief justice, she was widely recognized as a champion for an independent judiciary and as a leader in the promotion of administrative judicial reforms. While on the court, she wrote many groundbreaking opinions, including Goodridge v. Department of Public Health (2003), which declared that the Massachusetts Constitution prohibits the state from denying same-sex couples access to civil marriage. The ruling made Massachusetts the first state in the United States to legalize gay marriage. Marshall has also served as president of the U.S. Conference of Chief Justices and as chair of the board of the National Center for State Courts. She will receive an honorary doctor of laws degree.
Edward Witten is a highly influential figure in theoretical physics and a leading expert on string theory. The Charles Simonyi Professor in the School of Natural Sciences at the Institute for Advanced Study, he conjectured in 1995 that the then-five competing notions of string theory could be unified under a single description. This hypothesis has played a major role in what became known as the "second superstring revolution." He has made significant contributions in many areas of physics, from cosmology to particle physics and condensed matter physics, as well as in pure mathematics. He is the most cited scientist in the physical sciences and has garnered numerous awards including the Fields Medal (1990), the Fundamental Physics Prize (2012), the Lorentz Medal (2010), the Isaac Newton Medal (2010), the Crafoord Prize (2008), the Henri Poincaré Prize (2006), and the National Medal of Science (2002). A lifelong advocate for peace in the Middle East, he serves on the Board of Directors of Americans for Peace Now and on the Advisory Council of J Street. He will receive an honorary doctor of sciences degree.
Ken Burns will deliver the Commencement address at the University's main ceremony at Frankin Field. Event details are available on Penn's 2022 Commencement page. A Baccalaureate Ceremony will take place on campus in Penn Commons on Tuesday, May 10 at 4:00 p.m. Baccalaureate is a 50-minute interfaith program that includes music, readings, and prayers.
In keeping with safety protocols, Penn will be operating in accordance with Penn's current visitor policy and the City of Philadelphia guidelines, which are subject to change as public health guidance continues to evolve.