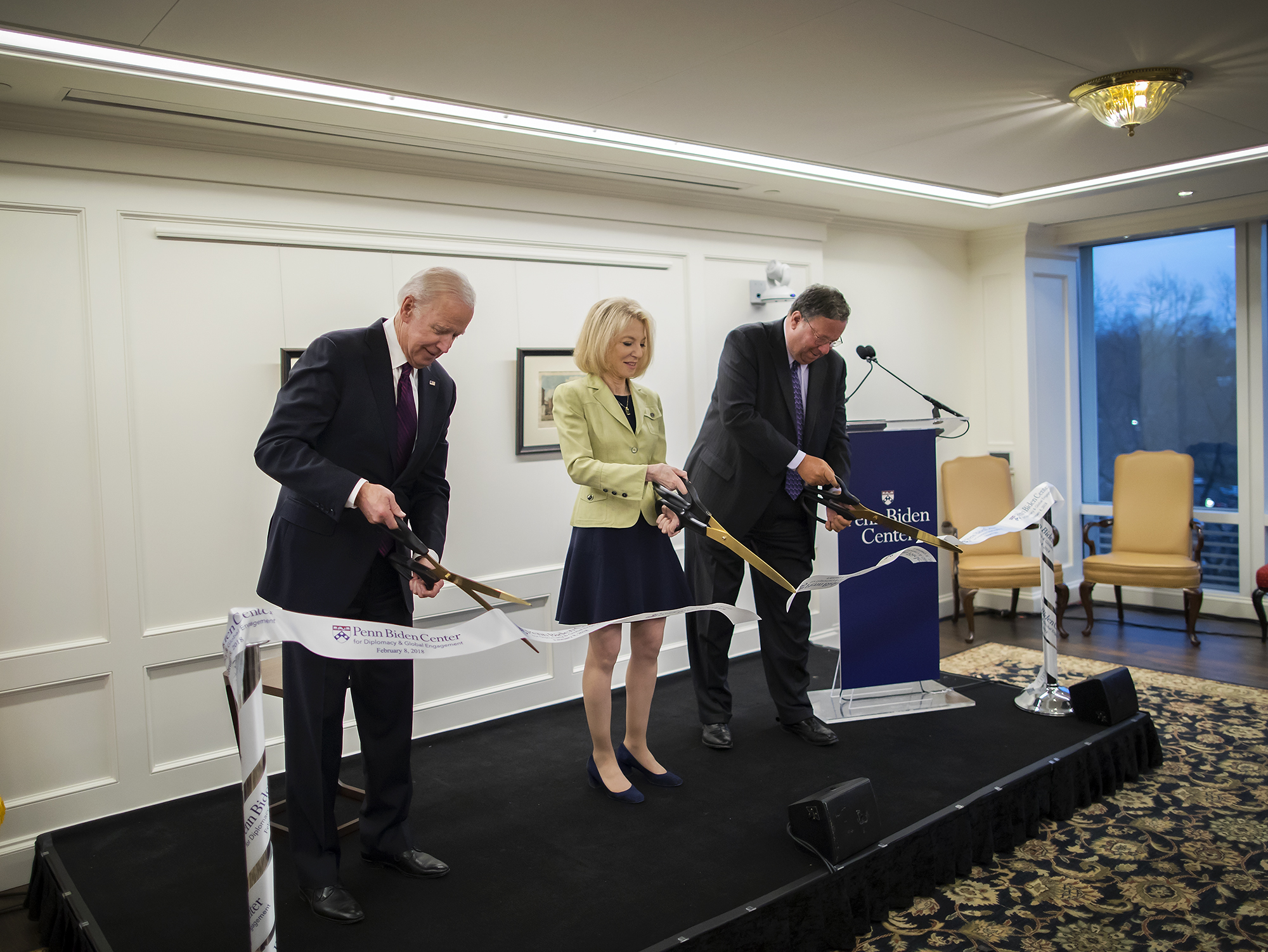 Former Vice President Joe Biden has spent a lot of time with Vladimir Putin.
One quite contentious meeting together lasted five hours, Biden recalled. At one point, he remembered coming face-to-face with the Russian leader and saying, admittedly unorthodox, "You have no soul."
"I wasn't being derogative," Biden said. "I wasn't saying I've got a button bigger than your button. I let him know I understand him…but let's find a place where there is mutual interest. He looked at me and said, 'You understand me, we understand each other, so let's move from there.'"
A particular anecdote Biden has referred to over the years, it's one that speaks volumes to something he's learned throughout his long, successful political career: "All politics is personal in the conduct of foreign policy."
Whether friend or foe, Biden's work has connected him to every recent major world leader. It's this breadth of experience and incomparable ability that informs the new Penn Biden Center for Diplomacy and Global Engagement.
Acting as the University's home in Washington, D.C., Penn President Amy Gutmann, speaking at the Center's official opening on Thursday, Feb. 8., said, "The unmatched personal connections Joe Biden has with world leaders is equally important to our students, our faculty, policymakers, and the work of this new Center. And it's equally important because it is absolutely essential in furthering diplomacy and global engagement that is needed to advance the world order."
The fresh, high-tech space at 101 Constitution Ave., N.W., is just steps from the nation's Capitol, and is meant to be a site for debate and discussion, especially for those involved in foreign policy. Also, to Biden's particular joy, it's only a few blocks from the Amtrak hub Union Station.
"I want this Center to be a gathering place," said Biden, who's also been named Penn's Benjamin Franklin Presidential Practice Professor. "I want this to be a place where ideas are exchanged, where people come and disagree with us, as well as agree with us."
And Gutmann made clear the Center's goals for the Penn community.
"Our students and our faculty come from all around the world, from every state in the United States of America, they come from all different religious backgrounds, all different ethnicities and races, all different ideological perspectives, but they want to understand one another and they are hungry for the kind of understanding, for the kind of educational diplomacy, and the kind of political diplomacy that this Center represents," she said. "Our nation's need, the world's need, is to understand the power of connectivity and the power of communicating across divides. And this jibes perfectly, not surprisingly, with the historic mission of the University of Pennsylvania."
The Thursday afternoon event—"the second-largest Philadelphia gathering of the day," joked David L. Cohen, Penn Trustees' chairman—included a ribbon cutting and hourlong, free-range discussion between Biden and NBC News Chief Foreign Affairs Correspondent Andrea Mitchell, a Penn alumna and Trustee emerita, and also this year's featured Commencement speaker.  
Mitchell, who recently established with her husband Alan Greenspan the Andrea Mitchell Center for the Study of Democracy at Penn, did what she does best. She asked smart questions that always led to compelling answers, intertwining topics such as the alleged Russian meddling in the U.S. election, if the nation's immigration debate changes the way we are viewed overseas, and how Biden assesses America's role in the world.
With regard to the latter, Biden responded that we should "lead not by the example of our power but by the power of our example."  
Chatting privately in his office, Biden said that's one of the guiding principles when it comes to diplomacy and international relations that he hopes to instill in the Penn community with this new Center.
"[Other countries] follow us because of who we are, not our physical power," he said. "And when you begin to lose that credibility, when you begin to demonstrate to the world that, no, we are not living up to our value set, that's when you find them walking away."
At a time when there seems to be so much clutter and misinformation involving global issues, it's Biden's hope to "cut through it," he said, and to do so by reaching out and working with Penn's brilliant minds. He wants to, from his perspective, provide a clear sense of what's at stake, and what the U.S. must do to sustain growth, security, and leadership in the world.
"I know that sounds grandiose, but that's literally what we are trying to do with this Center," he said.
"Whether it's in curing cancer or combating violence and hatred, Penn seeks to translate ideas into outcomes," said Gutmann. "The Penn Biden Center will bring together the best faculty, the best students, the very best policymakers, and world leaders to further our mission of educational diplomacy."
Photo at top: Biden, Gutmann and Penn trustees Chairman David L. Cohen officially open the new Penn Biden Center. Biden said he hopes the Center will be "a place where ideas are exchanged, where people come and disagree with us, as well as agree with us."