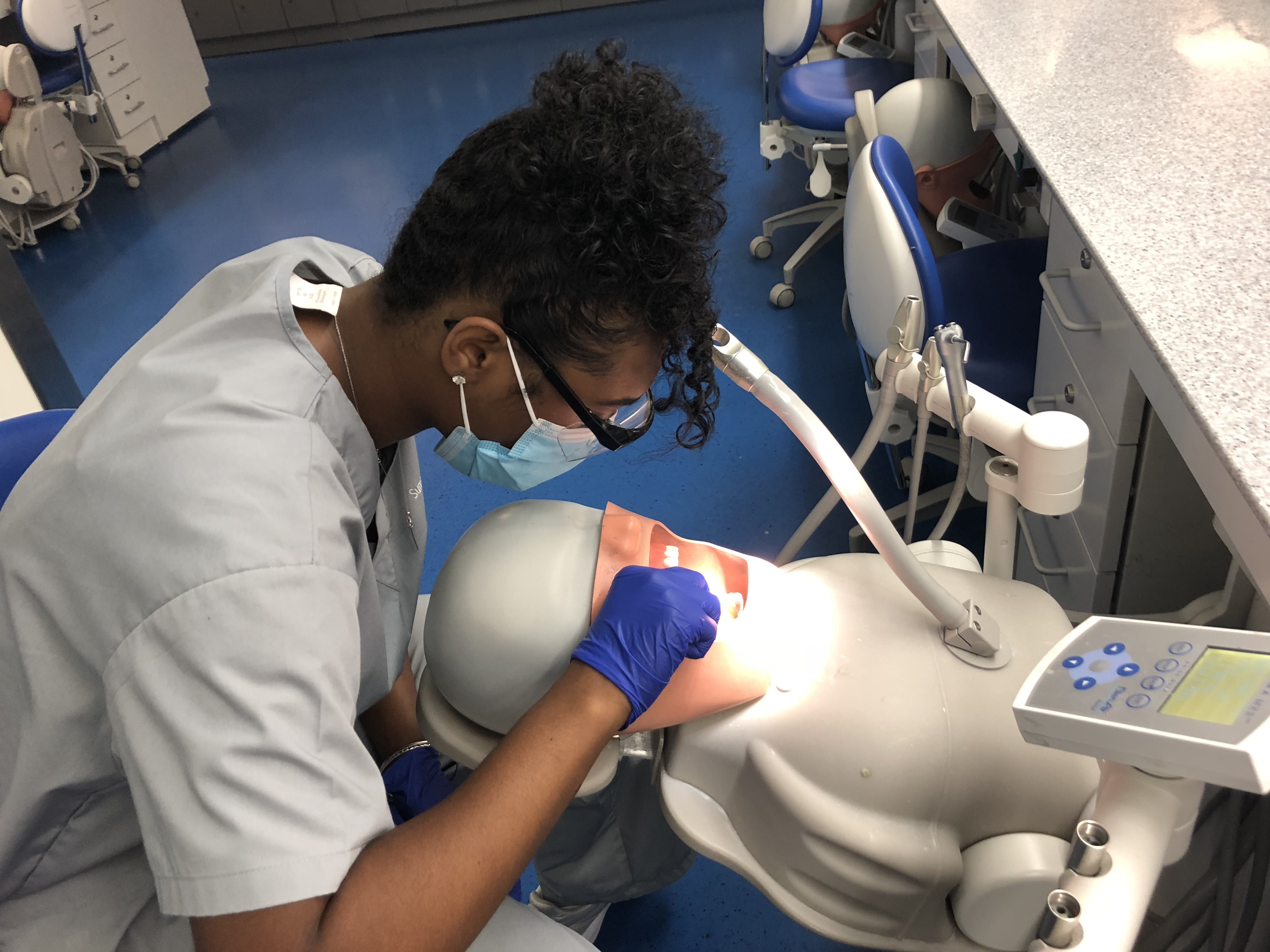 As an 11th grader in Philadelphia, sometimes all you need is a confidence boost—a nudge, if you will—to pursue the always-intimidating college prep and application process, and self-assurance to chase your dreams.
The Provost Summer Mentorship Program (SMP) at Penn, now in its 15th year, provides just that.
"Growing up as a first generation, low-income student, I felt like all throughout high school and middle school, I wasn't good enough, compared to other students," says Monica Phann, a South Philadelphia native. "Once I got into SMP, it taught me, 'Wow, you have these talents, you have a gift, you can do this.' It really helped me learn to believe in myself."
Phann, the daughter of refugees, completed her bachelor's from Penn's School of Nursing this past year, and after just finding out she passed her boards, has landed a job as a clinical nurse at the Hospital of the University of Pennsylvania. She plans to enter Penn's graduate nurse practitioner program in a year.
"Ultimately," Phann says, "SMP gave me the confidence I needed to lead me on a path to where I am today."
SMP, funded by the Provost's Office and a signature initiative of the Vice Provost for University Life's Equity and Access Programs, is a four-week immersive program for rising high school juniors in Philadelphia public and charter schools, interested in pursuing dentistry, medicine, law, nursing, or engineering in college. For a month in the summer, about 60 participating high schoolers report to Penn's campus every Monday through Friday from 9 a.m. to 4 p.m., and learn from real professors and practitioners in their chosen professional schools. They also take part in general SAT prep, receive guidance on applying to college, and discover the importance of wellness.
This year's program, which is accepting applications through April 1, will run from July 8 through Aug. 2. All students that partake receive lunch each day, a SEPTA TransPass, and a $400 stipend upon completion.
"We are targeting underrepresented minorities who need a little extra push and added assistance," says Don Harrison Jr., SMP's coordinator. "SMP gives them an overview of a track they might be interested in, to prepare them for the journey."
Tyrone Williams, who was also the first in his family to go to college, participated in SMP's law curriculum back in 2012. Now, after earning his undergraduate degree in psychology and government from Connecticut College, he is attending Temple University Beasley School of Law.
"Programs like SMP are crucially important in Philadelphia," says Williams, who grew up in West Philadelphia. "Many of us don't have family members to help us through the college process, and this exposes you to a campus and how college would be."
The resources SMP provided Williams, he adds, "were definitely instrumental in me going to college, and succeeding in college."
Students involved in the SMP's law track, for instance, explore criminal and immigration law, and learn the basis for preparing oral arguments and writing briefs. They practice negotiating, being persuasive, and active listening, and hear directly from lawyers—on and off campus.
"The city is really our classroom," says Susan Kahn, the academic director of SMP Law. "We are out and about a lot of the time, visiting the Court of Common Pleas, spending time observing trials and hearings, and visiting city solicitors and big law firms."
Penn Law's director of admissions also typically joins the students for a day, discussing the many different paths to law school.
"If you're a high school student and you have a parent who is a lawyer, that is so advantageous because they can answer any questions you have about the path through law school or college," says Kahn, a retired lawyer who graduated from Penn Law. "For a student who doesn't have that, we're trying to level the playing field. These are bright, ambitious kids who might have a dream to be a lawyer but don't necessarily know how to get there."
Cheryl Hardy, the executive director of Legal Education Programs for Penn Law, and also a Penn Law alumna, says the SMP program gives the school "access to gems that we might have otherwise missed."
"These students are amazing," Hardy says. "Some have never made an oral argument before, but often do it as well as a practicing attorney."
The other SMP tracks offer their own respective hands-on learning experiences, from watching live surgeries to learning how to take tooth impressions in a simulation lab, to chatting with nurses at various hospitals.
Harrison, who's worked alongside SMP's director Gail Oberton for eight years, says he loves keeping up with students after they've graduated from high school.
"They often reach out, saying 'you inspired me to do this,' or 'you encouraged me to do this,'" he says. "They are very appreciative of the knowledge and guidance they received throughout the program. It really hits home."
It also hits home, Harrison says, when the SMP graduates volunteer to assist with the program as mentors themselves. Both Phann and Williams worked at SMP during their college summer breaks.
"It showed us the power and benefit of mentoring to the point where we wanted to go back and mentor others," says Williams.
This summer, in fact, will be the first in at least four years that Williams isn't volunteering with SMP.
It's for a good reason.
"I have a legal internship with the School District of Philadelphia," Williams says.
Photos by Carlito Trajano.