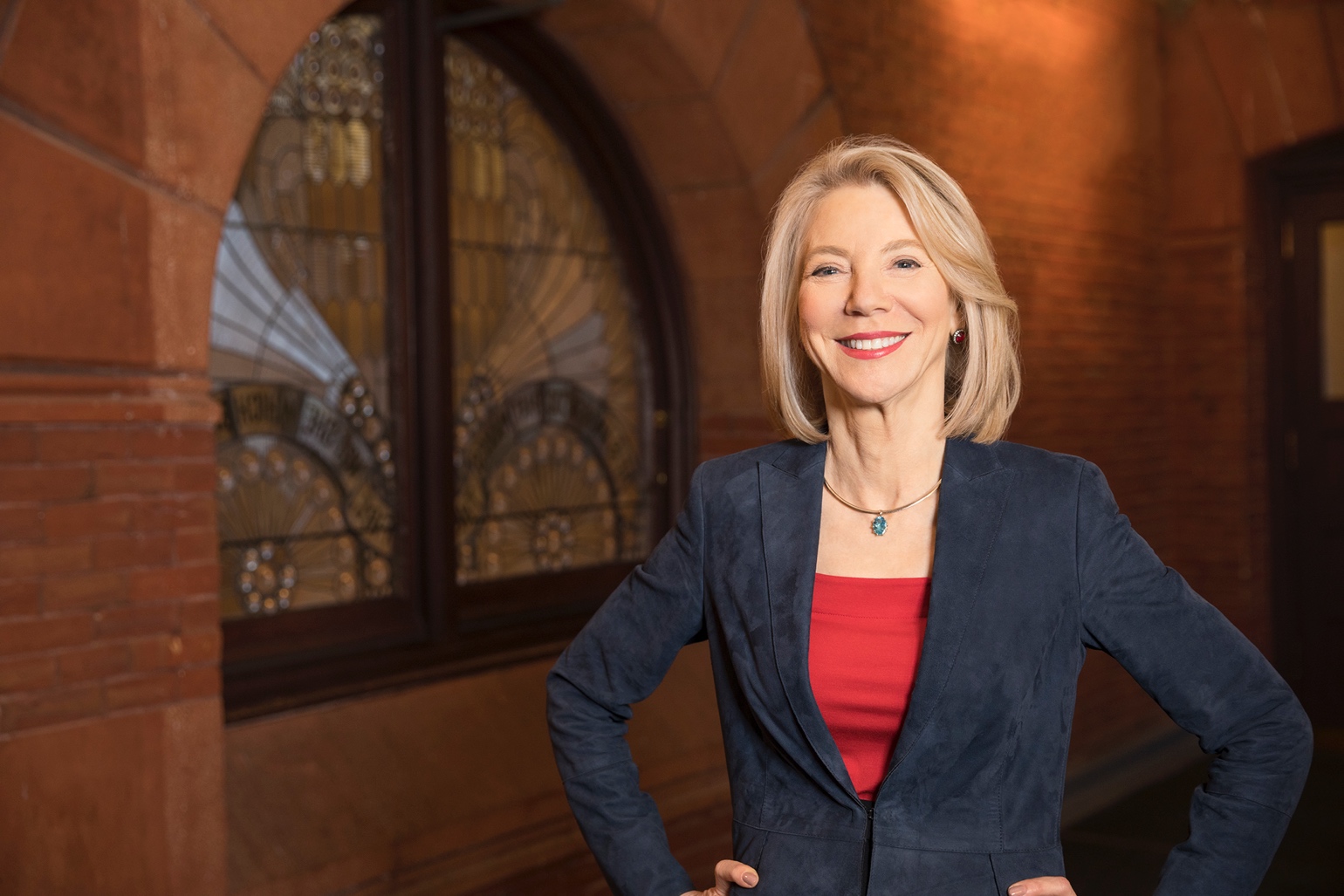 As Penn President Amy Gutmann often says, "Education transforms lives." It's a belief she is a living example of.
"My story can and should be possible for countless other students from all backgrounds," Gutmann said Wednesday, as she virtually accepted this year's Inclusive Leader Award from GlobalMindED, a national nonprofit that aims to close the equity gap by creating a diverse talent pipeline through networking, mentorships, internships, and more. Gutmann earned the award alongside 14 other leaders in the nation.
"What is the difference between a scrap metal dealer and the president of the University of Pennsylvania?," Gutmann noted. "The answer: A single generation."
Gutmann's father was a scrap metal dealer and an immigrant who escaped Nazi Germany. When he died suddenly while she was in high school, the prospect of paying for college became even less feasible. Generous financial aid made higher education possible for Gutmann, something she's since devoted her life to. Her dedication has bred results: Since 2004, Penn has awarded $2 billion in undergraduate aid to more than 22,000 students.
"As a first-generation college student herself, President Gutmann comes from a modest, challenging background and relates personally to those who have potential but don't have resources," said Carol Carter, GlobalMindED founder and CEO. "Her standard setting diverse hires in key roles and recruitment and retainment of underrepresented students show that college presidents can deliver diversity by the numbers and that it is possible to design a culture where diverse students thrive on campus through innovation, exposure to experiences, and leadership development."
Since Gutmann joined the Penn family 16 years ago, she has made inclusivity her mission. One of the three pillars of her Penn Compact, being inclusive, along with being innovative and impactful, is at the core of what Penn strives to do. The cornerstone of Penn's initiative to increase access for students from all socioeconomic backgrounds is its grant-based financial aid program, which launched in 2008. Today, 45 percent of Penn's undergraduate students receive grant-based financial aid packages, with an average of $56,693 in funding—more than the cost of tuition.
Gutmann and Penn also outlined, in 2011, a $100 million Action Plan for Faculty Diversity and Excellence, which, according to recent figures, has resulted in a 22% increase in female faculty and a 46% increase in underrepresented minority faculty.
"This is not only the right thing to do, it is also the smart thing to do," Gutmann told those tuning in during the inspiring GlobalMindED celebration. "From inventing lifesaving cancer treatments to transforming our capacity to cooperate across divide, when we're at our most diverse, we're also at our creative best."
Gutmann was the only leader from the higher education sector to be awarded the GlobalMindED recognition this year. What separated her from other nominees, said Carter, is Gutmann's ability to hold her colleagues—even those outside of Penn—to higher standards when it comes to inclusion.
"GlobalMindED values leaders who excel not just within the confines of their job, but courageously extend out to a larger network, calling others forward to close the equity gap," said Carter. "These qualities have never been more needed in higher ed than what the 2020 challenges have revealed to us all. We are so grateful for her groundbreaking work for all educators and leaders."