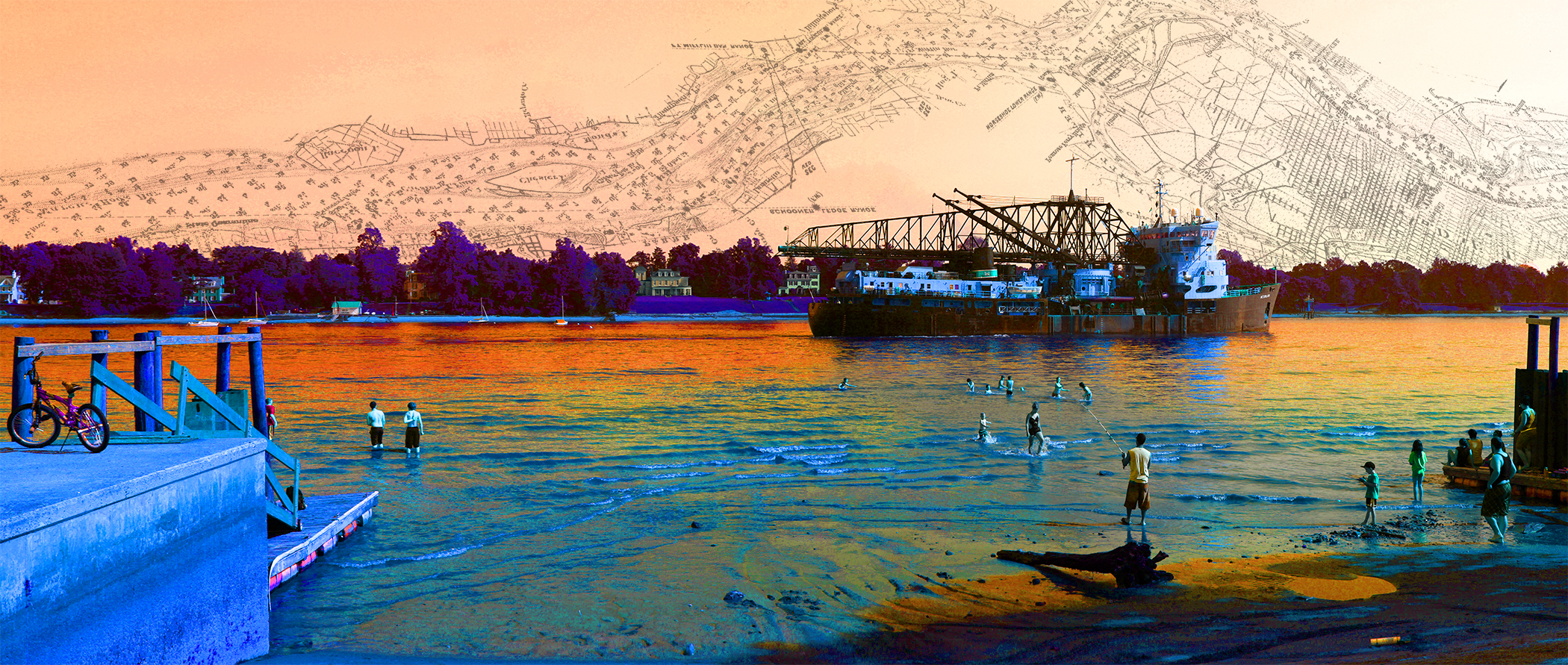 In the recent film "Toxi-City: A Climate Change Narrative," artist Roderick Coover juxtaposes panoramic views of familiar riverine scenes—birds, waves, boats—with voice-overs describing an unsettling new reality. Using matter-of-fact tones, the film's six fictional characters relate experiences of disease, contamination, loss, and adaptation that have transpired in an imagined future of higher sea levels. Their stories are interwoven with real-life narratives of victims of Hurricane Sandy, which devastated parts of New Jersey and New York in 2012.
The film, a collaboration between Coover and writer Scott Rettberg, screened at Penn last week as part of the Penn Program in Environmental Humanities' (PPEH) "Teaching and Learning with Rising Waters" event. But that showing represented only one version of the film. A combinatory work, "Toxi-City" shape-shifts each time it plays; an algorithm selects fragments from each of the six narratives and reconfigures them to create an ever-changing, yet thematically consistent, production.
"It's like the ocean waves," says Coover, the 2019 PPEH Mellon Artist-in-Residence. "With each tide, it's sort of the same water, but also different waters. In this case the future is always changing but is also sort of the same."
During his residency, Coover has been working with students and faculty to explore how artists can use the research methods of science and the humanities—and vice versa, for scientists and humanists—to inform their work. A uniting force among disciplines, he notes, is the ability to tell compelling stories about the changing environment and its human impacts. 
Storytelling is likewise a focus of some of Coover's scholarly work, including a book coming out this year, "The Digital Imaginary," about how people conceive the world through different technologies.
As Bethany Wiggin, founding director of PPEH and an associate professor of German, noted in introductory remarks at the Teaching and Learning with Rising Waters gathering, Coover's work, rather than simply reflecting the discouraging elements of climate change's forces, "opens lines of sight to new futures."
Conveying her thoughts about how boats can act as a metaphor for resiliency in the face of rising waters, Wiggin mused that Coover's films "lend us ways of thinking about how to reconstruct a boat while we're still aboard." 
Coover is a film and media arts professor at Temple University, where he is also founding director of the Graduate Certificate Program in Documentary Arts and Ethnographic Practice. Throughout his career, he's practiced what he calls emergent cinema, using new technologies to create immersive, sometimes interactive works that probe the intersection of film, art, and research.
"It's an interesting space but it doesn't make it easy to define me in traditional terms," Coover says. "The work is all about using emerging tools to shift the paradigms. I'm much more interested in what happens next with film than what film has done in the past."
One of the powers of cinema, he says, is the medium's capacity to trigger an immediate sensorial response from viewers, but then also give them the space and time to reflect on the content. "It moves you first, touches you first," he says, "and that's very important as we think about how we feel about environmental challenges. We feel first, we physically respond first, and then we try to think about what we're feeling."
Though Coover's work hasn't always explicitly dealt with the environment, he's long had a connection to the natural world. After college he worked for a season as a forest ranger in Washington's North Cascades, and later spent time hiking mountains and kayaking waterways in Japan, Indonesia, Chile, and Europe. Starting in the early 2000s, with a series called "Unknown Territories," he began examining the intersection of industry and nature, first in the American Southwest. 
His more recent work on sea level rise was inspired by kayak trips on the Delaware River in 2011, which happened to fall after Hurricane Irene, but before Sandy. "That's when I began to ask, what would happen if floodwaters rose over these vast areas of industrial wasteland and petrochemical industry that is our shoreline," he says. 
Then Hurricane Sandy hit.
"We saw firsthand the kind of devastation that climate change can bring," Coover recalls. His work with Rettberg to research the personal tragedies linked to that storm led to "Toxi-City." The film's stories depict an imagined East Coast in the year 2020, where New Jersey has been abandoned due to dangerous levels of contamination from toxic flood waters and a Fukushima Daiichi-like nuclear meltdown, and Florida is partially submerged.
Around the same time as Sandy, Coover took a trip to his hometown of Kingsdown in southeastern England, not far from the White Cliffs of Dover. It, too, is an area vulnerable to sea level rise. Out of his travels emerged his latest, long-term project, "The Altering Shores," which connects stories from England back to Pennsylvania and Delaware and considers elements of history, memory, land use, and possible erasure in the context of rising sea levels. 
His research in England and the Delaware estuary will also form the basis for the culminating project of his PPEH residency, to be installed on Penn's campus. The project will employ virtual reality to engage members of the community in thinking about the "expansiveness of water, the rhythms of slow change and fast change, and our lack of ability to conceptualize and integrate time and space," says Coover.
In an artist's talk given during the second day of the PPEH convening, Coover shared how he enjoyed doing his research and teaching from the water's shores—or even its surface, in a kayak—as a way of immersing himself and others in the flux. 
"These walks and trips can take us into a realm where we can reach back and learn from the past as we talk about our futures," he said. 
With a theme of pedagogy driving last week's gathering, Coover, who recently won a Lindback Award from Temple for his teaching, noted that PPEH's focus on bringing people together across disciplines helps create community, foster discussions, and motivate action—all sorely needed in the face of climate change.
"Each person feeling that they're part of a bigger conversation, it expands a sense of resilience, that these problems don't all fall on one person's shoulders," he says.