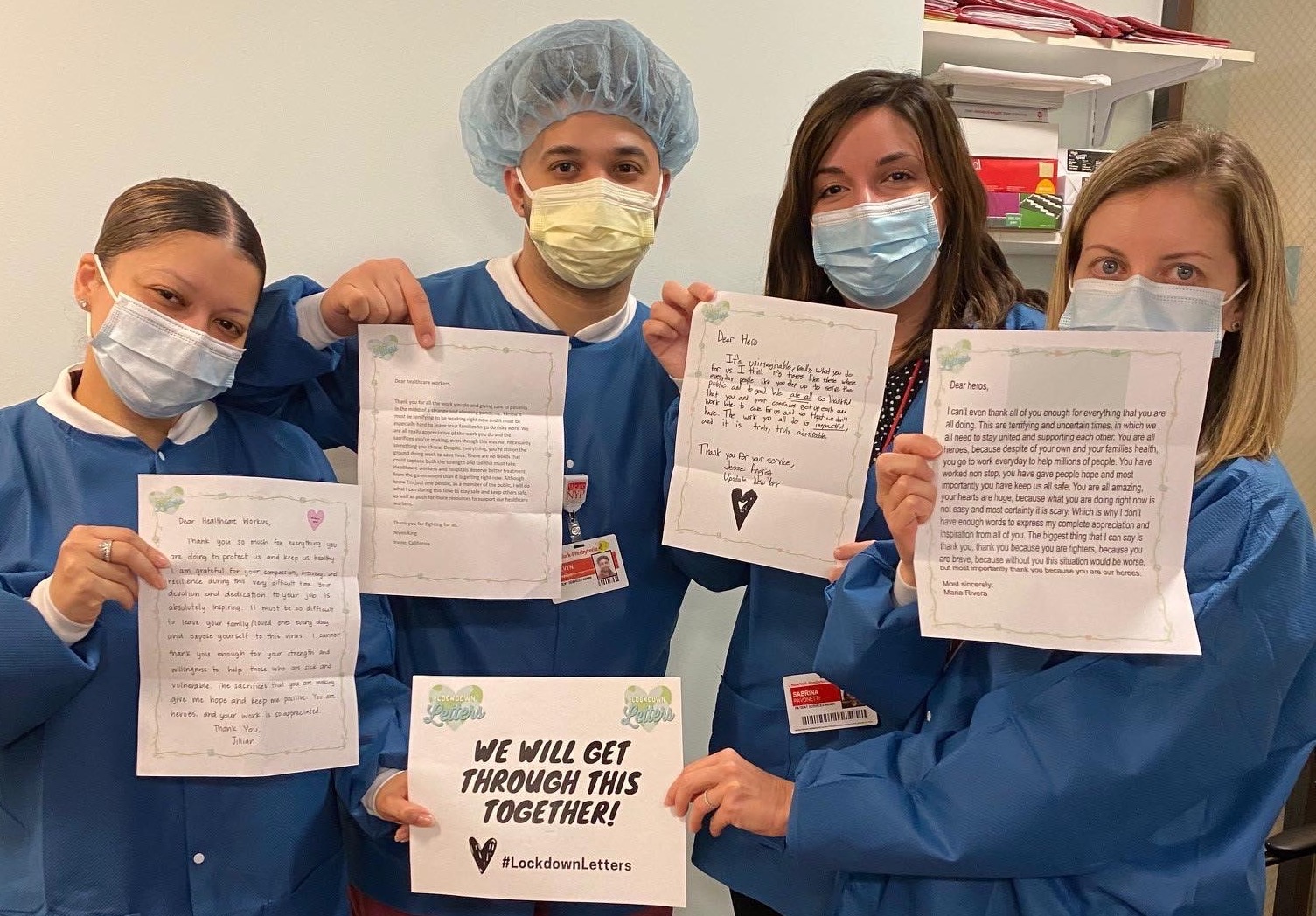 During the first few weeks at home during the pandemic, Preethi Kumaran from Albany, New York, now a rising senior, kept reading news stories of what health care workers were going through. In conversations with friends, many of whom she had met through work in volunteer organizations at Penn, it wasn't clear how they could help.
"For all of us who were used to doing community service work, we felt like our hands were tied," she says. 
After a few weeks and many conversations, Kumaran and five other Penn undergrads plus one Cornell student figured out a way to do something from a distance. Their initiative, Lockdown Letters, encourages people of all ages to share personal letters with health care workers to boost their spirits. They've sent out a first batch of 40 letters to 23 hospitals and are compiling their second batch.
Crises have a way of spurring people to action, and members of the Penn community have been leading the charge on a number of fronts in recent months. Here are stories of three such selfless initiatives.
Surplus shopping 
When rising fourth-year medical student Eden Engel-Rebitzer could no longer participate in clinical responsibilities due to COVID-19 restrictions, she and several Perelman School of Medicine classmates desperately wanted a way to help.
An internal medicine resident planted a seed: Why not deliver groceries to doctors-in-training who would be working during the pandemic and perhaps couldn't easily get these essentials? That idea spurred One Extra Bag: House Calls, a volunteer initiative funded by a $1,000 grant from The Rally Fund and a private GoFundMe campaign that's raised almost $10,000. The students have also received mentorship support from Cindy Christian, Penn Medicine's assistant dean for community engagement, and Alyson Michener and Rachel Miller in the Department of Medicine's geriatrics division.
Though some residents did use One Extra Bag's services, Engel-Rebitzer and her peers quickly realized another group needed their assistance more. "With referrals from providers, we started to deliver to geriatric patients and patients who are homebound," she says. "It's a hyper-vulnerable group because they rely on visitors to have their needs met."
Since March 26, the group—mostly Penn med students—has facilitated 108 deliveries to homebound Penn patients, with a one-to-one ratio of volunteers to patients to ensure social-distancing requirements can be maintained. Fifty people across 26 households each week receive groceries, with One Extra Bag covering the cost for about 85% of participants. Engel-Rebitzer says the initiative will continue through at least the end of June.
"We hope the program can act as a bridge to longer-term food-security programs," she says. To that end, One Extra Bag volunteers provide social work support to allow patients to cycle through as quickly and safely as possible.
They also lend an ear, acting as a touch point for people who may otherwise inadvertently fall through the cracks. "Other similar programs require some degree of tech savvy on the part of the recipient. Our program requires a phone, and that's it," Engel-Rebitzer says. "We're not going to feed America this way, but it's a strong model for an isolated patient population."
'Extraordinary' generosity
Communities that had the most meager resources before the COVID-19 pandemic are among those hardest hit by the disease's medical and economic toll. In India, people who used to eke out a living on a dollar or two a day have found their livelihoods evaporated. "Their risk of starvation is actually very high," says Michael Atchison, professor of biomedical science at the School of Veterinary Medicine. In addition, hospitals in various parts of India have run out of necessary personal protective equipment (PPE).
Through the nonprofit organization that Atchison co-founded nearly a decade ago, Helping India Together, he and colleagues, friends, and community members are raising funds to support partners in India to provide for those most vulnerable.
"What has amazed me is that, despite the hard times in America, people have been extraordinarily generous," Atchison says. "I thought we'd raise a few thousand dollars for this. But the money just keeps flowing in."
Indeed, Atchison would set a target only to see it quickly outstripped. As of press time, the group raised $62,000 for COVID-19 relief. The funds have gone to 16 partner organizations, hospitals, nonprofit organizations, and orphanages, as well as to support PPE and online health platforms. These partners have provided food for 2,500 families, totaling 12,000 people, for at least a month, working in five different states in northern India, distributing food packages in villages and stocking orphanages with needed supplies. Helping India Together, in addition to funneling money to these efforts, is ensuring accountability through asking partners for extensive documentation of their work, including photos and videos.
"This crisis will likely continue for quite some time," Atchison says. But his community keeps turning up with support. "Each time I've set a fundraising target, which I've thought was absurdly high, people have easily exceeded it."
Human connection
There's something special about getting a handwritten note in the mail. That's the idea behind Lockdown Letters, the initiative Preethi Kumaran devised with fellow rising seniors Youvin Chung of Barrington, Rhode Island, Samira Mehta of Dallas, Rupa Palanki of Mobile, Alabama, Heta Patel of Tampa, Florida, and rising junior Joey Lohmann of Menlo Park, California, along with her friend Lillian Hong, a student at Cornell University. 
"Our goal has been to be a source of something that will make these frontline workers smile during a tough day," says Mehta.
The students, now dispersed around the country, were used to collaborating on projects; they were connected through their leadership work on a variety of campus organizations, such as MEDLIFE, Isla Urbana at Penn, and the Penn Pre-Medical Association. "It made the work easier because we were already friends," says Patel. 
Each contacted local hospitals to see whether they would be open to receiving letters, as well as schools to recruit letter writers and spread the word about their project. 
Instructions for writing and sharing the notes, as well as inspiring stories from health care workers, live on their website. Submissions have come from writers of all ages, from 3 to Penn alum in their 60s. 
After Lockdown Letters sent out its first batch, they received pictures and thank you notes from the hospitals. And they hope to keep growing their pool of writers, aiming for personal letters to every health care worker at each partner hospital, and eventually expanding to other essential workers, like grocery store employees and sanitation workers.
"I have friends whose parents are doctors and nurses, and in many cases, they can't even hug their parents when they come home," says Lohmann. "The letters provide that genuine, empathetic message to them, that we're with you, and we appreciate you, and your work is not going unnoticed."
"Words really can go a long way," says Chung.
This is the fourth article in a series on Side Gigs for Good. Visit Penn Today archives to read parts one, two, and three. If you have a side gig for good to share, COVID-related or otherwise, contact Michele Berger.