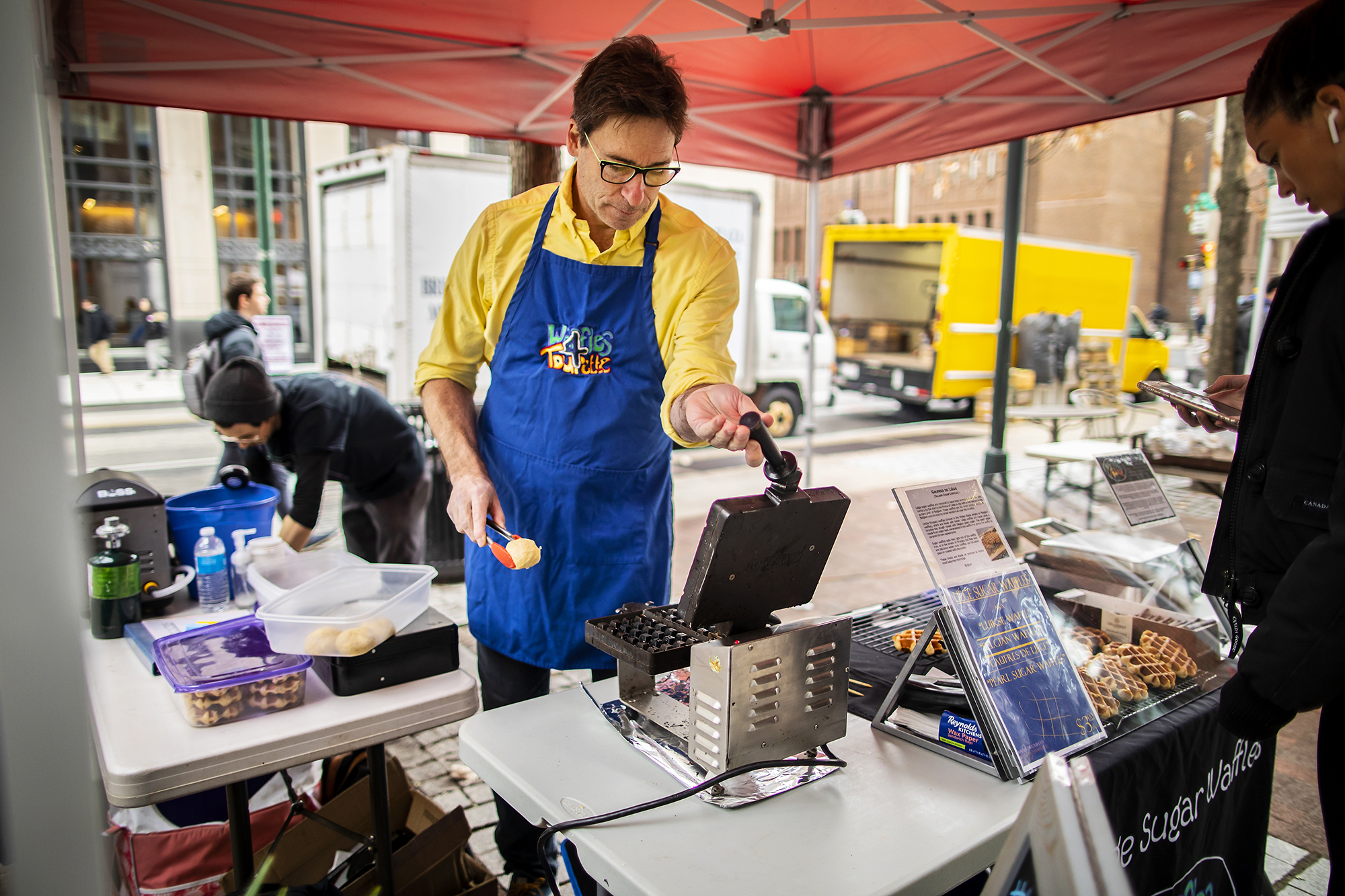 Robert (Bob) Burger joined the band No Evidence of Disease (N.E.D.) three years ago, when the previous bass guitarist left. Beyond rocking out, the musicians have an additional goal for their 15 or so shows each year: raising awareness of and money for research on ovarian, cervical, and other gynecologic cancers.
It makes sense once you dig deeper into the band's composition; all five members are gynecologic oncologists. In about a decade, and in partnership with the Foundation for Women's Cancer, N.E.D. has brought in several million dollars for its cause.
"For me to be effective in what I do professionally at Penn, it's really important to have a global perspective and to have another, more creative way to approach the problem," says Burger, who is a professor of obstetrics and gynecology at the Perelman School of Medicine, and director of clinical research in the Division of Gynecologic Oncology and the gynecologic oncology fellowship program.
Similar stories can be found across Penn, and here's a look at four. In the coming weeks, we'll profile more. 
Making waffles 
Growing up in a suburb of Brussels, biology professor Marc Schmidt "was obsessed" with Liège waffles—dense, chewy confections made with pearls of sugar that melt to form a thin caramelized outer layer. 
On Christmas 2012, Schmidt, his wife, and their two daughters, then 12 and 15, were sitting around the table after dinner discussing ways their family could give back. The idea arose that they could make and sell waffles to raise money for research on Tourette syndrome, a nervous system disorder that causes people to make sudden, involuntary movements or sounds. Schmidt's older daughter was diagnosed with the condition when she was in elementary school.
By 2013 the dinner-table suggestion became a reality. Schmidt began selling waffles in a space in Hobbs Coffee, not far from his home in Swarthmore, Pennsylvania. Each week he'd make 100 waffles, and each week he'd sell out.
Soon approached about operating a stand at the Swarthmore Farmer's Market, he scaled up and started selling the waffles to a larger audience. And this year, encouraged by the organization that runs the market in Swarthmore, he recruited Chris Parsons, a culinary student, to make and sell the waffles at Penn's Wednesday farmer's market.  
In total, they've donated about $13,000 to local and national Tourette associations. Through the work, Schmidt has gotten involved with the Tourette Association of America, now serving on its scientific advisory board, and was recently accepted onto the board of the Pennsylvania Tourette Syndrome Alliance.
"It's kind of come full circle because it's now tying into the science," notes Schmidt, who says he's "most proud" of having recently persuaded neighbor and colleague Marc Fuccillo of the Perelman School of Medicine to launch a study of Tourette.
But likewise gratifying are the opportunities to raise awareness about the disorder. "As much as I love the science, I think advocacy is probably more important," he says. "For me to be at the market and talking to people, it is a unique opportunity to bring attention to Tourette and help people learn something new."
Supporting the marginalized 
For most of her work week, Puneet Sahota is a clinical psychiatrist who sees patients at the Hospital of the University of Pennsylvania. But in addition to her medical degree, she has a Ph.D. in anthropology, and she uses this background in her role as research director for the National Indian Child Welfare Association (NICWA).
"I'm involved in a variety of different projects," says Sahota, who has acted in this capacity for the past four years. "Often Native communities contact us to ask for help in developing their own mental health care systems, especially for children, or they'll ask for help building curricula that are culturally based."
A current project looks at an eight-week course called "Positive Indian Parenting" developed by NICWA. In the 1960s and '70s, many Native children were forcibly removed from their homes and placed into those of white families, in the process depriving them of growing up surrounded by their own cultural heritage.
"The results of that historical trauma continue to reverberate today, and many communities are looking for ways to heal," Sahota says. "A curriculum like this could help them do that, but to get federal funding, we need research and we need data. That's where I come in."
For Sahota, the work is a bridge, a way to put an anthropology lens on her clinical training. Beyond that, these communities inspire her. "I don't speak for them. I don't presume to know what the solutions are," she says. "But I believe they are rooted in the Native communities, in their resilience and their strength. I try to be a support for them."
Rocking for cancer research
Most kids who dream of growing up to be a rock star don't actually succeed. But Penn Medicine's Robert Burger got to do that and become a surgeon who treats patients with hard-to-comprehend cancers. His bandmates in No Evidence of Disease (N.E.D.)—John Boggess, Will Winter, Gizelka David-West, and Nimesh Nagarsheth—are all oncologists and surgeons, too. 
"The mission of the band is to support awareness, education, and research for women's cancers. We've raised multiple millions of dollars over the years," Burger says. And though the music does tend to center around cancer, Burger says it's really universal. "It taps into themes outside of the cancer world, too. In one way or another the songs touch the lives of our fan base, including patients, families, and people who are interested in supporting this research or just dig the music." 
To date, N.E.D. has released three albums, and a fourth, currently in the works, includes a previously released single, "Life as it Was," featuring lead-guitar solos from Tom Morello of Rage Against the Machine. The musicians live in different parts of the country, so they practice separately and then rehearse together before shows. 
It's a crucial creative outlet for physicians working in field that can be mentally taxing. "It helps me stay fresh, focused," Burger says. "Oncology is very hard, emotionally, on a day-to-day basis. One way to manage that is by having something that's a little lighter." Not only is it fun to perform, he adds, but it's another means—and an engaging one at that—to educate the public about the importance of screening, early detection, and treatment options following a gynecologic cancer diagnosis. 
Welcoming all shapes and sizes 
When Debra Williams started getting winded after climbing just a few stairs, she knew it was time to make a change. "I had high cholesterol. My blood pressure was off the charts. I didn't have diabetes—I guess that's a blessing—but I had all the major ailments that affect many African-American women." 
It was then that Williams, director of special events at Penn's Annenberg School for Communication, "jumped both feet into fitness." She got a trainer. She started Spinning class, something she'd never tried. Eventually, she lost more than 50 pounds, and though she was proud of the accomplishment, she says she'd look around the facility during her workouts and, as a black woman in her 50s, she would feel isolated. 
From that realization came SMART Fitness, a gym Williams opened in 2017 to offer a welcoming environment for people of all shapes, sizes, and colors. "Anybody can come, and anybody does come, but I wanted to do something that focuses on African-American women, mainly someone who looks like me," she says. 
The gym offers the standard class fare of Zumba and Spinning, but Williams also brings in speakers to discuss topics like mindful eating. The idea is to foster community, making the gym more than just a place to break a sweat. 
"Community is big," Williams says. "Recreation and exercise are part of my mission, but we also have fun. You just come in and have fun. Nobody cares what you look like." 
This is the first article in a series on Side Gigs for Good. If you have one to share, send a note to Michele Berger.