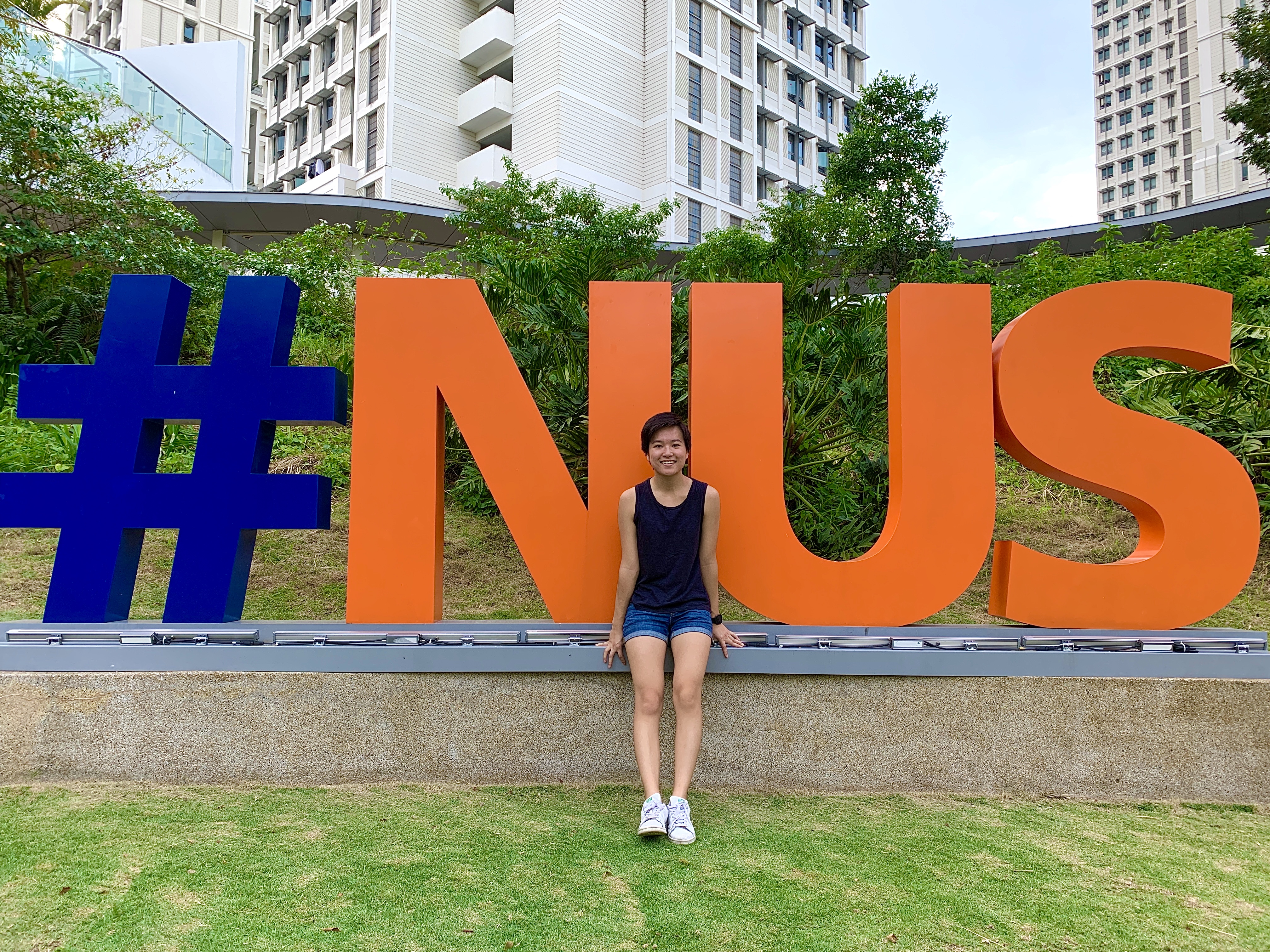 The timing was impeccable. Just three weeks after Jackie Shi returned to Singapore from a spring break excursion to Indonesia, the U.S. announced Level 4 travel restrictions. She was forced to cut her semester abroad short. "I had a flight booked within the next hour and called my parents to tell them I'd be home in three days," Shi, a rising senior in the College of Arts & Sciences, wrote in her final blog post as a Penn Abroad global correspondent. On her last day in the country, Shi and her new friends gathered to take a group photo in front of Marina Bay, an iconic Singaporean landmark. In the photo, she and four friends stand close together. Behind them, Singapore's skyline is multifaceted, textured by gravity-defying structures. Above it all are thick gray clouds, broken up by insistent, golden daylight.
Shi says she always knew she wanted to study abroad. "When else can you just drop everything for six months and move across the world to study? Plus," she says, "everyone I've met that has studied abroad has come back with amazing stories to tell." 
The only thing left to do was figure out where she wanted to go. Shi is Chinese American, and Asia offered "a completely different cultural experience than what I can get at home in America." After narrowing down the continent, it was between Singapore and Hong Kong. But when applications were due last fall, Hong Kong was reeling from massive protests. Singapore became the clear choice for the spring semester. So, she registered for classes at the National University of Singapore, got her paperwork in order, and prepared to visit South Korea before moving into a dormitory on the other side of the world. 
For Shi, the semester was both an opportunity to explore her cultural identity and to compare several styles of governance in a short span of time, a dream come true for a political science major interested in diversity and inequity. "While being Asian shapes a lot of my habits and physical traits, I realized that being American molds much of how I think and view the world," she wrote in a March blog post. 
She says that from an American point of view, Singapore's government can seem authoritarian or paternalistic, while American politics can look pretty dysfunctional from a Singaporean perspective. As an example, she points to the Americans protesting social distancing orders, "calling it an infringement of their rights." Meanwhile in Singapore, she says, "people will comply with stay-at-home orders and think that the government is doing the right thing." Still, the country is far from a utopia, she says. Like the U.S., "they promote themselves as a really multiracial country, but they do have their own problems with race," as evidenced by tension between Chinese and Malaysian Singaporeans. 
As the semester progressed, Shi took advantage of long weekends to travel to nearby Malaysia and Thailand, trips that gave her more perspective on the young country that had become her temporary home. She found that both Malaysian and Thai architecture has been heavily influenced by outside forces, telling a complex story of trade, oppression, and colonialism. In Phuket, Thailand, she was particularly moved by the government's attempts to protect its beaches and coral reefs from the harmful effects of tourism. "It was really heartbreaking to see that despite these efforts there was still litter on the beaches and in the water," she says. "It made me much more conscious of the environment and preservation efforts."
As she explored Southeast Asia, the pandemic loomed in the distance. "Right from the start, around the end of January, things started picking up," says Shi. Her classes moved online and she quickly formed a group chat to stay in touch with her new friends. Penn Abroad reached out to offer her the opportunity to come back the U.S. early, and Shi's parents encouraged her to do so. "My mom lived through SARS," Shi says. "But I was pretty adamant on finishing my semester in Singapore." Her Penn Abroad adviser kept her informed through weekly emails and personal check-ins. 
In late February, during Spring Break, Shi went on another excursion, this time to Indonesia. She was struck again by the remnants of the past evident in the architecture. "Due to Indonesia's history of trading with the Arabs, many mosques were built with minarets and domes," she says. She spent the week visiting temples and shrines before heading back to Singapore for what was to be just three weeks more of her study abroad experience. Following the news of travel restrictions, Shi's trip home was quickly secured.
While she's glad to have been able to learn about Southeast Asia in person, returning to her parents' home in Queens ultimately lifted a weight off her shoulders. "I think the coronavirus just adds a lot of things onto your mind that you have to think about and consider, especially when you're abroad," she says. "Finally coming and just feeling safe at home was a really big relief for me."
As for her new friends, Shi says, "We still have a group chat going. At least we're trying to keep it alive." Time zones make staying in touch a challenge. As for what she'll miss the most about Singapore: "Oh, the food. I really, really miss the food." 
All images courtesy of Jackie Shi.