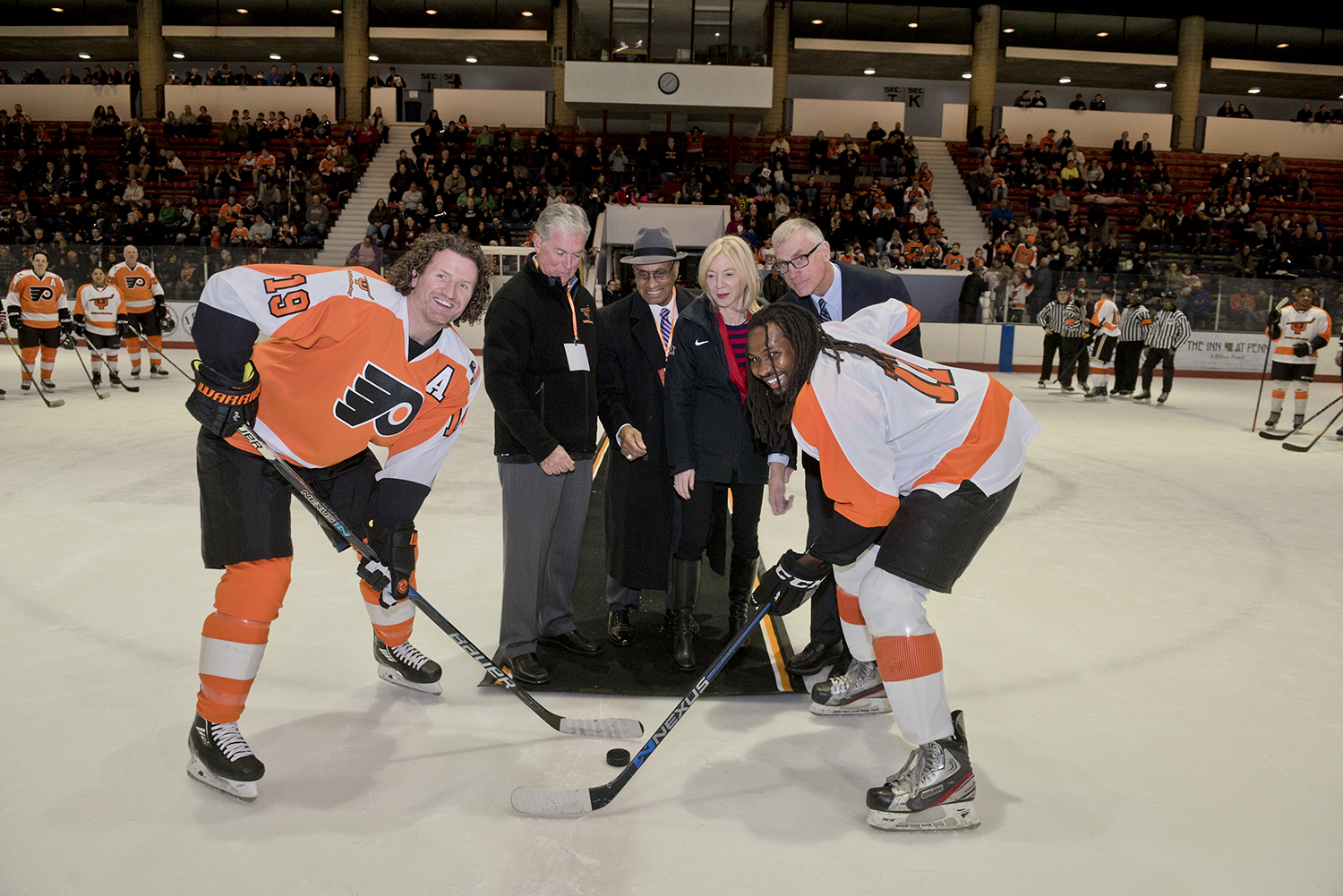 On a spirited Friday night, hockey fans, hockey players, and members of the Penn community gathered in the brisk Class of 1923 Arena for a charity hockey game that featured faces both familiar and fresh. As part of the NHL Stadium series weekend, the Alumni Charity Game put Flyers alum head to head with members of Snider Hockey team for a friendly, but surprisingly competitive, match on Friday, Feb. 22.
For the Penn community, the event was a celebration of the collaboration between the University's Class of 1923 Arena and the Ed Snider Youth Hockey Foundation. In exchange for serving as the home for the Snider Hockey team, the Foundation provided $7 million for upgrades and renovations to the facility. 
Penn President Amy Gutmann was on ice, though not on skates, for a ceremonial puck drop. Joining Gutmann was Bill Whitmore, chairman of Snider Hockey.
Flyers Alumni also pledged $2 million to support the mission of Snider Hockey, which began in 2005, and has grown to a nationally acclaimed youth enrichment program for both boys and girls with a wide audience.
The evening brought together players on the Snider team and their families, plus a large showing of Flyers alumni and their families. Philadelphia mayor Jim Kenney and councilwoman Jannie Blackwell were also in attendance. Upstairs in the VIP lounge, various fans and family members, including toddlers in too-big jerseys, enjoyed food and drinks to the sounds of the Eagles Pep Band, a quartet in Eagles jerseys playing stadium hits on a banjo, standup bass, and two saxophones. 
During warmup, some balding pates were visible alongside the helmeted teen boys and girls. Wearing his #14 Jersey, Joe Watson, who won the Stanley Cup in 1975 and '76, warmed up alongside #19 Scott Hartnell, who retired in 2018, and #33 goalie Brian Bouchier resuming his post. Number 44 Kimmo Timonen—"a legend!" a spectator gushed—skated around #8 Brad Marsh, who is also the Flyers Alumni president. 
The ceremonial carpet was rolled out for Whitmore and Gutmann, and Willie O'Ree, representing the Flyers Alumni, for a ceremonial puck drop. O'Ree, who played winger for the Boston Bruins, was the first black player in the NHL, and is a Hockey Hall of Fame member.
"When Ed Snider created his youth hockey foundation in 2005, it had one great purpose: to share the wonders of ice hockey—one of the fastest, most challenging sports—with the youth of this city," said Gutmann. "These are Philadelphia kids who might never otherwise get out on the ice. Three great organizations—Snider Hockey, Flyers Alumni, and Penn—are combining efforts on behalf of our city's kids and our local neighborhoods."
After Hartnell and a Snider player posed over the ceremonial puck drop, and after the bars of "Eye of the Tiger" faded, hockey ensued. With decades of experience under the Flyers' belts, the matchup appeared unequal. But the Snider youths came out strong. Just shy of five minutes in, the Snider team sent a puck soaring past Bouchier. Snider-1, Flyers-0. It was a fantastic start for some promising players. 
Photos by Avi Steinhardt