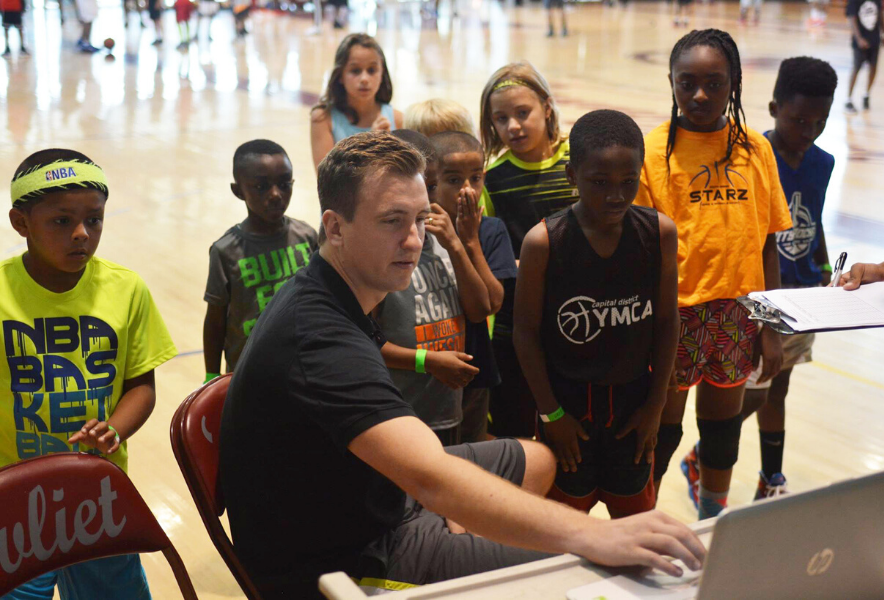 Postdoc fellow John Drazan understands the importance of having credentials. As a former college basketball player, Drazan knows that athletics provides students with persistence, resilience, and a growth mindset. As a researcher, Drazan uses the scientific method to conduct biomechanics research with his mentor Josh Baxter at the Perelman School of Medicine's Human Motion Lab. 
Using his credentials in both sports and science, Drazan has spearheaded innovative ways to share STEM with sports communities through engaging, hands-on activities. Now, Drazan is also using his dual credentials to connect scientific experts with sports reporters to help communicate the science behind the coronavirus pandemic to a new audience.
Making connections between science and sports
Drazan first became interested in STEM when his high school physics teacher, a former NCAA Division I swimmer, showed him how math and physics could be applied to sports. "I saw him as a respected athlete, not just a science teacher who was trying to grab my attention" says Drazan, adding that learning from a teacher with credentials in both sports and STEM was a source of inspiration for him to pursue a career in science. 
As a physics major at the State University of New York at Geneseo, where he also played varsity basketball, Drazan furthered his interest in the study of how the body works by creating his own biomechanics lab. With his unique perspective as an undergraduate physicist, Drazan went on to earn a Ph.D. in biomedical engineering from Rennselaer Polytechnic Institute, where he studied loading patterns in orthopedic implants and developed new implantable medical devices. 
While still working on his Ph.D., Drazan's friend and former college basketball teammate John Scott reached out to see if he could help at-risk youth with "math and rebounding" as part of 4th Family Inc. Drazan quickly discovered that basketball could become a venue for teaching science to a new audience, and he and Scott went on to create the 4th Family STEM program which included summer programs such as "The Science of Athletic Performance," which has helped more than 5,000 inner-city youth engage in hands-on activities focused on sports, science, and engineering. 
Drazan later went on to develop similar outreach initiatives, including a partnership with Tomorrow's Stars Foundation and the Court Science Academy, a four-day STEM education initiative held during the NBA Summer League. Middle school athletes from Las Vegas learned how to combine human physiology, data analytics, and engineering to study elite athletic performance. Drazan has also used science outreach to empower collegiate student athletes to be role models for their communities. "Authenticity to sport is crucial," Drazan says, which is why he recruits college athletes to design, test, and run biometric tests to collect data from participants on metrics they consider important for their sport. 
During these activities, Drazan collects data to evaluate how effective outreach events are in generating STEM interest for new audiences with the goal of increasing diversity in STEM. "The challenge is getting people into STEM who aren't already interested, and you can't be interested if you aren't aware," says Drazan. It's why Drazan sees the incorporation of STEM with sports, which have pre-existing networks and diverse populations, as an important avenue for education and empowerment. 
Science communication and COVID-19
As part of his PennPORT IRACDA postdoctoral fellowship, Drazan is spending the year as a teaching fellow at Lincoln University, where he teaches an upper-level biology course on the science and engineering of sports physiology. As the novel coronavirus began to spread more quickly, Drazan shifted some of his focus in class to discuss the misinformation around COVID-19. "One of the big things I talk about is that people with the most expertise are the most aware of how complex this situation is. Therefore they are often not likely to make declarative predictive statements," he says, emphasizing the importance of communicating uncertainty around the coronavirus and generalized scientific literacy. 
As the latest recipient of the AAAS Early Career Award for Public Engagement, Drazan has also been tapping into his network of researchers, science communicators, and media outlets to help bring scientific experts to a new audience using a similar approach to his sports-focused STEM outreach initiatives. "There are people who are dialed in and who value science news," Drazan says, "but providing science in unexpected venues to reach new audiences is really important."
One of those "unexpected venues" is sports podcasts, whose audiences are currently dealing with cancellations across a wide range of events and leagues. "Sports podcasts are a fantastic way to reach a broader audience, connect to topics that people are passionate about, and reach people where they are," says Liz Crocker, who works in the Center for Public Engagement with Science and Technology at the American Association for the Advancement of Science and has been helping connect Drazan with scientific experts for sports podcast interviews. "This kind of initiative highlights the drive and creativity that earned Drazan the AAAS Early Career Award for Public Engagement with Science," Crocker says.
The first podcast that Drazan and Crocker helped coordinate was posted just three days after the NBA cancelled the 2020 season, which marked a massive shift in public perception around the seriousness of COVID-19. "The Athletic" interview with microbiologist Maria Elena Bottazzi and sports injury epidemiologist Zachary Binney focused on what was currently known about the novel coronavirus, how that knowledge related to the decision to suspend NBA games, and best practices for listeners on how they could deal with the virus. 
"It's a scary time, but if you are armed with information, it's less scary," says "The Athletic" host Dave DuFour, who had met Drazan at an NBA Summer league event. "This was our way of doing a public service, bringing people that are experts to discuss this thing affecting every single person on the planet."
Since then, Drazan has helped make connections for four additional sports podcast episodes, including one for SB Nation's Buffalo Rumblings site. In that episode, Binney, who is also an avid football fan, was able to explain the COVID-19 response in the context of language already being used to talk about the team's new general manager ("tear down, rebuild, success"). 
"We're in an unprecedented media environment, where the risk of misinformation and conspiracy theories are putting people's lives in immediate jeopardy," says Drazan, emphasizing that he hopes to continue fostering connections between scientists and sports media to help people understand the seriousness of COVID-19.  
Looking ahead while taking the lead
While currently busy analyzing biomechanics data, teaching at Lincoln, and writing research papers, Drazan is looking forward to doing more biomechanics research and STEM outreach in the future. In the meantime, his science outreach and communication efforts will be focused on connecting scientific experts with sports media outlets to inform the public. 
As a former college athlete, he empathizes with how the sports community is feeling about the cancellations but hopes to keep getting the word out on why such cancellations are important. "I can only imagine how it would feel to lose out on senior season," says Drazan. "I understand how frustrating it is, but this is a national health crisis. Social distancing is really the only tool that we have in the short term. Sports took the lead with public messaging on the severity of coronavirus by suspending entire seasons, and it changed the public's perception. Even though sports are on hold for now, I think that sports are still providing our society with role models."
Images courtesy of John Drazan.
John Drazan is a Penn-Postdoctoral Opportunities in Research and Teaching (PennPORT) Fellow in the Human Motion Lab in the Perelman School of Medicine at the University of Pennsylvania.
This work was supported by the National Institute of General Medical Sciences of the National Institutes of Health (Grant K12GM081259).