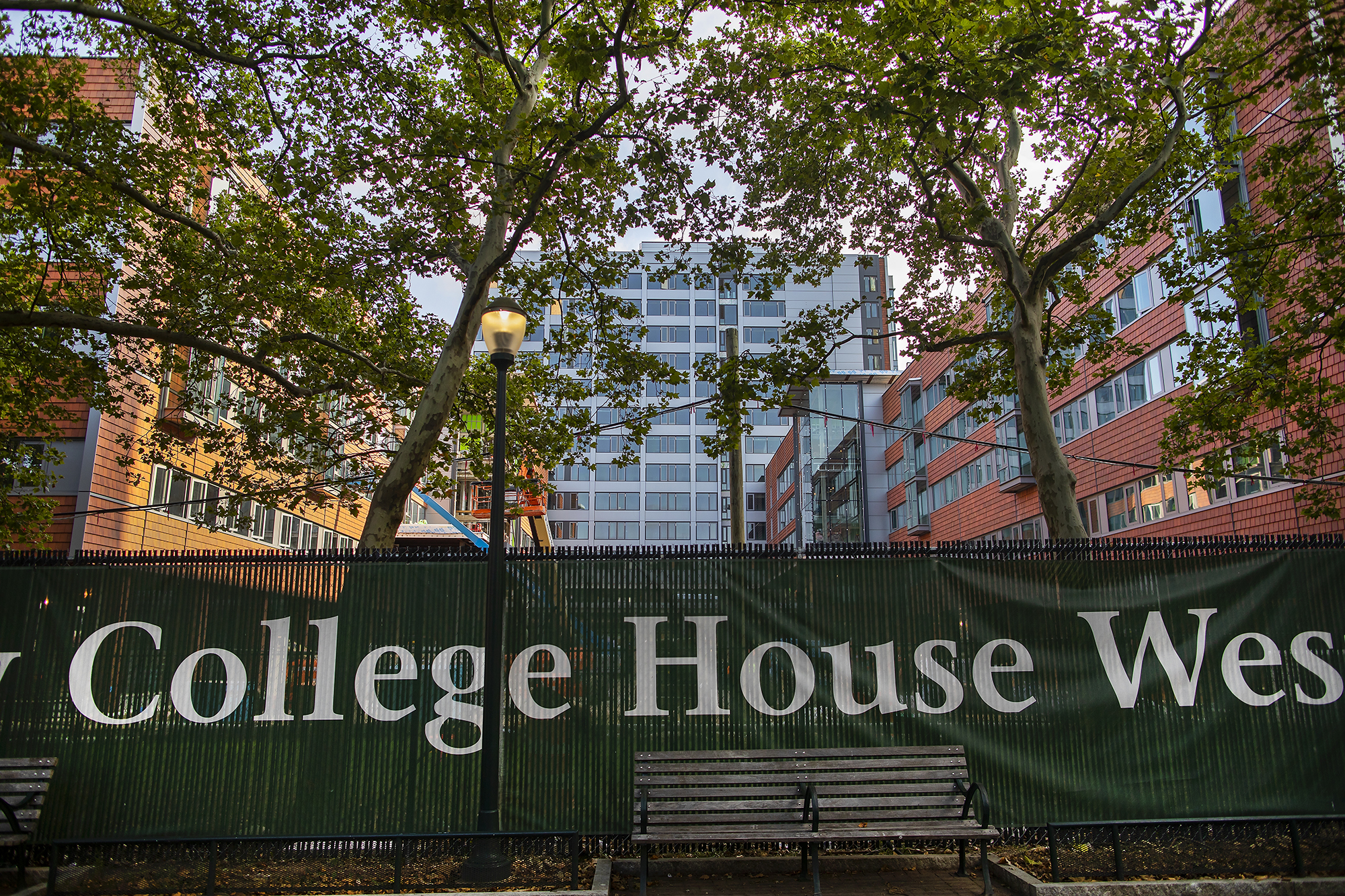 The pandemic caused seven weeks of delayed work, with March's stay-at-home order temporarily halting construction projects, with exceptions like Tangen Hall and New College House West, where limited exterior work was allowed to continue to enclose the buildings. Behind-the-scenes planning and design work—like shop drawing submittals—happened during those periods of pause.
By May 1, Pennsylvania allowed construction to restart, with Philadelphia only allowing projects that had permits issued by mid-March and limiting shift work and requiring construction to happen during the day—with distancing. Now, says Mike Dausch, executive director of design and construction in Facilities and Real Estate Services, workers are masked, distanced, have staggered start and stop times to avoid large groups arriving or leaving together, have limited access to small interior areas, have their body temperatures taken regularly, and are surveyed about possible symptoms. Each project must have a Pandemic Safety Officer to monitor worksites and ensure safety protocols are being enforced.
"It's been a challenge," says Dausch, explaining that not as many workers are able to be put on the job at once. "And also, wearing a mask is especially uncomfortable when doing construction work in the hot and humid weather that we have experienced recently."
Still, much has been accomplished. Those returning to campus will notice, particularly, what looks like a nearly completed exterior of New College House West.
"The project delayed the least is New College House West. That and Tangen Hall were two we were allowed to continue with some of the weatherization work during the shutdown," he says. "The building is almost entirely enclosed now … If you go by right now, it looks like it could almost open this fall instead of next [fall] for students, but the interior is underway and it's still going to need time to get that wrapped up."
Tangen Hall, meanwhile, is still scheduled to finish this November and is a top-of-mind priority, alongside the Wharton Academic and Research Building that will now be completed in October. The Wharton School intends to use the building in the spring semester.
The only project significantly delayed, he adds, is the addition of HVAC to Gregory College House, which currently has heating but not cooling. That project has been delayed approximately one year as a result of the COVID-19 construction interruption, lingering student belongings from the unexpected move-out this spring, and factory closures limited the availability of needed equipment.
The reimagined Weitzman Plaza, meanwhile, also saw a seven-week delay as a result of the COVID-19 shutdowns. Construction is focusing first  on the stairway ascending from 34th  Street toward College Green, followed by seating areas and sides of the stairs that will feature woodwork and newly planted yellowwood trees—a callback to trees that originally existed on that space more than six decades ago. The stairway will be opened at the end of September and then the remainder will be completed by the start of the spring semester. 
"We've really been working to recover whatever time we can and minimize the impacts of those delays," says University Architect Mark Kocent. 
Other projects of note: the Pennovation Works Lab Building redevelopment, which will be completed in November; Biotech Commons in the Johnson Pavilion, which will finish construction in May 2021; Penn First Plus and Paideia offices on the first floor of College Hall, which will finish by September; and the University Meeting and Guest House, which completed its partial demolition phase this summer and is set to be completed in March 2021. The Penn Medicine Pavilion, meanwhile, paused interior work in March to focus on opening 120 hospital beds for COVID-19 patients; construction on the interior has since resumed, but that space can quickly be ready for use if needed again, Kocent says. 
There are 390 total active projects, and Kocent and Dausch emphasize that many of them represent small improvements to facilities—classrooms, façade restorations (like the 3401 Walnut St. stucco facades), and a concrete restoration of Franklin Field. The latter, says Dausch, has actually moved faster since the pandemic because of a hydro-demolition that has been able to occur during daytime hours due to postponed athletics seasons. Projects that would have required the relocation of current occupants have also been able to move faster and at a lowered cost while they are working from home, he added. 
The cost of the pandemic on construction, ultimately, has been challenging but manageable. With incredible attention paid to reducing workers' risk of infection.
"There was a lot of effort put into closing the projects down safely and keeping them secure, and a whole lot of effort in bringing them back online and figuring out how to do that where we could put in infection-control procedures," Kocent says. "And I think [so far], overall, it has been successful."