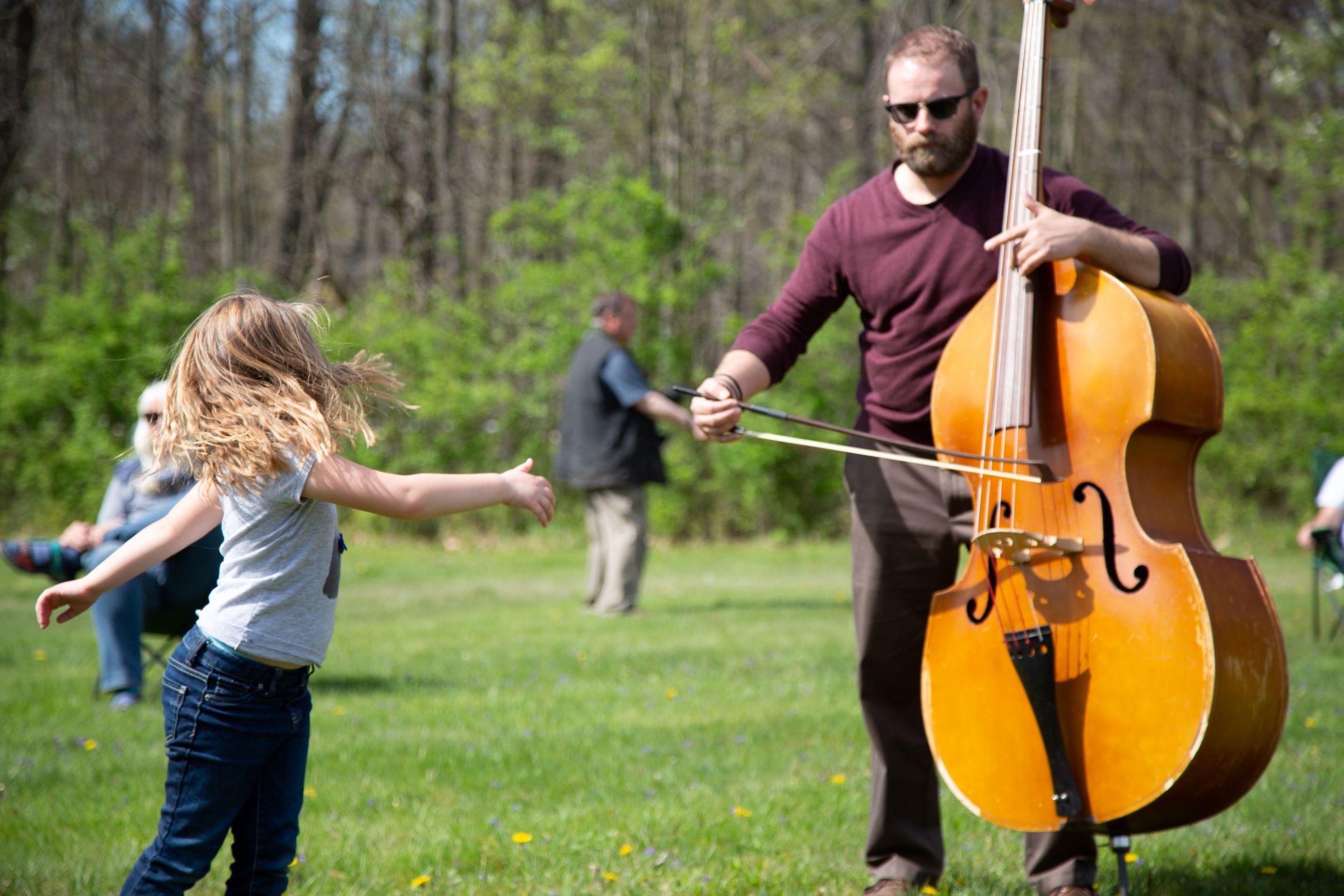 There's a long history of the natural world inspiring classical music, from Vivaldi's "Four Seasons" to Vaughn William's "The Lark Ascending." Now, Penn Live Arts will kick off its fall season with the local premiere of "Ten Thousand Birds" given by modern chamber music ensemble Alarm Will Sound in an outdoor performance at Morris Arboretum's Bloomberg Farm on Sept. 25.
Composed by John Luther Adams, "Ten Thousand Birds" incorporates the song of native and migratory animals, says Christopher Gruits, executive and artistic director of Penn Live Arts. While originally performed in St. Louis, Adams chose birds whose natural range spreads across the East Coast. The species featured include the low bellow of an American bullfrog, the two-part whistle of the eastern phoebe, and the hammering of the pileated woodpecker.
"The idea of the experience is like being in nature," says, Alan Pierson, Alarm Will Sound's artistic director and conductor. "John has created this music inspired by bird song, frogs, the sound of wind in trees. And the piece is structured so that you as an audience member have these encounters with sound as you move through the piece and the space."
The composition he received from Adams was not "a traditional score but a kind of kit," says Pierson. "And then it was up to me to craft an experience with that music and figure out how to make an experience unfold in time and in space."
The composition is not led by a conductor, as is typical of performances. It's more informal, and both the audience and the performers will move through the space. This is a piece that works for a wide range of ages, Pierson says. Since it was composed in 2014, "Ten Thousand Birds" has been performed in different locations, changing with each iteration. Children gravitate to the spontaneity, as well as some adults, Pierson says, and he has seen audience members get up to move and dance.
"It's an outdoor aesthetic installation experience, and one that is delightful and engaging and surprising," Pierson says. "It is music that unfolds around you. You encounter music similarly to how you encounter sounds in the natural world."
The result is a place-based program perfect for those easing into public events. "As we return to live performances after the pandemic we wanted to start gradually with outdoor programs," Gruits says. Penn Live Arts will begin indoor programs in November, in addition to some streaming programs later in the season.
"A big part of what we do is provide artists with a platform to address topical issues," Gruits says. "John Luther Adams is a really significant American composer who has a long history of addressing environmental concerns through his compositions," he says.
"Ten Thousand Birds" is one of several Penn Live Arts offerings organized around the environment and how artists are responding to climate change. Four environmental films available between Sept. 16 and 26 explore environmental change through rural Mexico's agricultural heritage, in post-hurricane Puerto Rico, Bahamian coastal reefs, and Bangalore, "India's Silicone Valley" on the Deccan Plateau.
Climate change has different impacts for different cultures and societies, and Penn Live Arts wanted to reflect these differences, Gruits says. "Because the arts are universal we're able to look at the commonalities and similar challenges cultures have when confronting climate change."
The arts offer different perspectives and are a way to share new experiences as a group. "Live arts are more important now than ever," says Gruits. "It's a core part of civil society that people were really missing during lockdown and isolation." Having a space to "come together as a community to experience profound statements in the arts is a very important part of people's lives," Gruits says. "Our audiences have told us they missed live performances and they are excited to return."
Alarm Will Sound performs "Ten Thousand Birds"
Sept. 25 at 1 p.m. and 4 p.m. (rain date Sept. 26)
Bloomfield Farm at Morris Arboretum, 100 E. Northwestern Ave., Philadelphia
Penn Live Arts, the Morris Arboretum, and the Sachs Program for Arts Innovation are partnering to offer free transportation and admission to "Ten Thousand Birds" for Penn students who register by 7 p.m. on Friday, Sept. 24.