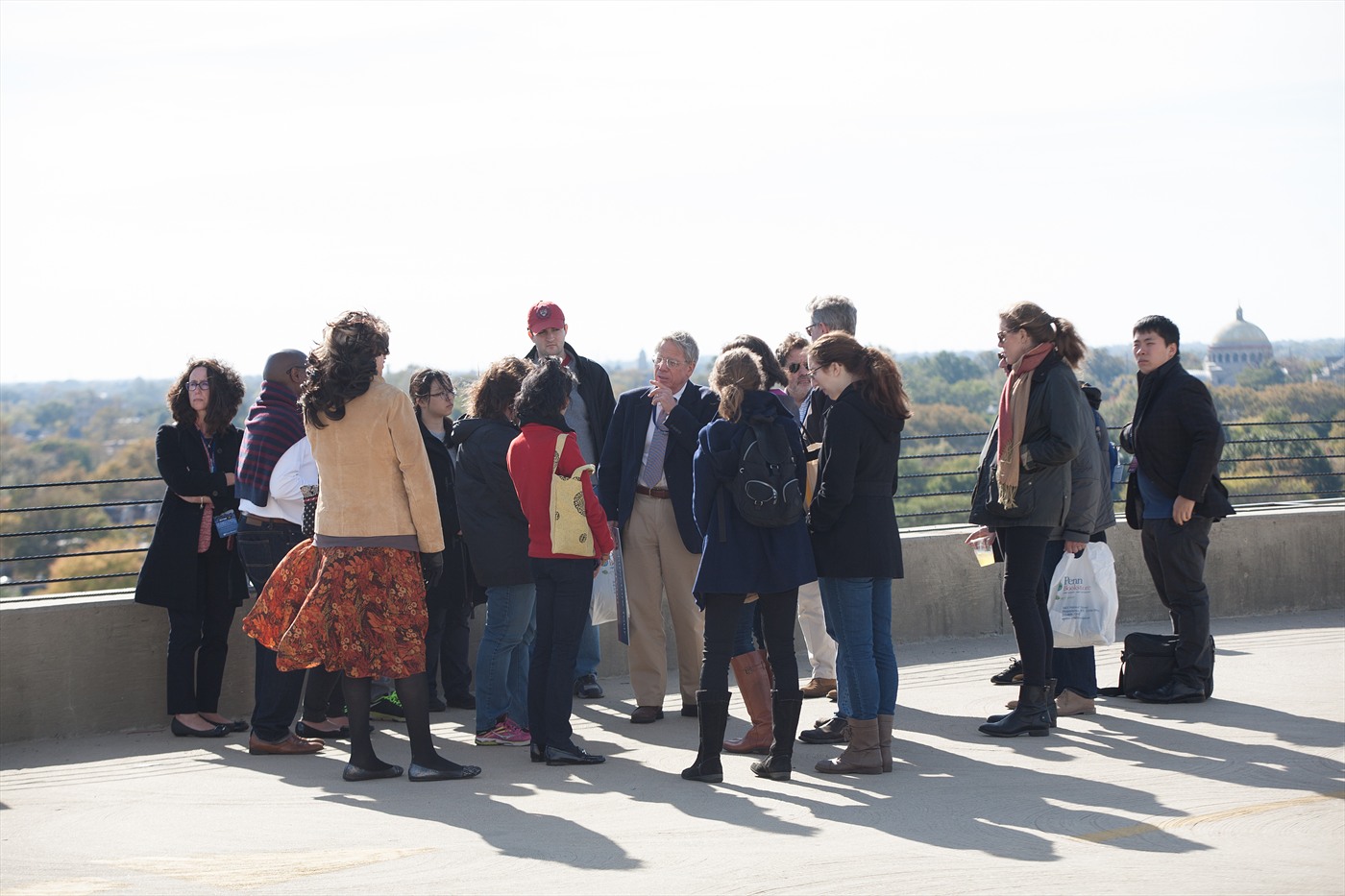 For Bill Hohns, who graduated in 1974, Penn Alumni Weekend isn't just a chance to reacquaint with old friends; it's a chance to reacquaint with campus itself.
"An alumnus has a fixed memory of campus when you leave it … you remember it the way it was," he says. "When you go back, you see the differences."
Hohns, who now lives in Florida, revisits campus nearly every year for Alumni Weekend. He travels to enjoy the weekend's lineup of events and experience campus all over again. For him, it's become a favorite time of year.
"[Returning to campus as an alum] is not matched by any other return to a place. Once you're an alum and all the requirements are past, it is a nice, relaxing walk through campus, just looking at how things have changed," he says.
"It's one of the most peaceful places I go every year."
That reintroduction to campus is facilitated by the Office of Alumni Relations and Office of Development. Just some of the campus tours made available: a pair of 19th- and 20th-century architecture tours, led by History of Art Professor David Brownlee; a sculpture tour, led by University Art Collection Manager Lynn Smith Dolby; a gallery hop that spins through the Arthur Ross Gallery, Architectural Archives, and the Institute of Contemporary Art; a Then and Now Class of 1969 50th Reunion campus tour led by 1969 alumnus Wendy Santoro; a smattering of student-led tours; and a combination of architecture, landscape, and green roof tours led by former University Architect David Hollenberg and University Landscape Architect Bob Lundgren. 
This is the 10th year that Alumni Relations has organized Alumni Weekend—and Homecoming—with an eye toward arts and culture programming.
"We hope alumni have a lifelong engagement with the University, as these things are designed, in part, to give them more reasons to come back to campus," says Sheila Raman, director of development for arts and culture, noting that tours always reach capacity. "It is a way of generating visibility and support for alumni and for our many, many arts organizations on campus."
One of the first tours hosted as part of the program was Brownlee's architecture tour, whose historical take on architecture has become a mainstay of Alumni Weekend programming. 
"Part of his passion for this is he really wants alumni to be proud of their architectural heritage of the campus, and sees it as a way for people to be more committed to doing the right thing for architecture," Raman says. "That fits with the character of the campus."
His 19th-century walking tour, scheduled for Friday, May 17, at 2 p.m., winds through the historic heart of campus, shepherding alumni by College Hall, Fischer Fine Arts Library—what many alumni remember as Furness Library—and then traversing to the Quadrangle Dormitories and the Engineering School buildings—essentially covering campus history up to 1929. 
His second tour covers the building boom under President Gaylord P. Harnwell in the 1950s and begins on top of the Fresh Grocer parking garage at 40th and Walnut streets, discussing the concept of "pedestrian zones," criticism that followed the University's at one time inward-looking design strategy, and a talk-through of the eventual turn toward re-commercializing Walnut Street (many alumni on his tour, he notes, remember Walnut Street as a street of parking lots), transforming Locust Street into Locust Walk, and the modernization of buildings in the 2000s. 
Brownlee laughs that he spends some time during tours debunking "alligator in the sewer" sets of myths about campus.
"But I think, in general, the thing that I love about [the tour] is that people who in fact knew the campus very well find new things which are exciting, and they also find out new things about the things they thought they understood," Brownlee says. "I think there's just a wonderful series of stories to be told."
Another campus walking tour, scheduled for Saturday, May 18, at 10 a.m., is hosted by Hollenberg and Lundgren, who focus on landscape and modern architecture—ideal perspectives for tour guides, as they've been intimately involved in the shaping of the University's planning and aesthetics. This is the fourth year they've hosted the tour together—"We do a good Simon and Garfunkel routine together," Hollenberg quips of their chemistry.
The tour, which Hollenberg describes as very different from Brownlee's, discusses non-building-related landscapes like Shoemaker Green and the BioPond, while also looking at modern building designs like New College House, the Levin Building, and Perry World House. The tour starts at the Benjamin Franklin bench and moves toward Perry World House, stopping to talk about the Annenberg Center for Performing Arts, the bridge at 38th Street, Penn Law, and others, before ultimately ending at Penn Park. 
They also discuss newer elements of landscape design like rainwater gardens and stormwater management. 
"We try to give a full spectrum of typologies, and how they happen, and how they relate to long-range planning and building design," Hollenberg explains.
"I think people like that aspect of the tour because it's something often taken for granted," he adds. "And in the past couple of years, we've been able to play up that the campus is now an arboretum, to talk about what that means and how it happened, how rare it is, and what a tribute it is to campus and management."
They also host, in tandem with the Stuart Weitzman School of Design, a green roof tour—of Golkin Hall—on May 18 at 2:30 p.m. That tour, newly introduced this year, is available to Weitzman School alumni. 
Recent years have seen an almost endless supply of tours crop up, giving alumni like Hohns an opportunity to experience a peaceful moment of strolling down Locust Walk while also learning a little something new about that familiar, comforting place in the process.
"One of the best things we can do for our alumni is to bring them back to campus, and during Alumni Weekend, many have returned after being away for many years and they are anxious to see how things have changed—and stayed the same," says Hoopes Wampler, associate vice president of Alumni Relations. "Providing campus tours allows us to put campus changes into context and show our alumni family how the campus has evolved since their student days."