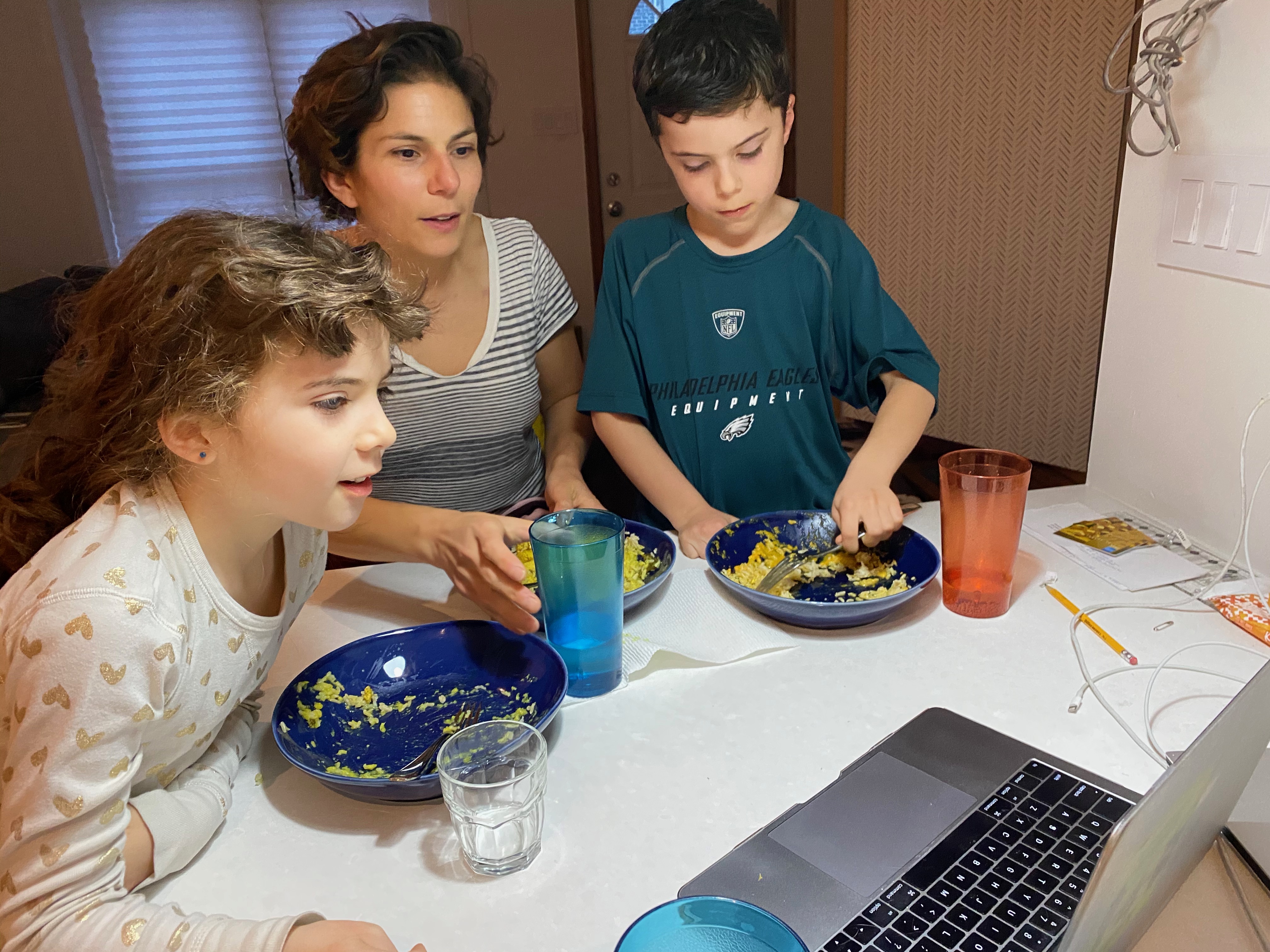 Her 8-year-old twins on her lap, Penn Professor Megan Ryerson last week had her family dinner of spiced chickpea stew with coconut along with eight invited guests, her students appearing on a laptop in the center of her kitchen table. 
The chair of transportation and associate dean for research in the Department of City and Regional Planning at the Stuart Weitzman School of Design, Ryerson lives in a Center City rowhouse with the twins, her husband, and their feisty dog. 
"We went around and said where we were and checked in with each other. I asked what time zone people were in, what were their concerns. My son played the guitar," she says. "It might feel stilted at first, having dinner on Zoom, but it's the way that we are going to be together now and for a while going forward."
Usually life is so very busy that mixing teaching and family is reserved for end-of-semester dinners with her research group. But now inviting all her students to regular dinner just seems like the right thing to do. 
"I immediately felt this loss of connection: in the classroom, in seminars, in casual lunches. What is a world-class university if it is not people exchanging ideas together in person, proximate to that electricity and synergy?" Ryerson says. "Penn is not just about delivering an education; it is an experience."
Describing herself as "relentlessly positive," she tried to think of how to connect with her students and have them connect with each other. "My specialty is transportation. My entire life is transportation. I am fascinated by the entire field and how it's constantly changing. These students love transportation. I decided we should get together to talk transportation, especially with these new challenges, and to get to know each other better along the way," she says. 
Because she is now homeschooling the twins while teaching Penn courses, sharing the office with her husband who is also working from home, there isn't a lot of free time. So she decided to invite her students into their lives virtually—eating dinner, watching movies, just normal everyday stuff, and talk transportation along the way.
Ryerson is hoping that the social time they spend together as a class will encourage the students to reach out to their friends and classmates in online group sessions. "I want to normalize Zoom as their new work life and social life" she says. 
The first movie night featured "Sully," about the 2009 emergency landing of a US Airways plane in New York's Hudson River by Capt. Chesley Sullenberger. Ryerson has crowdsourced transportation-related movie choices and has a list ready for future showings. 
Ben Dodson is a first-year city-planning student enrolled in two of Ryerson's classes: Planning by Numbers and Air Transportation Planning. Now living with family in Washington, D.C., he says he really appreciates the virtual get-togethers, when they share strategies for adapting to this new life and work style, including Zoom tricks and movie recommendations. 
In one dinner discussion, they shared their perspectives on how transportation and housing choices will change in the long-term as a result of this shared experience, he says.
"It was a lively discussion that touched on a broad range of issues from economics of the airline industry to the urban-rural divide of access to delivery platforms," Dodson says. "I've found these discussions help keep me grounded in the reality that I am still part of a group of curious transportation academics even though I no longer see these people in-person on a daily basis." 
Getting to know the Ryersons, he says, has lessened the sense of isolation many students are feeling, especially when the twins join them. "The Ryerson family helps make this time more personal and helps us all feel more connected," he says. "Dr. Ryerson's children often make appearances in the movie nights and dinner discussions as well as her weekday lectures. They ask us questions and have gotten to know many of us by name."
Her husband, Anders Ryerson, a transportation consultant, provides his perspectives. "The Ryersons have opened up their home to all of the transportation planning cohort and we are extremely grateful," Dodson says. "This is an excellent demonstration of Dr. Ryerson's commitment and her entire family going above and beyond in an extremely turbulent time."
Ryerson was a Penn undergraduate, a systems engineering major in the Class of 2003. She remembers being on campus during 9/11. "The enormous difference is that we could all be together," she says. "I remember my professors expressing deep remorse and sadness during classes and students getting together to support each other. There was this incredible sense of community."
Now with the loss of physical community, she says "it has put into sharp focus how critical community is for the learning environment, for happiness, and to have your mind spark." Design's leadership, particularly Lisa Servon, chair of the Department of City and Regional Planning, have been encouraging and supportive of efforts to create that community and "caring in a one-to-one way," she says. 
Ryerson plans to create a speaker lecture series related to class but not necessarily part of the coursework, luminaries in the field who couldn't have made the time or the travel are now available for online appearance. 
Ryerson is feeling especially sad for her second-year students pursuing their master's degrees in city planning, as this is their last semester. Many are international, and she wants to be a resource for them in the United States. "I want them to know this is hard for everyone and they can reach out to me," she says. 
How are the students doing? "They seem to be adapting and staying as positive as possible. Despite being scattered around the nation and world, and possibly having challenging places to study and live, they are staying as engaged as they can," she says. "They have been able concurrently to feel loss and uncertainty while continuing to do what they came to Penn to do: become experts in their field. I have been just so heartened by their resilience."  
Teaching remotely is "going better than I expected," she says. "The students continue to engage in discussion, ask thoughtful questions, and come prepared to class. They make me feel even more motivated to be authentic and to get this right."
Megan Ryerson is the UPS Chair of Transportation and the Associate Dean for Research in the Department of City and Regional Planning for the Weitzman School.
Lisa Servon is the Kevin and Erica Penn Presidential Professor and the Chair of the Department of City and Regional Planning for the Weitzman School.