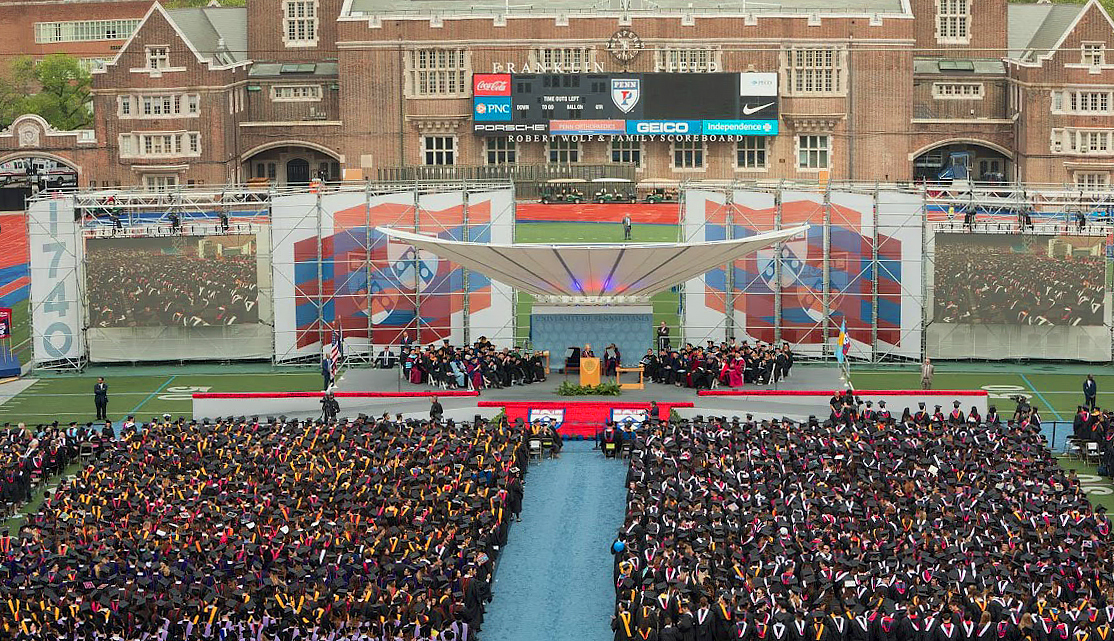 The University of Pennsylvania's Class of 2020 and Class of 2021 Master's and Doctoral Degree Commencement ceremony will be held on Franklin Field on Sunday, May 22. Here are facts and tips to help guide you through this year's ceremony.
Guests should use the south stands entrance to Franklin Field on South Street. Gates open at 8:30 a.m. Tickets are not required. The stadium has outdoor bench seating. Refreshments can be purchased at the concession stands.
 
In compliance with COVID public health guidance, visitors and guests attending the May 22 Commencement must complete PennOpen Campus pre-screening on May 22.
 
Participating graduates will step off at College Green at 9:30 a.m. and process to the northwest gate into Franklin Field where they will be joined by alumni class representatives and the academic procession.
 
The academic procession will include Interim President Wendell Pritchett, Interim Provost Beth A. Winkelstein, Chair of the Board of Trustees Scott L. Bok, deans, and other senior administrators.
 
Medha Narvekar, vice president and secretary of the University, will lead the academic procession carrying the University Mace, an ornate, four-pound staff designed in the style of maces of medieval knights. The Penn mace is adorned with the University seal and arms, the Penn and Ben Franklin coat of arms, a depiction of the Rittenhouse orrery, and a thistle symbolizing Penn's early ties with the University of Edinburgh in Scotland.
 
The ceremony will officially start at 10:10 a.m. and end at approximately noon.
 
The National Anthem will be performed by Class of 2020 graduate Priscilla Felten.
 
Angela Duckworth, the Rosa Lee and Egbert Chang Professor of Psychology, will deliver the Commencement address.
 
An estimated 3,000 graduates will take part in the May 22 Commencement on Franklin Field. Regalia is required for graduates participating in the ceremony.
 
Commencement will be held on Franklin Field rain or shine, but, in the event of dangerous weather conditions, the ceremony may be delayed. In the event of severe weather conditions, the procession may be cancelled. Information will be posted online at www.upenn.edu and on signs around campus and announced on KYW Radio and via automated telephone messages at 215-898-6358 (MELT).
 
Family and friends unable to attend the Commencement ceremony can experience the ceremony live online beginning at 9:30 a.m. (EDT). Coverage will include the student and academic processions through campus. The streaming webcast is available on the event page. You can also follow the action on Twitter and Instagram at #penngrad and #penn2020.
 
Public transport is advised. Those planning to drive should allow extra time for traffic congestion. Parking will be limited; normal parking fees apply.