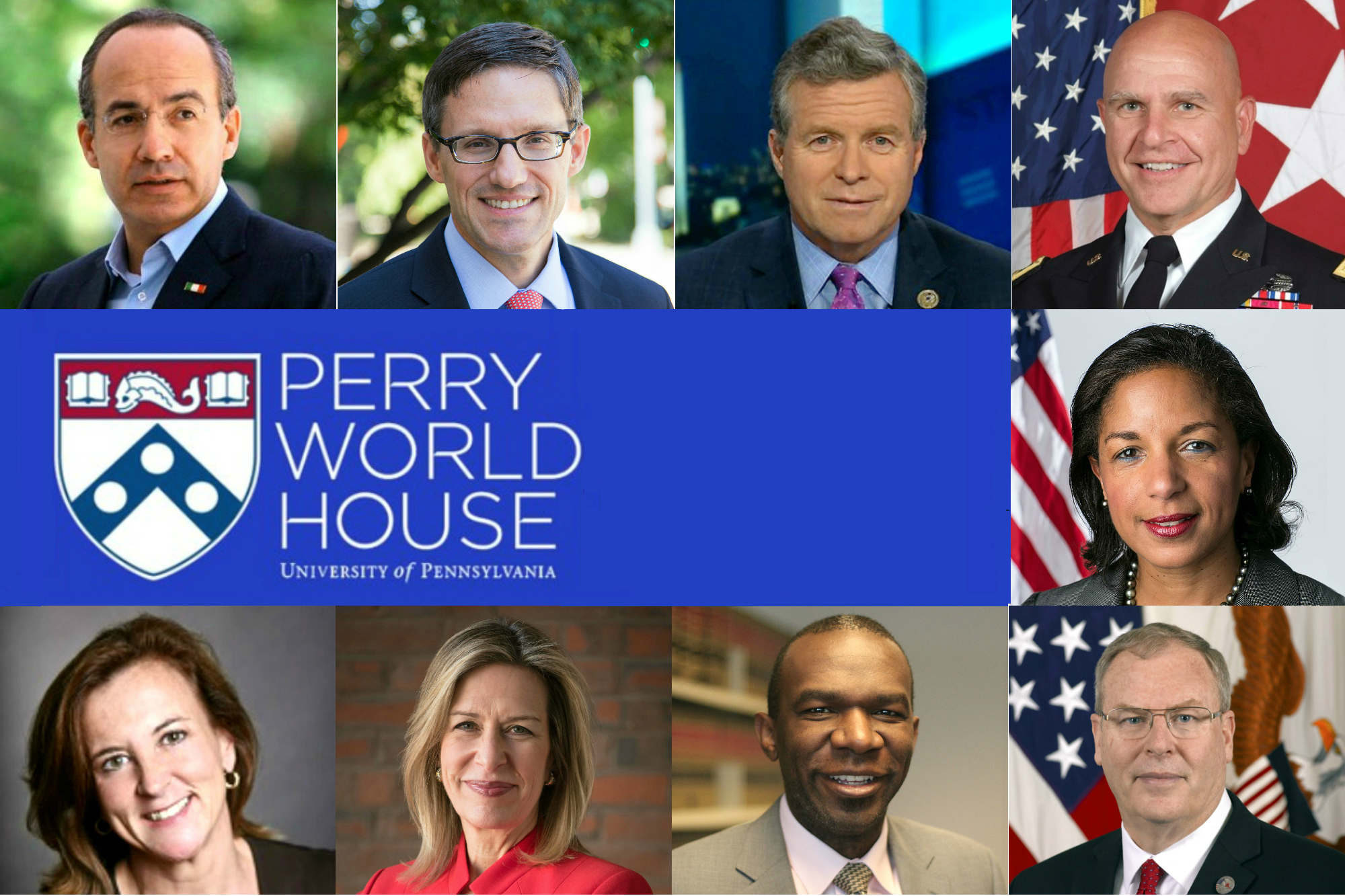 The University of Pennsylvania has named the 2018-19 Perry World House Fellows. Perry World House (PWH), Penn's global policy research institute, brings students and faculty from across Penn's schools and disciplines together with practitioners and policymakers from around the world to advance interdisciplinary, policy-relevant research on the world's most urgent global affairs challenges.
This year's fellows includes nine national and international policy leaders, including former Mexico president Felipe Calderón, former national security advisors H.R. McMaster and Susan Rice, and former U.S. Rep. Charles Dent. The 2018-19 class of Fellows will add to campus the varied perspective and deep expertise that come from leading the highest levels of government in the United States and abroad.
"Perry World House continues to bring the world to Penn and give our students and scholars alike an unrivaled opportunity to learn from and collaborate with some of the most powerful and experienced players on the international stage," said Penn President Amy Gutmann. "This year's impressive class of fellows will ensure that Perry World House continues to be a home on campus to the Penn community as well as stimulating conversations about the most pressing issues facing the world."
Some of the 2018-19 Perry World House Visiting Fellows are: 
•    Felipe Calderón, former president of Mexico.
•    Lt. Gen. (retired) H.R. McMaster, former national security advisor.
•    Ambassador Susan Rice, former national security advisor.
•    Charles W. Dent, a former U.S. congressman representing the 15th district in Pennsylvania. 
•    Bob Work, former deputy secretary of defense.
•    Nadia Schadlow, former deputy national security advisor.
•    Elizabeth Sherwood-Randall, former deputy secretary of energy.
•    Sozi Pedro Tulante, former Philadelphia city solicitor.
•    Derek Chollet, executive vice president at The German Marshall Fund of the United States and former assistant secretary of defense.
"Like our previous classes, this year's visiting fellows, which includes a who's who of policy leaders from around the world and different branches of the U.S. government, will truly become a part of the Penn community," said William Burke-White, Richard Perry Professor and inaugural director of Perry World House. "We are building specific programs around each visitor to leverage the remarkable depth and breadth of their experience and maximize their potential to benefit Penn faculty and undergraduate and graduate students." 
Felipe Calderón
Felipe Calderón served as president of Mexico from 2006 to 2012, prior to which he served as secretary of energy. Today, the former president is chair of the Global Commission on the Economy and Climate, as well as honorary chair of the Green Growth Action Alliance, president of the Sustainable Human Development Foundation, and a member of the World Resources Institute's board of directors. While at Perry World House, Calderón will take part in programming across the University on the future of trade, U.S.-Mexican relations, and Mexico in the global order, while also working with a Penn research assistant on a new paper. 
H.R. McMaster
H.R. McMaster, a retired United States Army lieutenant general, served as the national security advisor from 2017 to 2018. He is currently the Fouad and Michelle Ajami Senior Fellow at the Hoover Institution and the Bernard and Susan Liautaud Visiting Fellow at the Freeman Spogli Institute, both at Stanford University. In addition to his service at the White House, in the Army, and in wars, including the Gulf War, the Iraq War, and in Afghanistan, he is the author of "Dereliction of Duty: Lyndon Johnson, Robert McNamara, The Joint Chiefs of Staff, and the Lies that Led to Vietnam." McMaster graduated from the United States Military Academy at West Point and holds a doctorate in American history from the University of North Carolina at Chapel Hill. 
 
Susan Rice
Susan Rice served as U.S. ambassador to the United Nations from 2009 to 2013 and national security advisor from 2013 to 2017. Rice, who is currently a Distinguished Visiting Research Fellow at the School of International Service, American University, earned her master's degree and doctorate from New College, Oxford University, England, where she was a Rhodes Scholar.  
Charles W. Dent
For seven terms, Dent represented the 15th District of Pennsylvania in the U.S. Congress. During that time, he served on the House Committee on Appropriations, where he chaired the Subcommittee on Military Construction, Veterans Affairs, and Related Agencies, and sat on the State, Foreign Operations, and Related Agencies Subcommittee. Previously, he served six years on the Homeland Security Committee. Dent is currently a senior policy advisor at DLA Piper and a contributor on CNN.
 
Bob Work
Bob Work, who was deputy secretary of defense under both President Obama and President Trump, is currently chief executive officer of the Center for a New American Security. Work, who was in the U.S. Marine Corps for 27 years in a range of command, leadership, and management positions and served as undersecretary of the Navy from 2009 to 2013, earned a master's of science in systems management from the University of Southern California, a master's of science in space system operations from the Naval Postgraduate School, and a master's in international public policy from the Johns Hopkins School of Advanced International Studies. 
 
Liz Sherwood-Randall
Liz Sherwood-Randall served as the United States deputy secretary of energy and before that as special assistant to the president at the National Security Council. She attended Harvard University and then graduate school at Oxford University, where she was among the early ranks of female Rhodes Scholars. Sherwood-Randall, who is currently a non-resident senior fellow at Harvard's Belfer Center.
 
Nadia Schadlow
Nadia Schadlow served as assistant to the president and deputy national security advisor for strategy in the Trump Administration. Prior to joining the National Security Council, she was a senior program officer in the International Security and Foreign Policy Program of the Smith Richardson Foundation. Schadlow holds a bachelor's degree in government and Soviet studies from Cornell University and master's and a doctorate from the John Hopkins School of Advanced International Studies.
Sozi Pedro Tulante
Sozi Pedro Tulante, who is also a lecturer at the Penn Law School, served as Philadelphia's city solicitor. Last year, Tulante, who graduated cum laude from both Harvard Law School and Harvard College, was named among the "100 Most Influential Philadelphians," by Philadelphia Magazine, and "Best of the Bar," by the Philadelphia Business Journal. 
Derek Chollet
A returning PWH Visiting Fellow Chollet will lead Perry World House's graduate associate program, a monthly seminar for more than 20 graduate students from across the University. Chollet, currently the German Marshall Fund's executive vice president, served in senior positions at the White House, State Department, and Pentagon during the Obama administration.
A complete list of Perry World House's visiting fellows and more information on Perry World House's research and programming is at https://global.upenn.edu/perryworldhouse.