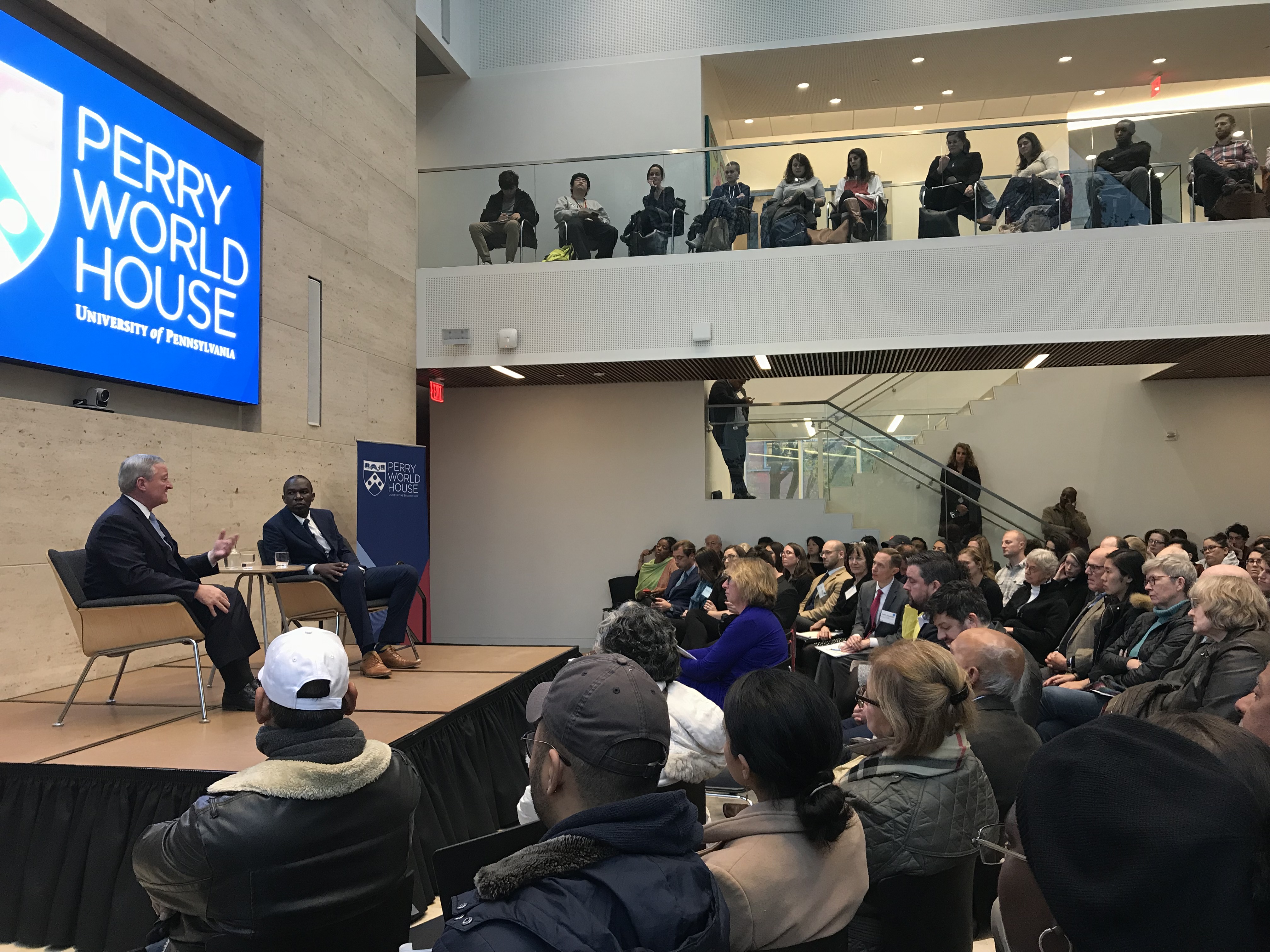 Former Philadelphia City Solicitor Sozi Tulante, now a Visiting Fellow at Penn's Perry World House (PWH), sat down with his former boss Mayor Jim Kenney for an hourlong discussion, "Fearless at the Forefront: Philadelphia's Local Response to Shifting Immigration Policy," on Nov. 14. 
Hosted by PWH and the City of Philadelphia, the conversation took place before a packed house. 
As city solicitor, Tulante played a central role in the municipal administration's successful lawsuit against then-Attorney General Jeff Sessions to stop the Department of Justice from imposing additional conditions and regulatory changes to federal grants based on the city's immigration policies. That legal decision, and the decision in July to end the city's Preliminary Arraignment Reporting System (PARS) agreement with the U.S. Immigration and Customs Enforcement (ICE), has placed Philadelphia and Kenney at the forefront of the immigration battle. 
The conversation was the culmination of a daylong forum, "Navigating Sanctuary: City Responses to Shifting Immigration Policies," hosted by PWH and the city. With support from Cities for Action, the forum brought together city solicitors and directors of offices of immigrant affairs from New York, Baltimore, the District of Columbia, Atlanta, Chicago, Los Angeles, San Francisco, Santa Clara County, Austin, Charlotte, Denver, San José, and Philadelphia. Through panels and networking groups, attendees shared lessons learned on interagency government communication, policymaking, and litigation related to local and national immigration policies and heard from academics about current immigration research.
Perry World House's mission is to bring together policy and academia to address the most pressing issues facing the world today.
"Perry World House is deeply interested in the role cities are playing on critical global issues and the issues surrounding sanctuary cities is certainly very high on that list," said William Burke-White, the Richard Perry Professor and inaugural director for PWH. "Having Mayor Kenney here to discuss the complex issues cities are facing in approaching this issue in conversation with Sozi Tulante was a highlight of the conference."
Kenney gave a keynote before sitting down with Tulante, who, in addition to being a PWH Visiting Fellow with the "Global Shifts: Migration, Urbanization, and Demography" research theme, is a lecturer at the Penn Law School.
"Philadelphia is leading the way in changing the nation's discourse on immigration," said Kenney. 
He was critical of the federal administration's actions splitting immigrant families and detaining and deporting immigrants, and of the proposal for building a wall. "Cities," he said, "will be the salvation of democracy."
He spoke of the impact of the federal policies on immigrants in Philadelphia.
"The fear and uncertainty faced by many in our immigrant communities is real, and it happens every day," said Kenney. "I hear about it from our team in the Office of Immigrant Affairs, and I see it personally firsthand. When I visit schools and seventh graders tell me that they are anxious because they are afraid their parents will be deported when they leave home, or when I attend communities and learn about the ways ICE strategically targets law-abiding immigrants, our residents feel afraid because it feels like an open season and a constant attack on immigrants, refugees, and American families." 
"I will never turn my back on those who are seeking a better life. Immigration is not just the right thing to do, it is not just the moral thing to do...It is good for business, it is good for our cities, our communities...Immigrants are vital members of our communities. Philadelphia is strengthened by our diversity; every city in the world is strengthened by diversity...I hope to show the rest of the country that we do not need to fear immigrants. They are here for the same reasons. We love this country. They want a chance to pursue their dreams and provide a better life for their children." 
In the conversation that followed, Tulante and Kenney discussed a wide range of topics related to immigration and the city's approach. 
For both men, the topic is personal. The mayor addressed his family's history as Irish immigrants who came to the region. Tulante was born in Zaire (now the Democratic Republic of Congo), and his family came to Philadelphia as political refugees in 1983. 
The two discussed the city's key immigration-policy decisions, including the federal suit and the city's decision on PARS. 
Tulante asked the mayor if and when he had seen attitudes toward immigrants change in Philadelphia.
"I think things began to change in the '90s," said Kenney, "as City Council started to frame immigration as an economic development tool and as people got to know them [immigrants] as neighbors and they got to understand that they are not that different from us. They have kids and families and they go to work every day...They are decent people.
"Unless you know the stories about the Central Americans and Mexicans and Africans and Southeast Asians and other folks, you have to understand that the people from Vietnam did not want to come here. We bombed them out during the war. Cambodians didn't want to come here either. But our governmental policies caused them to have to leave. We should understand that part of what we see in the immigration spectrum was caused by U.S. policy over the decades."
Tulante noted that there are people who disagree with the mayor's stance on immigration. He asked: "How do you talk to people who fear immigrants and feel that they are going to change their way of life?"
"Whether they are resistant or not," said Kenney, "you have to present them with the facts. And the facts are that immigrants are less likely to be involved in crime. They are more likely to start a business. They are more likely to have a stable family with kids that go to school. They are more likely to be good neighbors...We can help immigrant communities with their celebrations...When you have ethnic celebrations, it helps us to integrate."
Tulante asked the mayor why it took some time to take action on PARS.  
Kenney said, "the advocacy protesters were impatient, and I understand their impatience. We had to be sure and guided by the advice or our counsel; we had to take it slow and be consistent. We had to talk to the advocates and talk to the ICE folks and have a cogent and credible explanation as to why we would get rid of it. We had to do it in a way that was legally justifiable."
Tulante delivered some light-hearted teasing on the mayor's dancing ability as it was caught on video following the legal win. "What was that?" he asked.
Kenney said the dancing was "pure joy" at having won the case. "Hey," he said, "I have to give the judge credit. He nailed the constitutional aspects of what we were saying. Because I was so fearful that we were going to lose, and not only lose for Philadelphia, but lose setting precedent for every city in the county, it was joy that he ruled in our favor and not just in our favor but strongly in our favor...You've got to have a little fun in this job."  
Following the event, graduate student Larry Thi, who is pursuing a master's in education policy at Penn's Graduate School of Education (GSE) said that for him the take away was two concepts: "home and safety." 
Thi, who is from Philadelphia, is the son of immigrants from Vietnam. He said, "Mayor Kenney brought up a couple of examples of folks who escaped Southeast Asia due to the Vietnam War and the Khmer Rouge, and being here for two or three decades after the war and had family growing up here and whose children, who had never set foot there had been deported back for a juvenile offenses. So I thought about that, and how a lot of immigrants, regardless of how they came here and whether they are undocumented or they have green cards, not only face economic barriers but also face legal barriers to being sure that this is their home and that they are safe here."
Heba Ali, who is also in the education-policy program in GSE, said, "I am from Wisconsin, and I came to hear what Philadelphia is doing regarding this issue." 
She said the mayor's point that immigrants boost the economy and the need for more education really resonated for her. Her parents are immigrants; her mother is Panamanian, and her father is from Palestine. 
"There is so much misconception surrounding immigration," said Ali. "My father owns a business and my mother manages a non-profit organization, and that really is the narrative about immigrants. They have a positive effect on society. Trying to educate people and not fault them for not knowing is important. If you grow up in a very rural area and have never known an immigrant, it may be easier to feed into the misconceptions about immigrants. The point Mayor Kenney made about how diverse communities change people's perceptions on immigration is so true."