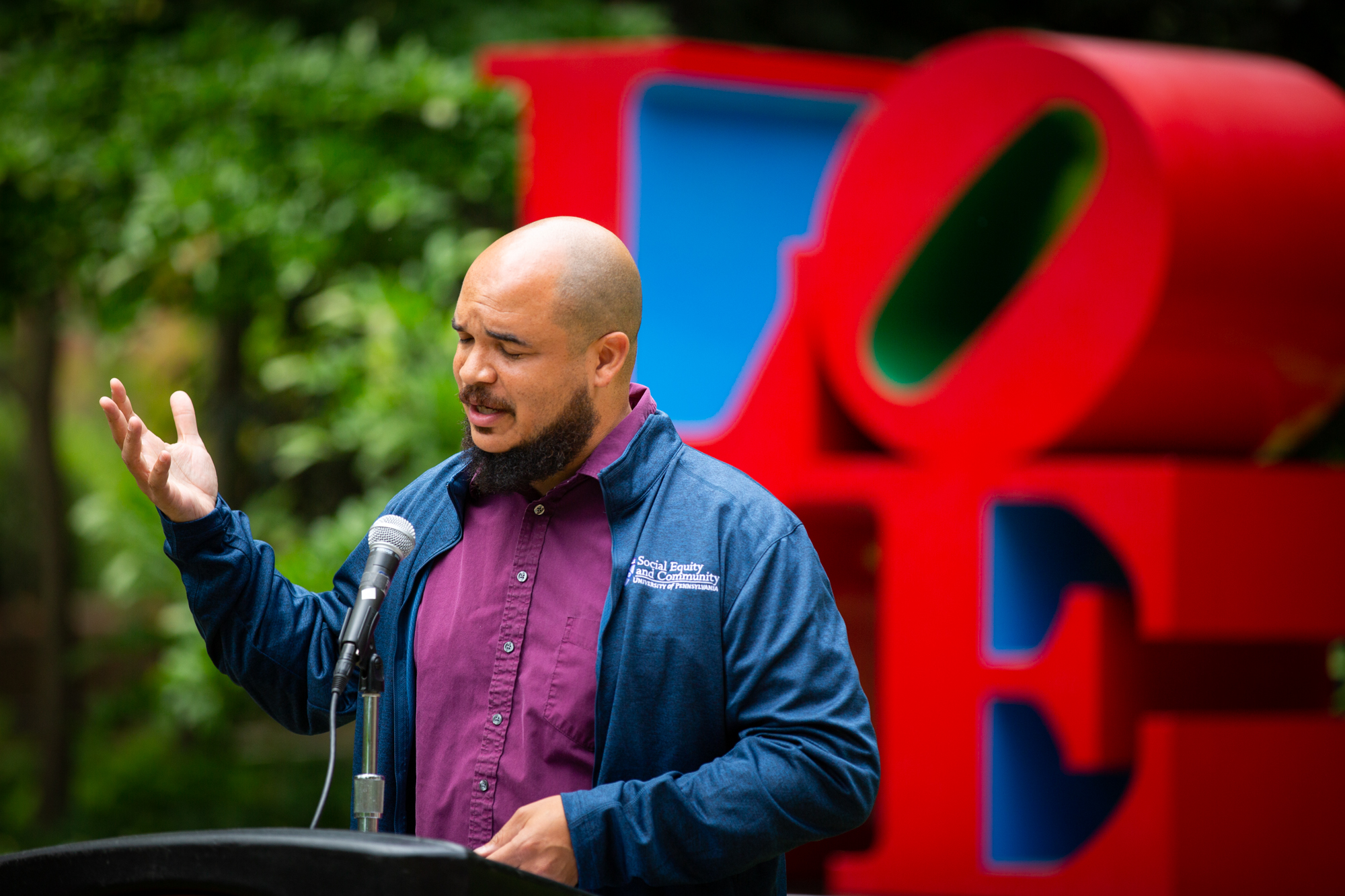 In the shadow of the LOVE sculpture, campus ministers and artists offered prayers, readings, and songs, supporting the community and imploring action in the wake of the lives lost in the mass shootings in Buffalo, New York, in Laguna Woods, California, and in Uvalde, Texas.
At midday, a crowd gathered at the LOVE sculpture on College Green in what is typically a lull, the midway point between the spring and summer semester. The unusual silence along Locust Walk was broken by birdsong and hushed expressions of disbelief, grief, and anger. The solemn group of faculty, staff, and students was there for a vigil remembering the recent victims of gun violence.
The Office of the Chaplain organized the event as the news that a teenage gunman had opened fire in an elementary schoolroom in a South Texas town, killing 19 children and two teachers, broke just days after an 18-year-old gunman, an espoused white supremacist, killed 10 people—all Black—in a Buffalo grocery store. 
Charles Howard, the University's chaplain and vice president for social equity and community, led campus ministers and artists in a series prayers, readings, and song. A gentle breeze met those gathered seeking solace.
"It means a lot that you came out and took time out of your day to gather together," said Howard. "I'm tired of gathering like this and if you are anything like me you've had a swirl of emotions these last several hours. I've gone from really, really sad and really, really angry to really, really nervous for my kids and the young people in my life all at the same time. 
"I'm sad and really angry and so hurt at what feels like inaction by leaders. A number of us here in the chaplain's office thought it might be of use to come together briefly. It is a lot to carry on our own in our homes and offices. Maybe the burden gets a little lighter if we come together."
"Even as a minister I am sick of thoughts and prayers. We are a University with the power of our minds and the power of our ideas to bring change. I have known the reality that prayer does change things but thoughts and prayers without action is not enough."
Following Howard, Sana Saeed, associate chaplain and associate director of Penn's Spiritual and Religious Life Center, led the community in a moment of silence. "Words cannot express the tremendous grief our community and nation is experiencing over Buffalo and Uvalde, Texas. We mourn the tragic loss of lives," she said.
She continued, "It is in times like this where we may not have words to express our broken heartedness that we may be overwhelmed with emotions grief and anger. Taking time to process this terrible news is OK. Being fed up with yet another moment of silence for yet another shooting is a valid and a necessary place to be."
"It is also in these moments that I think of the words of the Rev. Otis Moss Jr. imploring us to transform this grief into what he calls 'prophetic grief, the kind of grief that plants gardens of healing in the midst of raindrops of blood and declares to the world that love is stronger than hate.' May we take the time we need to process these tragedies," said Saeed. "And then may we keep planting gardens of healing and hope to transform our country into the beloved community where all our children and all of our loved ones are safe from gun violence."
Jaden Cloobeck a May grad in the College of Arts and Sciences from Laguna Beach, California, followed Saeed singing a Hebrew prayer of healing. Rabbi Gabe Greenberg, director of Penn Hillel, and Patricia "Patty" Anton, chaplain for Muslim life, also offered blessings that echoed the need for policy change, healing, and hope. 
Rising sophomore Sneha Mokkala from Houston, who is a philosophy, politics, and economics major in the College, then moved to the podium. As she sang Leonard Cohen's "Hallelujah," many at the vigil brushed away tears. 
Howard closed the vigil and urged the community to take care of themselves and one another, to be careful with how much of the news they followed and to not become overwhelmed. "Take a break and look at something beautiful," he said.
Pausing he then returned to the need for action, "There are ways each of us can get involved," he said. "Whether it is doing something creative: writing a poem or making art or lending your hand to the work our University is doing around this. Eugenia South over at the health system is doing really great work to end gun violence, or the other things happening in the health system, or the work in our School of Social Policy & Practice, or Graduate School of Education, business school, or Law School—there are lots of parts of the University working hard on this issue. Get involved. 
"Think of a way that you can lend your hand to healing and building something different. Something new is possible," he said.
More images of the vigil are on Penn's Flickr page.