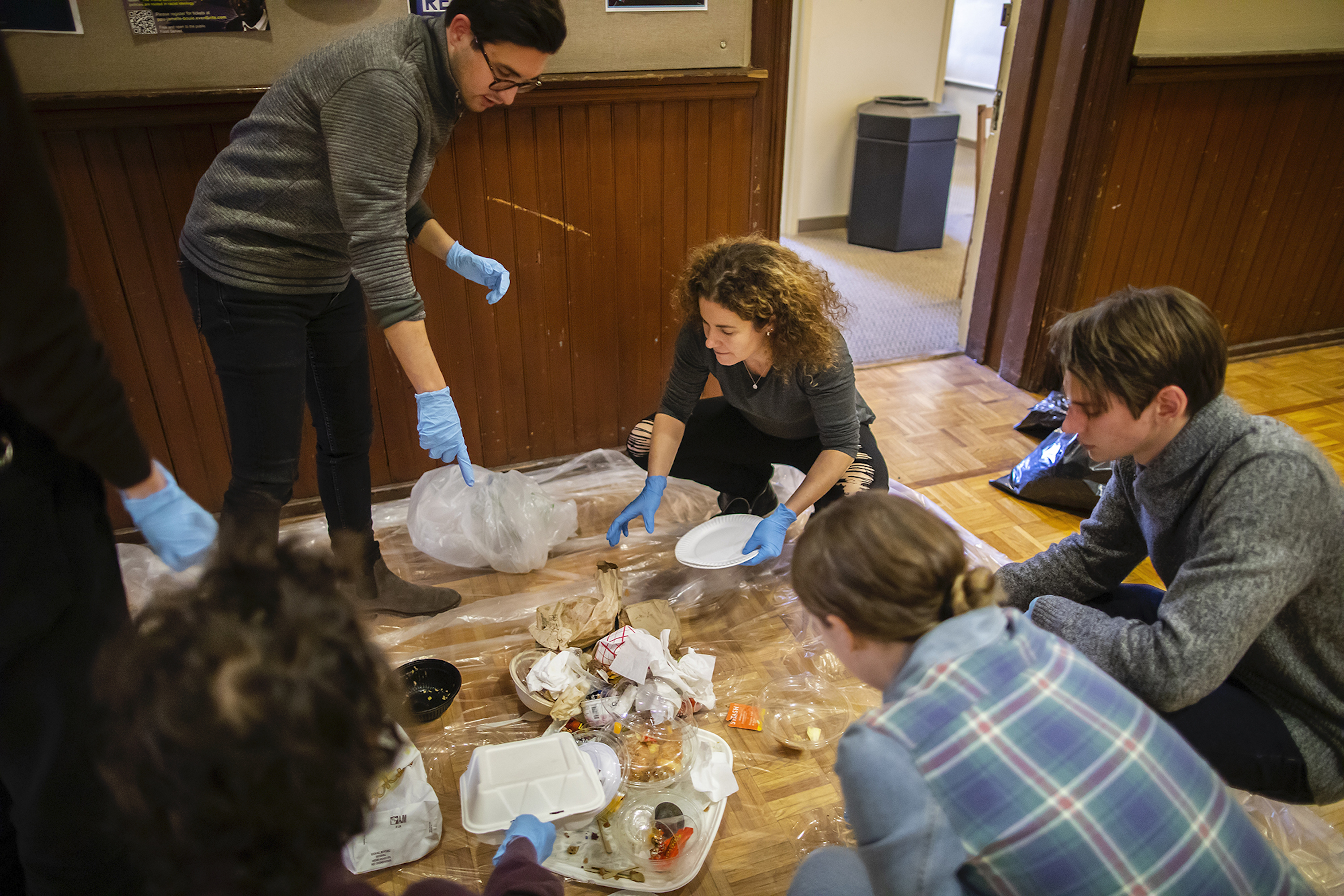 What qualifies as a war, and how does the waste created by war transform the social and physical environment?
Anne Berg, assistant professor of history, asks students to look at these two seemingly disconnected concepts in her a global history seminar Wastes of War: A Century of Destruction. The course examines how waste created by war fundamentally restructures the cultural and natural world. 
"We start with the South African War at the beginning of the 20th century and take it thematically rather than focus on individual conflicts," Berg says. "We talk about the fact that usually when we plan for war we don't think about cleanup."
This spring was Berg's first time offering the class at Penn, but she had previously taught the hands-on course before joining the Department of History last fall.
Readings and discussions look at everything from conflicts such as World Wars I and II and the Srebrenica massacre to 9/11 and nuclear waste disposal at Nevada's Yucca Mountain.
The class was set to culminate with a trip to New York City to visit the Fresh Kills Landfill—where debris from the World Trade Center was taken after the terrorist attack—and the 9/11 Memorial and Museum.
"The landfill served as a main source for retrieving some of the artifacts that are now on display in the museum," Berg says. "With those kinds of connections, you can think about 'when is waste?' rather than 'what is waste?' In the class, we explore when garbage or waste becomes a designator that makes sense."
But then came the coronavirus pandemic, forcing campus to close and classes like Berg's to move online. The field trip to New York City was no longer possible, but Berg and personnel at Fresh Kills managed to create a virtual tour of what was once the world's largest landfill.
Berg says when she first learned classes would move online, she was dreading potential technological disruptions.
"It was certainly strange, and our discussions lost some of their heat, but everybody remained really engaged and critical," Berg says of the transition online.
She says students managed the new academic space well, adapting to make sure everyone was able to speak on the video calls, apologizing if someone was trying to speak at the same time.
"I think the collective spirit and the sense of investment in these meetings probably increased. Everybody was always prepared, very thoughtful and as much as we all hated being on Zoom we really enjoyed thinking and learning together," she says. 
At the beginning of the spring semester, when classes were still being held on campus, Berg brought in a bag of her own household trash for the students to sort, something she called a "desensitization exercise" and a way for them to look at trash with the eyes of an archeologist.
"Trash is usually out of sight and out of mind, but for this class we need to bring it back to mind," Berg says.
Students got into it. Is a banana waste, they wondered? One student argued only the peel is waste, while another pointed out once you eat it, the entire banana eventually becomes waste of an entirely different sort.
Berg considers such philosophical questions in addition to her wide-ranging areas of expertise include the Nazi regime, recycling, genocide, urban history, film, and environmentalism.
Some of her academic interests are personal. Her grandparents were Nazis, she says, while her parents had very different political leanings. She calls them "left-leaning '68ers." Her interest in history was cultivated as she grew up in a small village near Frankfurt, Germany.
"Since before college I was interested in perpetrator history," she says, when explaining her interest in Nazi Germany. "How did ordinary people find entrance into this monstrous regime? How was it possible that people, like my grandparents, who rocked me to sleep, who I experienced as caring and loving, were part of something so horrific?"
While doing dissertation research in Hamburg, she noticed parallel references to smut and trash as she combed through city archives. There were documents about deteriorating morals in the city, with people were complaining about the state propaganda movies being too trashy and sexualized, in addition to complaints from residents that neighbors were dumping trash into the ruins of the city.
It got her wondering what happened to garbage during the war, what happened to garbage in other wars, and what happens to garbage in general? 
A garbologist was born.
She's currently working on a book about waste and recycling in the Third Reich called "Empire of Rags and Bones: Waste and War in Nazi Germany," which brings history and discard studies together. 
"I argue that garbage and garbage practices were central to the politics of war and to the genesis of genocide in the Third Reich and Nazi-occupied Europe," she says. "Since embarking on this project, I've been looking for waste and garbage everywhere—in texts, in films, in dumps and incinerators here and abroad and on the campus square."
Noah Sylvia, a freshman majoring in international relations, says he took Berg's course because he was intrigued by its unique perspective on war. Within international relations he's focusing on conflicts and war, and so far his studies have been on strategy and the direct impact of war, like casualties.
Studying the environmental aspect of war fascinated him, he says.
"It's a pretty niche class, but it has not let me down," says Sylvia, of Fort Hood, Texas. "We are riveted every day."
He says he appreciated the seminar setting, which let the small class get deeply involved in discussions, as well as Berg's teaching style: talking to students as equals and treating them as people who can teach her things as well.
"I love the fact that she is just as engaged in trying to learn as we are," Sylvia says.
Any student with an interest in political science, environmentalism, or history would benefit from the course, he says.
Berg says she hears a common theme from students at the end of her classes on waste.
"They never see the world in the same way again," she says.
The shelter-at-home orders also forced changes to the class' final project, an in-depth investigation into the history of Earth Day at Penn and its connections to broader social movements including antiwar and civil rights work.
Berg worked with J.M. Duffin, acting university archivist, who digitized Penn records so students could access them remotely, and members of the class used online resources to find the news stories that helped them understand the historical moment in which Earth Day began 50 years ago.
 The Earth Day Project launched on April 22, the 50th anniversary of the first Earth Day.
Although it wasn't a typical semester, Berg says the engagement and creativity of the students helped them confront the pandemic head-on, and they were able to see the relevance of history in what was happening in the present. The Earth Day Project was particularly relevant, she says.
"The work for the Earth Day Project made it clear that the language of war draws fault lines through societies and deliberately detracts from the human and environmental costs of doing battle," she says, pointing to how U.S. chemists waged a war on pests after World War II and environmentalists waged war on pollution in the 1970s. "Now, we find ourselves at 'war' with a virus. In all of those cases, we are encouraged to focus on who's winning rather than on what is irredeemably lost. But because of the changed learning and working environment, we found a way to say that publicly rather than just to each other, and I think that helped." 
The public nature of their collective research ensured the students became invested in each other's work.
"It was the first in my teaching career that grades and performance receded into the background and the collective intellectual work stood at the center," Berg says.
Bergs says many of the students said they came to appreciate each other as thinkers and researchers and also as a community.
"Maybe because we were robbed off our individual communities, turning into Zoom species by necessity allowed us to form relationships that I'm sure will extend far beyond this class," she says.