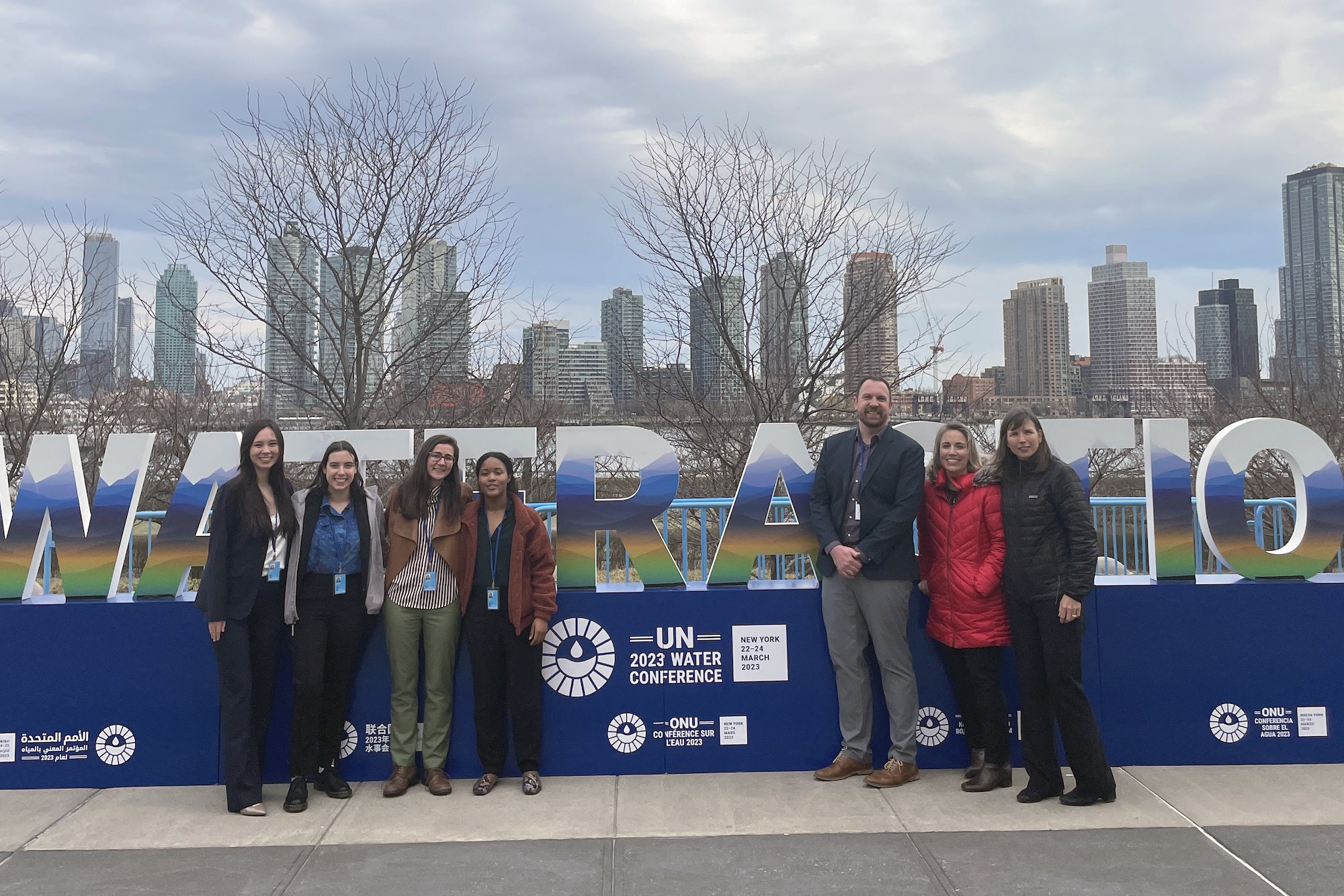 This month the Water Center turns 5. The community-focused water policy and research center, based in the School of Arts & Sciences, has connections with students, staff, and faculty across the 12 schools at the University of Pennsylvania.
With its focus on sustainability and equity, Water Center executive director Howard Neukrug says the Center works to foster collaborations between academics, industry leaders, and communities to produce the next generation of water leaders. "Our projects have to ring a bell with the community," says Neukrug, who, before coming to Penn in 2017, was commissioner and CEO of Philadelphia Water.
As a hub for water innovation and leadership, the Water Center has made strides towards these goals in its first five years.
"Five years is not a long time in the context of a university as old as Penn, but the Water Center's done a tremendous amount in that time to really establish itself as one of the leading academic water centers in the country," says Scott Moore, Water Center senior advisor and director of China Programs and Strategic Initiatives at Penn Global.
Addressing community water needs
At its heart, the Water Center bridges academic research and community needs.
"Making our cities, towns, and communities resilient to threats including drought, extreme storms, sea level rise, climate uncertainty, and aging infrastructure requires us to think in an integrated and sustainable way with other community issues such as housing, jobs, crime and education," Neukrug says."
The Water Center has a number of completed and ongoing projects to improve water access and equity locally and across the eastern United States. Projects include identifying actions to improve recreational water quality of the Delaware River, developing a management strategy for equity-based stormwater management in Pittsburgh, and a long-term commitment to Cobbs Creek, an urban waterway with substantial wetlands that separates Philadelphia and Delaware counties.
"Cobbs Creek is one of our nation's more polluted urban waterways," Neukrug says. "Working at the Creek with experts and the community, you have to first ask why this stream is like this." He says if you compare it to a successful urban waterway like Wissahickon Creek the disparity is clear. "It really comes down to issues of environmental justice, equity, and money."
This summer, Bo Nash, a Water Center research fellow and second-year student in the Master of Environmental Studies (MES) program, took on the full-time role of Cobbs Creek program coordinator. In this role, Nash is conducting a water quality monitoring project, the results of which will be more transparent and publicly accessible than previous monitoring efforts.
"We want to understand what the quality of Cobbs Creek is actually like. Is it safe to fish and eat the fish out of there, and is it safe to even go walking there because it's easily accessible by the public?" Nash says.
Nash also helped host this year's Cobbs Creek Summer Enrichment program, which introduces students from Paul Robeson High School in West Philadelphia to water and environmental research. He plans to continue working with the Water Center at Cobbs Creek this coming semester.
Fostering the next generation of water leaders
Through teaching, fellowships, industry career events, and on-campus conferences and webinars, the Water Center is helping create the next generation of water leaders. 

"When you talk about water, students start realizing the impact an individual working in water can have," Neukrug says. "You can really make an impact in the local and global environment, which is something today's students really value."
The past few years have seen an expansion in the number of water-related courses offered at Penn. In addition to Neukrug's two courses—the undergraduate The Role of Water in Urban Sustainability and Resiliency course, and the graduate-level course The U.S. Water Industry in the 21st Century—are offered through departments ranging from Earth and Environmental Science to Anthropology, English, Urban Planning, Cinema and Media Studies, Legal Studies, and Business Ethics.
Neukrug says one of the first steps is helping students realize the diversity of career opportunities within the water sector.
"I've had students who take my class and then write to me six months later saying, 'Thank you, Howard. When I came to Penn I knew that I could become an engineer, a doctor, a lawyer, or a financier, but I didn't know I could become a water professional.'"
Water, gender, and environmental justice
Since October 2017, the Water Center has published wH2O, the Journal of Gender and Water, an annual, peer-reviewed publication focused on academic research, findings, and significant advances in the field of gender and water.
"The journal set out to present critical work at the intersection of global water and gender challenges and to advance conversations in this topic because it's something that can be easily overlooked and ignored," says Amisha Shahra, editor in chief of wH2O and a 2022 graduate of Penn's MES program.
Now, the journal is undergoing a makeover and expanding its scope under a new name: the International Journal for Water Equity and Justice.
"Expanding the journal is a natural next step to bring in more diversity and inclusiveness within the authorship, the reach, as well as the work presented through the journal," Shahra says. "The idea is to provide a centralized hub for cutting-edge research and insights related to progress and challenges within the water sector centered around equity and justice at local, national and international levels."
Making Philadelphia a hub for water policy and research
One of the Water Center's ongoing goals is to make the Philadelphia region a hub for water research that will bring together a diverse set of experts in the water space including water utility personnel, environmental non-profit and stormwater professionals, academics, and private industry leaders.
As a starting point, in April the Water Center created a corporate roundtable to collaborate and strategize on water-related policies. So far, the roundtable includes more than two dozen major companies operating in the water sector.
"The ultimate goal is to make the Philadelphia region a major leader in water and water technology like other parts of the world that are clear centers of water leadership, places like Singapore, the Netherlands, Los Angeles, and San Francisco," Neukrug says. "It's great that this initiative will be headquartered here at Penn."