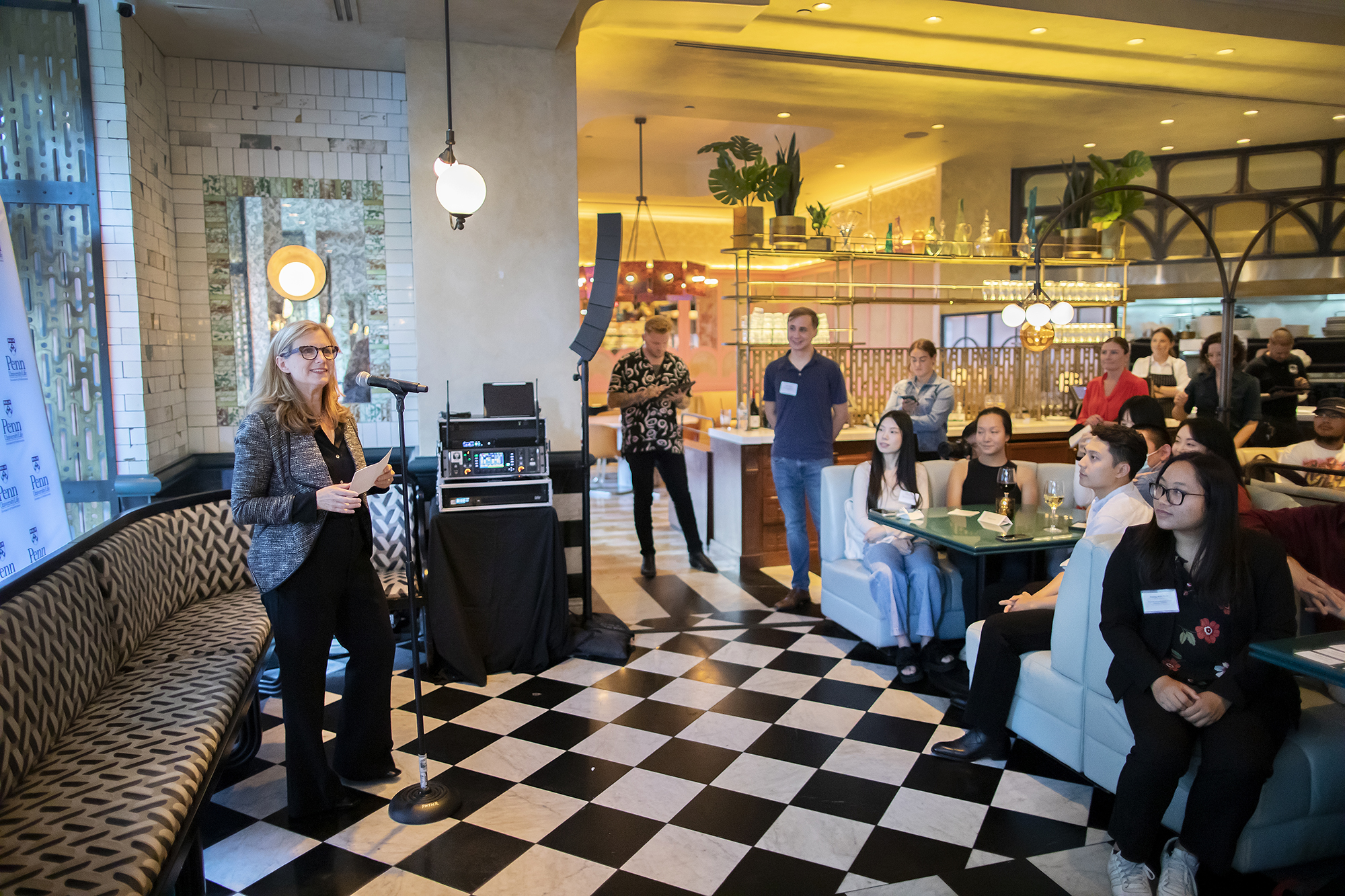 Amidst a jam-packed schedule, Penn President Liz Magill stopped by the GradFest kickoff event on Tuesday evening at Louie Louie. She asked students about their programs, about their research, and about what they have learned so far. Talking to the whole group, she praised those in attendance—about 200 graduate and professional student leaders—for their genuine commitment to supporting their peers.
"I am grateful for the many ways that you are taking your precious time to help lead the graduate and professional student community, to help everyone feel at home, welcome, figure out how they can thrive here," Magill said. "You are critical for that."
The gathering, which students dubbed "Chill with Magill," brought together student leaders from the Graduate and Professional Student Assembly (GAPSA), the G12+ governments, affinity groups, and residential advisory teams, along with administrators from across the University. It marked the start of a 12-day festival—a graduate student tradition that's been 15 years in the running.
"Penn has 12 schools, and it's easy for graduate students to be siloed to their programs," said Ludwig Zhao, a third-year bioengineering Ph.D. student, who serves as GAPSA's research student council chair. "GradFest is an opportunity to bring everyone together."
"GradFest, and GAPSA in general, has been a gateway for me to interact with people outside of my school," agreed GAPSA Vice President of Programming Shreyas Ramesh, a second-year mechanical engineering master's student. "I see it as a very important part of the graduate school experience."
A variety of activities have been planned for the next week, including open houses at cultural centers on campus, a welcome brunch at the Family Resource Center, and a visit to Penn's Morris Arboretum, with transportation included. From axe throwing and rock climbing to apple picking and yoga, it is with hopes that there is something available for everyone. The festival's events conclude with a nighttime boat cruise on the Delaware River on Sept. 24.
"GradFest is a graduate student tradition at Penn unlike anything else," said Aalok Thakkar, a fifth-year computer science Ph.D. student, who serves as GAPSA's vice president of finance. "We want students to see all that Penn and Philadelphia have to offer."
Thakkar, who has been involved with GAPSA in some capacity since his third day at Penn, said it has been an essential outlet for him, while also providing a way to make an impact on the institution.
"It's a very good escape from my research," Thakkar said. "All students need that once in a while."
GradFest's events are planned each year by leaders from GAPSA, with the support of staff at Penn's Graduate Student Center, which will celebrate its 21st anniversary on Sept. 23 with a day's worth of events, including special cake-cutting at its headquarters with Interim Provost Beth Winkelstein.
Visit GAPSA's website and the Graduate Student Center's website to get involved or for more information.