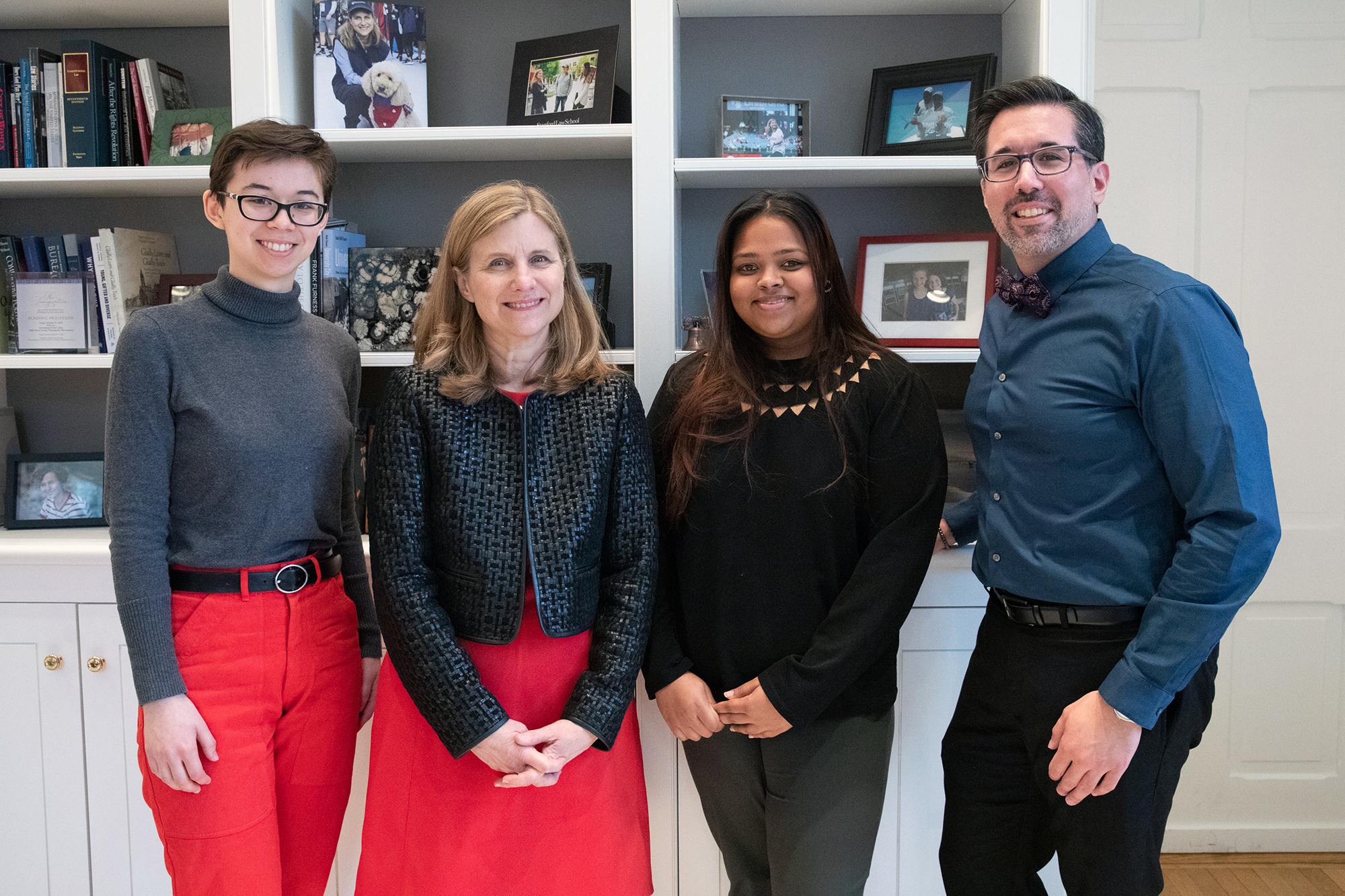 This weekend Penn will welcome hundreds of students and administrators from higher education institutions across the U.S. to campus for the sixth 1vyG Summit. The three-day event returns for the first time since the COVID-19 pandemic, providing an opportunity for robust, in-person conversations, panels, and presentations related to the first-generation, low-income (FGLI) college student experience.
"The 1vyG Summit provides a wonderful opportunity to supercharge support for FGLI students across the nation," says President Liz Magill. "Students and administrators—this year from more than 30 colleges and universities—will join together to connect, share, and brainstorm. I couldn't be prouder that these important conversations are happening here."
Fourth-year Penn students Victoria Garcia and Ashwarya Devason have been serving as co-chairs of the planning of the event, which will have a theme of "opening up the FGLI identity." Garcia, from Kannapolis, North Carolina, studying economics at the College of Arts & Sciences, says the theme's meaning is twofold: For one, they want to determine what, exactly, the term FGLI entails, since different institutions use different definitions. Secondly, they hope to explore the intersectionality that surrounds the FGLI identity.
"A lot of times a student isn't just checking one box," says Garcia. "You might be FGLI, but you also might be an international student, or queer, or a person of color. These identities interact in interesting, but sometimes unrecognized ways."
Ultimately, Garcia adds, the goal is to determine how to get more and better-aligned resources to students who need them.
Another aspect of the conference, says Devason, an international student from Mauritius studying biochemistry, physics, and neuroscience in the Roy and Diana Vagelos Scholars Program in the Molecular Life Sciences, as well as Gender, Sexuality, and Women's studies, is providing a space for administrators and students from different colleges and universities to converse.
"There isn't always time set aside for administrators and students to talk through definitions, challenges, or changes, so that's a main cornerstone of what 1vyG is about," says Devason, who attended and was inspired by the February 2020 1vyG Summit at Cornell her first year at Penn. "This time around we also want to really emphasize the sharing of knowledge across institutions."
To identify who would attend the conference, the co-chairs and their team of fellow students leading programming, logistics, finance, and communications reached out to student ambassadors across the country. Two students and two administrators representing 32 different higher education institutions—not just Ivy Leagues—will attend the summit, which is the second time it will be held at Penn. The University previously hosted the conference in 2018.
The 1vyG Summit kicks off Friday afternoon, beginning with a formal welcome from leaders from Penn and EdMobilizer, the social impact collective that hosts the conference. Events through Sunday will include guided group discussions, breakout sessions, speakers and student panels, an awards ceremony, and various networking and mixer opportunities, including a career fair. The featured keynote speaker for Saturday is Sally Nuamah, an assistant professor of urban politics at Northwestern University, who recently wrote and will distribute to attendees her book "How Girls Achieve."
In talking about the 1vyG Summit, Garcia and Devason couldn't help but attribute the staff at Penn First Plus—the University's hub for all things FGLI—for their dedication to ensuring the weekend goes as planned. Speaking together, Garcia and Devason also emphasized the importance of such an annual event hopefully instilling some institutional memory over many years.
"Sometimes universities get stuck in a four-year cycle, never properly institutionalizing important and meaningful actions and resources," explains Garcia. "Having administrators and leaders as part of the conversation helps to break that cycle."
As for what Devason is most excited about?
"Bringing the community together," she says, without hesitation. "The first generation, low-income community needs more visibility and needs to be celebrated as much as possible."