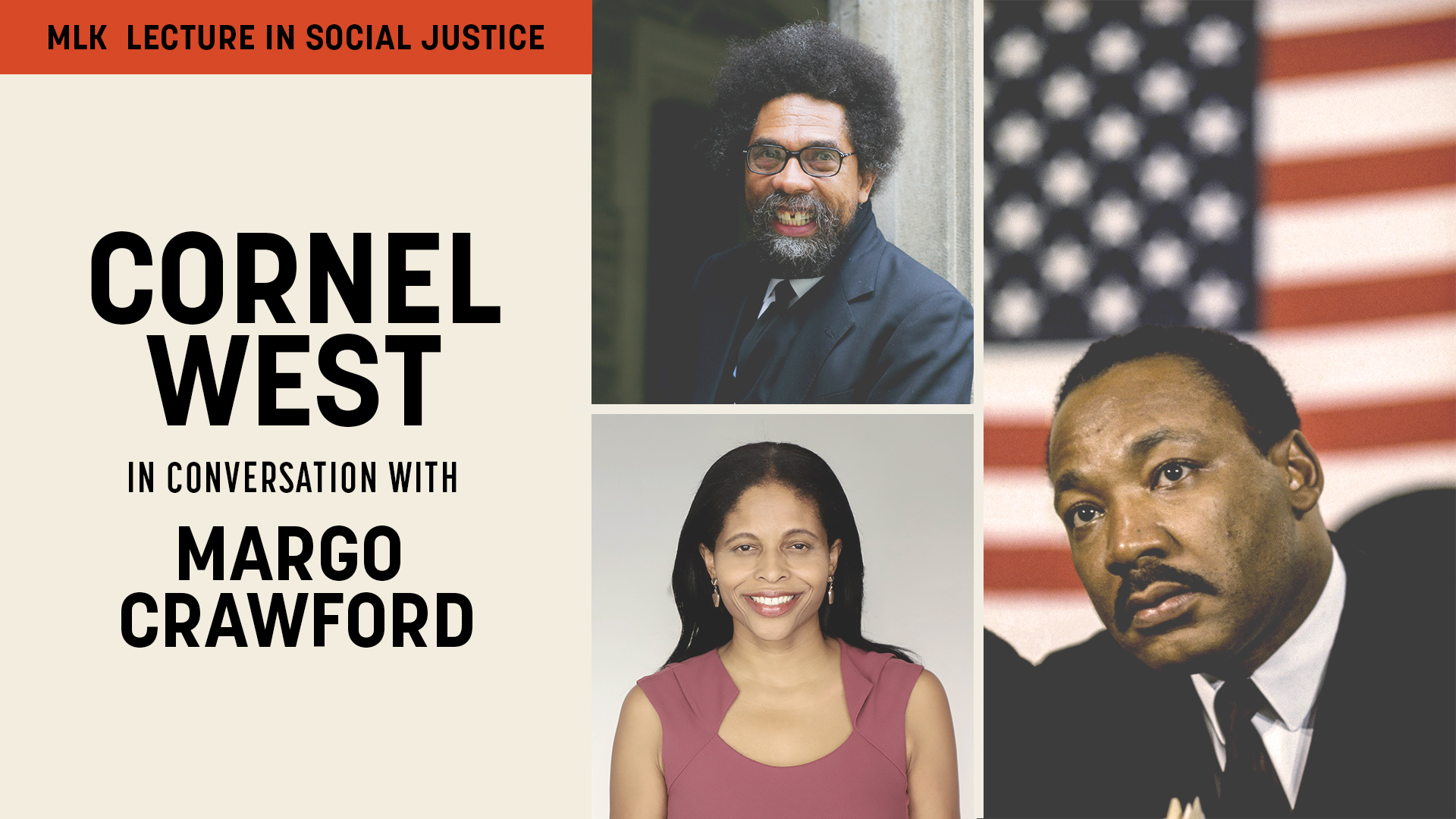 In the 20th annual Reverend Dr. Martin Luther King Jr. Lecture in Social Justice, Cornel West invoked African American intellectualism and musical history in what Margo Natalie Crawford called "a visionary jam session for social justice." In the Jan. 27 event, West testified to King's legacy and its place in the rich tradition of Black artists and thinkers, citing the concept of a "A Love Supreme," referencing both John Coltrane's album along with the higher truth to which Coltrane aspired, the vision to create "a force for good tied to tenderness and beauty." If the tradition of African American art and thought is the ocean, he said, the Coltranes and the Kings—the prophets—are its waves, sharing a radical incarnation of healing love. "When love spills over in public," West said, "it becomes a force for justice."
Crawford and West were introduced by Annenberg School for Communication Dean John L. Jackson Jr., Provost Wendell Pritchett, and President Amy Gutmann. Gutmann thanked the Center for Africana Studies for "helping us consider what we all can do to combat systemic racism and to build a more just and inclusive society." She said 2020 was a year of too many deaths, disproportionately afflicted upon Black and Brown people. "These dark times make us all the more grateful to have Dr. King's example as guide," Gutmann said. "We stand as one to affirm Dr. King's legacy. To make our society more just, for truth to shine brighter, we must be determined to make it so."
Crawford began the evening referencing "The Radical King," written by King and edited by West. Crawford asked if America still presented a "sanitized" version of King in order to evade and avoid his challenge to the status quo.
In order to examine who King was, West said, we have to begin with the understanding that he is part of a great people "whose gifts to the world are an unbelievable caravan of love in the face of 400 years of chronic hatred." King comes out of this tradition of "wounded healers," West said, who generate new pathways for growth and empowerment.
"Any of those persons who choose to work in their tradition and walk in their legacy, the words will be much too much for the dominant forces of America to come to terms with," West said, adding that, although King has become an icon of the Civil Rights Movement, he did not exist in isolation. He said civil rights activist Fannie Lou Hamer reminds us that "the movement made Martin as much as Martin made the movement."
"We have to be very suspicious of the white mainstream appropriation of these Black folk," West said. Dominant culture turns leaders into isolated individuals that are worshipped and fetishized, he said, and in doing so, mainstream America separates itself from the critique of itself that these leaders offered.
Fame and celebrity can set leaders adrift if they are not firmly grounded in both history and their own integrity, said West, which means having an understanding of your own voice as well as how much you owe to circumstance and the teachings of others.
West offered his own experience as an example, saying he was accepted to Harvard because "the vicious assassination of Martin Luther King Jr. took place and over 200 cities were burning and Harvard decided, 'Well, we only had seven Negros two years before. Now we're going to admit 90.'"
This wasn't an intellectual renaissance driven by the Black elite, West said. Rather, it was the "rich humanity of Black poor and working class people" whose love and righteous indignation over King's assassination drove them into the streets. "Their love spilled; it spilled over," West said. "Revolt generated the opportunities for folks to become middle class.
"I'll never forget the conditions under which my success was made possible," West said. "It wasn't me. It was the folk on the ground. And I think we've got a problem these days because Black freedom is oftentimes reduced to Black success for the few at the top, rather than greatness for everybody."
He brought this back to his musical analogy, saying, "There's no such thing as a great Black voice being solely an isolated solo. Even Luther Vandross got to have Lisa and them in the background to make him sound as good as he does."
Crawford asked West to elaborate on how Black popular culture was relevant to academia, calling it "that zone where our humanity may be most powerfully expressed." The best popular culture in the U.S. is disproportionately produced and influenced by Black people, West said. He compared Black music to the ideal of American democracy, where voices can build off one another to create a larger whole, shaping the destiny of a group.
"Democracy is fundamentally about those kinds of freedoms and voices in decision-making processes that shape how power operates in such a way that everyday people, ordinary people can live lives of decency and dignity," West said. "When you think of popular culture, you're really talking about the ways in which the sparks of genius and talent among everyday people can be unleashed such that they lift their voices."
The voices will not always agree, West said, but "that's what a jazz orchestra is: antagonistic cooperation, voices bouncing off against different voices." West urged his audience to "listen, find your voice, and be part of the cacophony of voices you so choose," always with integrity and a critical sensibility. "The condition of truth is always to allow suffering to speak," he said.
In order to serve a higher truth, whether we call that truth God, Allah, the movement, or a love supreme, we have to find a way of using our gifts to enable others, West said, just as King did. "The highest form of being human is to learn how to empty yourself," West said. "Give yourself. Donate yourself." This humble, vulnerable, and generous love "ought to go hand in hand with a struggle for justice," he said. "Justice is not an abstract ideal. It is a force in the world. It is a verb," he said. "Motion is movement."
Margo Natalie Crawford is professor of English, the Edmund J. and Louise W. Kahn Professor for Faculty Excellence, and the director of the Center for Africana Studies in the School of Arts & Sciences at the University of Pennsylvania.
Cornel West is professor of the practice of public philosophy at Harvard University and professor emeritus at Princeton University.
The 20th annual Rev. Dr. Martin Luther King Jr. Lecture was co-hosted by the Center for Africana Studies and the Annenberg School for Communication and co-sponsored by The Black Alumni Society.