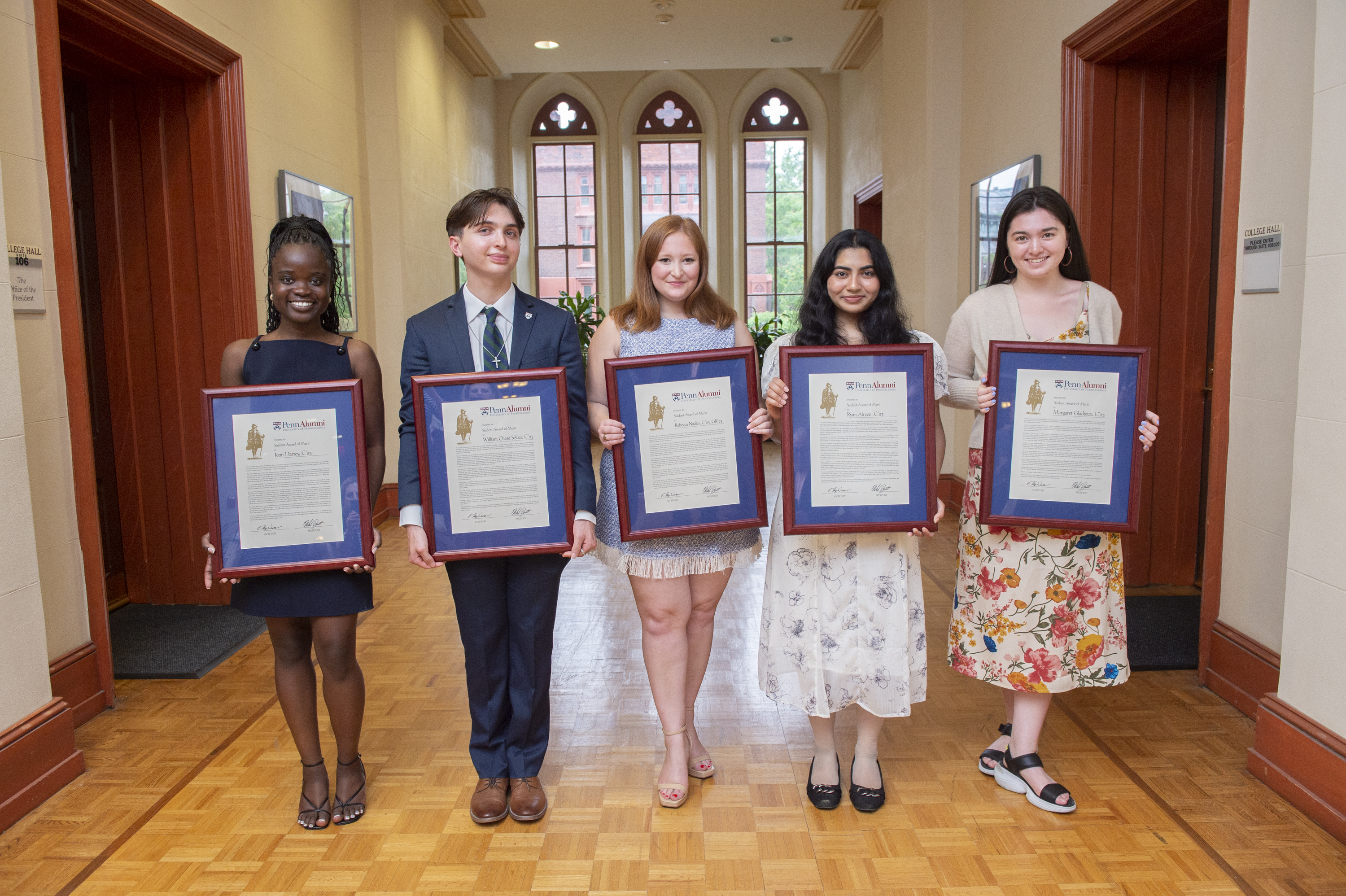 For 150 years, Ivy Day has been an annual tradition at Penn, with each graduating class installing at least one new plaque and planting a sprig of ivy. On Saturday, May 13, the class of 2023 added to the 200-plus plaques throughout campus with a stone designed by Marah Sanchez, a Class of 2023 student in the School of Nursing, and remarks from Vice Provost for University Life Karu Kozuma.
"The Ivy Day Award Ceremony is a special celebration that gives us an opportunity to acknowledge the contributions and accomplishments of our graduating student leaders," Kozuma says. "It is also an occasion to create connections. At the ceremony, we have the privilege of meeting family members and loved ones who have supported the students, while the students can connect with alumni who received the same recognition 25 years ago."
More images are available on Penn's Flickr site.
The 2023 Ivy Day awardees and presenters, all Class of 2023 unless otherwise noted, are:
Contribution and Athlete Awards:

Ceremony host: Carson Sheumaker

Sol Feinstone Undergraduate Awards
Presenter: Interim Provost Beth Winkelstein
Recipients:
Jacqueline Chan and Jasleen Gill (third years)
Iris Horng (third year)
Emilia Onuonga
Association of Alumnae Fathers' Trophy
Presenter: Interim Provost Beth Winkelstein
Recipients:
McCaleigh Marr
Kayla Padilla 
Class of 1915 Award
Presenter: Interim Provost Beth Winkelstein
Recipient: Piper Bond
Academic Achievement and President's Prizes:
Penn Student Agencies Award
Presenter: President Liz Magill
Recipient: Isabella Mirro
James Howard Weiss Memorial Award
Presenter: President Liz Magill
Recipient: Emily Tu
President's Engagement Prizes
Presenter: President Liz Magill
Recipients:
Seungwon (Lucy) Lee 
Catherine Chang and Kenneth Pham
President's Innovation Prizes
Presenter: President Liz Magill
Recipients:
Tifara Boyce, Gabriela Cano, Gabriella Daltoso, Sophie Ishiwari, and Caroline Magro
Student Awards of Merit:
Penn Alumni Student Awards of Merit
Presenter: Penn Alumni President Michael Barrett
Recipients:
Ryan Afreen
Joan Dartey 
Margaret Gladieux
Rebecca Nadler 
William Seklar 
Senior Honor Awards:
R Jean Brownlee Skimmer Hat Award
Presenter: Bethany (Rubin) Henderson
Recipient: Alisa Ghura
Spade Award
Presenter: Jason Judd
Recipient: Derek Nhieu
David R Goddard Loving Cup Award
Presenter: Marti Speranza Wong
Recipient: Annie Vo
Cane Award
Presenter: JP Lespinasse
Recipient: Justin Acheampong 
Gaylord P. Harnwell Flag Award
Presenter: Daina Richie-Troy
Recipient: Maria Jose Rodriguez Velazquez
Bowl Award
Presenter: Tal Golomb 
Recipient: Carson Sheumaker
Althea K Hottel Shield Award
Presenter: Rachel (Ehrlich) Albanese
Recipient: Hunter Korn
Spoon Award
Presenter: Benjamin Dietz
Recipient: Yaaseen Mahomed