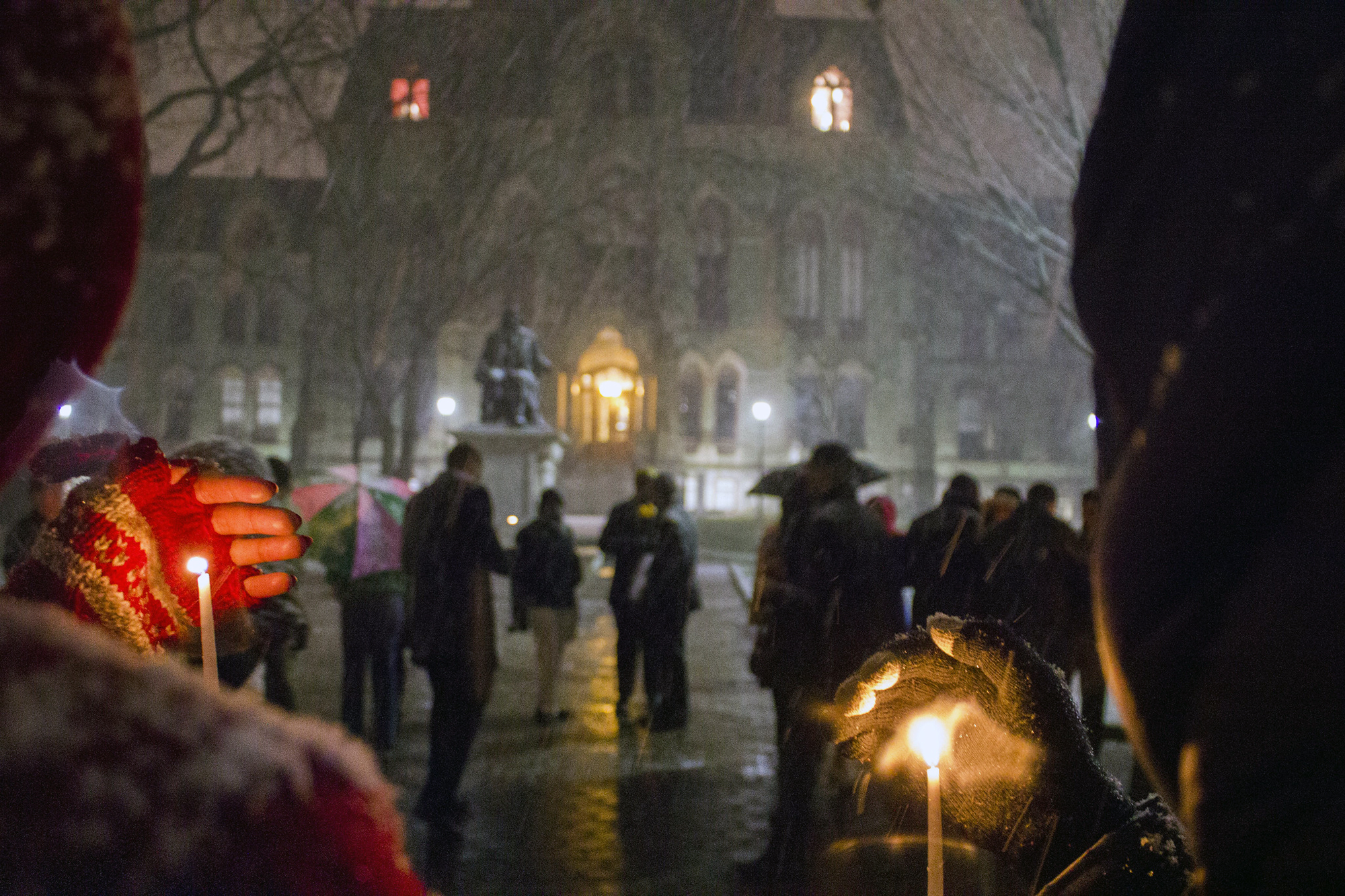 The 28th annual Martin Luther King Jr. Commemorative Symposium on Social Change will kick off Jan. 16, the MLK Day of Service, with a breakfast at Houston Hall with remarks given by President Liz Magill and State Sen. Vincent J. Hughes, followed by a full roster of activities including a beautification project at Henry C. Lea Elementary School, community wellness events discussing prediabetes and colon cancer, and a children's art workshop presented by the Penn Reads Literacy Project.
This year marks a return to in-person discussions, programs, and service events, says Valerie Dorsey Allen, director of the African American Resource Center (AARC), which hosts the symposium. "The country has had many experiences that have divided rather than united us," Dorsey Allen says. "Our hope is that the Symposium programs and the Day of Service will help us to recognize, appreciate, and embrace each other. We are working to live out the idea that we are one nation and that we must find ways to live with each other in peace. As Dr. King said in Letter from a Birmingham Jail, 'We are … tied in a single garment of destiny.'"
This is Dorsey Allen's 20th year planning the Dr. Martin Luther King Jr. Day of Service, which continues to be a touchstone for the Penn community. Every year, she looks forward to the student speakers and performers at the interfaith program, along with the annual lecture, whose speakers have included the Rev. William Barber II and Harry Belafonte. The Symposium's vibrancy is due to the hard work of the planning committee, Dorsey Allen says, all of whom serve as volunteers "committed to seeing the ideals of Dr. King played out through these programs." By working together, the volunteers embody the spirit of service, she says.
The Day of Service also includes a service project to package toiletries for those in need and the annual So You Want to Go to College?" workshop. The event is designed to simplify the college admissions and financial aid process for high school students and their caregivers.
The University of Pennsylvania School of Veterinary Medicine is offering its annual free dog and cat wellness and vaccination clinic. The clinic is a way to answer King's call to service, says David E. Holt, Professor of Surgery at Penn Vet. "Our vaccination and wellness clinic is a way to meet the community's needs."
The day's events conclude with a vigil commemorating King and his legacy hosted by The Mighty Psi Chapter of Alpha Phi Alpha Fraternity Inc. The vigil, which will be punctuated with songs and quotations from King, will begin outside Du Bois College House and proceed through the campus, ending at College Green.
Symposium events will continue through Feb. 3. Highlights this year include a viewing of "Trigger: A Documentary about Gun Violence" at Paul Robeson High School on Jan. 18, an interfaith commemoration on Jan. 19, and the annual Dr. Martin Luther King Jr. Lecture in Social Justice on Jan. 25, featuring Nikole Hannah-Jones, author of "The 1619 Project."
The symposium will also include several ongoing events. A citywide donation project with five different locations is accepting a variety of donations from infant clothing to cleaning supplies from Jan. 16 through Feb. 3. The Penn Reads Literacy Project is hosting a book donation through Harriet's Bookshop; donations can be made now through Jan. 27.
A complete listing of Symposium events can be found online or on the events page of the AARC website.