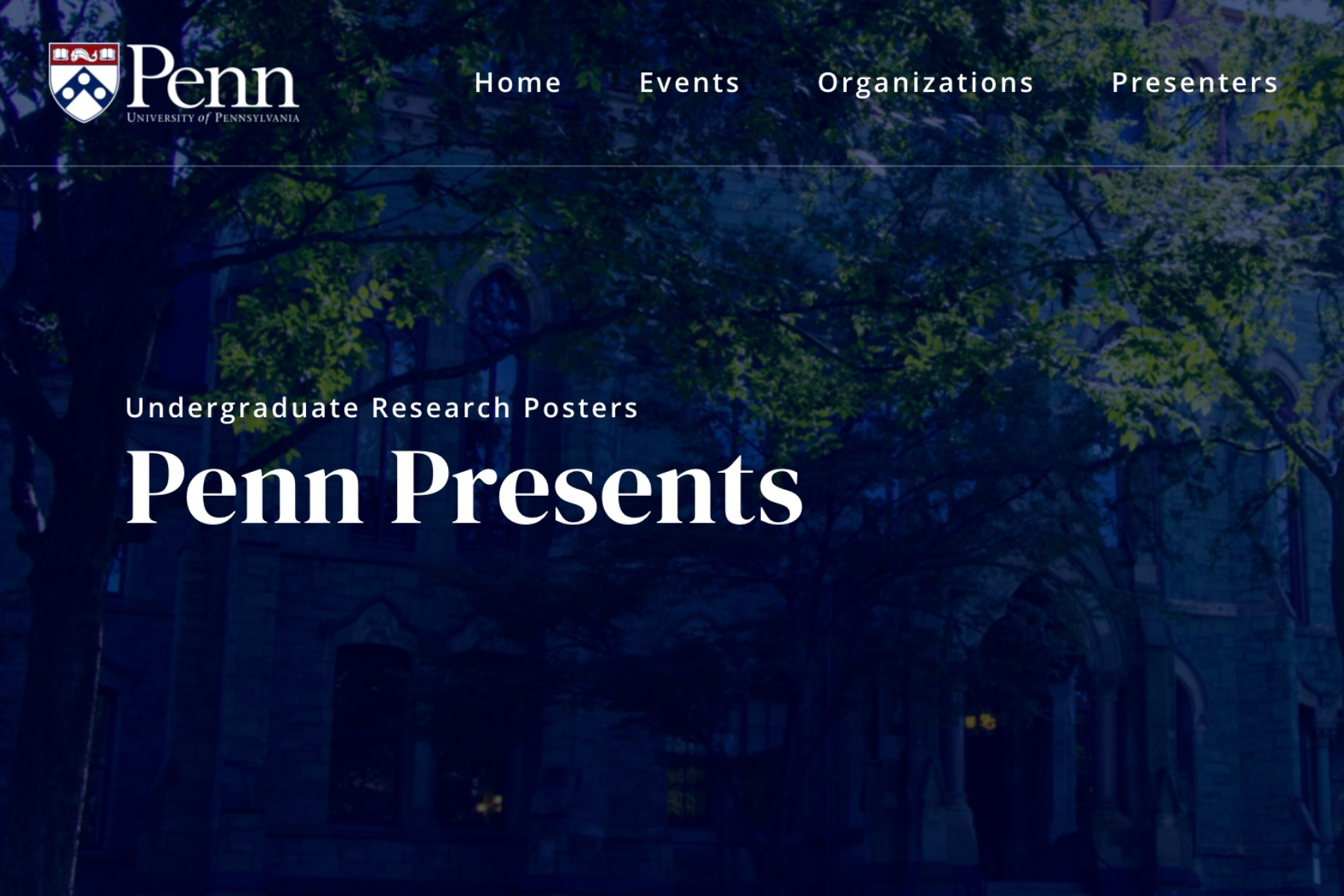 This week, the Center for Undergraduate Research & Fellowships (CURF) launched a new online platform, Penn Presents, to highlight undergraduate research activities. The first virtual event, the 14th annual Fall Research Expo, features more than 300 posters created by students to describe research they conducted this year with mentorship from Penn's faculty. 
"I am both profoundly grateful and extremely impressed by how resilient our students have been during this need to pivot during the pandemic and how supportive and creative our faculty have been in making that happen," says Ann Vernon-Grey, CURF's senior associate director for undergraduate research. 
The Penn Presents platform will soon be available to the entire University community, providing a centralized resource for organizing, hosting, and archiving research poster sessions. Initially funded by CURF, the team received a grant from the Penn Technology Investment Committee to expand access.
"It's another technological tool that will allow us to feature what students are doing with research, even if it is not coming from our office," says Aaron Olson, CURF's assistant director for assessment & outreach. "This will be the online repository for in-person poster sessions and a way for people who can't be there to attend virtually."
CURF plans to hold research events in person once that is possible but also to continue and expand the virtual platform as a complement, making it possible for anyone to view Penn undergraduates' research anytime from anywhere, says Olson. 
Student participation in the Fall Research Expo has grown each year since it was first held in 2007, with 18 posters displayed in the ARCH building lounge. During last year's expo,  319 posters, printed and propped on easels, filled most of the first floor of Houston Hall and packed the Hall of Flags, with student researchers fielding questions from faculty, staff, students, and members of the public. 
This year's research projects, with faculty across all 12 schools, were conducted remotely due to pandemic restrictions. "The faculty and students really stuck to it and found new and creative ways to approach and conduct their research," Vernon-Grey says. "They embraced the enforced pause, in many cases doubling down on the pedagogical parts, the readings, and the thought experiments."
On the Penn Presents platform, visitors can experience the Fall Research Expo virtually. Each project link includes a small photo that can be expanded to show the entire poster, along with a project summary and a video of the student explaining the work.
"We are trying to replicate that experience of walking down the hallway," Olson says. 
Also included are links to a student biography that will display all the posters they present at Penn, as well as links to the faculty bios, the funding description, and a comment section. "Students should be able to point to their work even after they have graduated," says Olson.
The initiative has had some early successes. The virtual fall expo attracted nearly 1,000 visits during the traditional event time Thursday evening when students were available to answer questions live online, Olson reports, with the site garnering 17,500 page views. 
In development is a feature to create, host, and archive panel discussions on the platform, he says. And perhaps as the platform evolves, so will the concept of a research poster, now printed and mounted on a board, to something that is more long-lasting, accessible, and impactful. 
"I'm hoping that this is an opportunity to rethink what a research poster is and does," Olson says. "Going forward if there is another way the students want to present their research, we can look at making that happen."