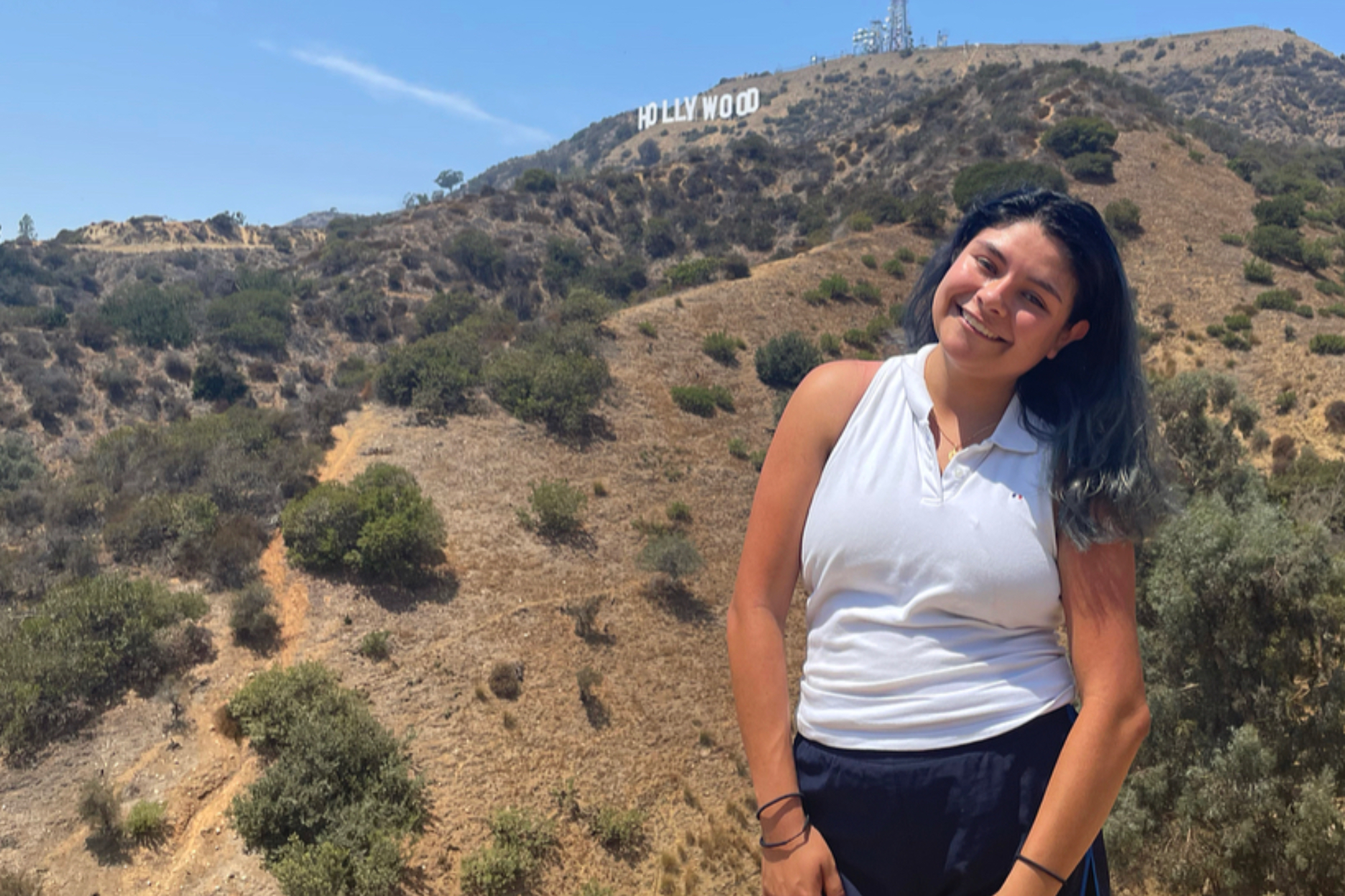 Freshman year for Paola Camacho was fully remote from her family's home in Florida, but this summer she is living in Los Angeles and pursuing her vision of becoming a writer in the entertainment industry through a Penn-sponsored internship.
The rising sophomore is conducting research for Hollywood writers David Stern and Stuart Gibbs, both Penn alums, through a Real Arts@Penn internship, which provides a $4,000 stipend. Camacho, from St. John's County outside of Jacksonville, is planning to major in communications or creative writing with a minor in cinema and media studies in the College of Arts and Sciences.
"It's always been a dream of mine to work as a writer," she says. "I didn't even know an opportunity like this existed—not only to work with writers, but they are open to reading my writing. You dream about things and then to have opportunity to do it; it is a full-circle moment."
Stern and Gibbs have been taking on a RealArts intern each summer since 2009, the second year of the program. The two writers met while undergrads at Penn in the Without A Net improv comedy troupe and have been friends ever since. Both were also in the Sphinx Senior Society. They decided that together they would have enough for a summer intern, especially since they work on different kinds of projects with different timelines.
The internship has an informality and easy communication that allows for learning, Camacho says. "It feels more like a mentorship. I'm working for them, but I am also gaining so much from it," she says.
And that is by design, the writers say. "Part of it is to educate students before they come out to Los Angeles to try and work in film or television about what their life would be like, and can they handle that. And the easiest way is to sort of immerse them in our lives and see how that goes," says Stern, who earned bachelor's degree from Penn in 1989 and master's degree in 1990.
A Tony Award winner, Stern has written and produced musicals and plays for the stage as well as movies, documentaries, and television shows, including the hit musical "Dear Evan Hansen," the "Open Season" films, and the television series "Mozart in the Jungle." Currently he is working on several animated and live-action projects and a new musical, and is developing new ideas to pitch to television and film.
Gibbs, who graduated from Penn in 1991, is a best-selling novelist who writes book series for middle grade readers, including "Spy School," "FunJungle," "Moon Base Alpha," and "Charlie Thorne." He also has written movie scripts and developed television shows for several studios. He is currently at work on three separate book series, a screenplay, and a graphic novel.
Camacho says she is mostly doing research and reading books and scripts as each of the writers pursues new projects and then sharing her impressions of their work. "They sincerely consider my thoughts and my reactions, and they give it value, which is a good, incredible feeling, that my opinions are being respected and taken into consideration," she says.
Stern says that he has found that "sometimes the best solution comes from unlikely sources," and they find their interns' perspectives valuable.
Gibbs agrees. "Paola's nailed these things," he says.
"Generationally they're coming from a different place than we are. They have objectivity," Stern says. "Often we have characters their age or their ethnicity or their background in a story and having them read and say, 'Hey, that doesn't feel real to me,' or 'I got lost in the storyline here,' identifying where they were emotionally engaged, where they checked into the story, where they checked out of the story. That's hugely informative."
Several of their Penn interns have gone on to find success in the entertainment industry, the writers say, and the dozens of alumni of the program support each other and new interns. "They'll always give the time to assist, which I think is wonderful," Stern says.
As part of the internship, the writers agree to review the intern's original writing projects. Camacho says she plans to share a screenplay for a short film she is writing, using skills she learned in a screenwriting workshop taught by Scott Burkhardt, a lecturer in the English Department.
"Paola really took to the screenwriting form and wrote an engaging script. She gave excellent feedback to her classmates which is an important skill for anyone looking to break into Hollywood," says Burkhardt. "I'm sure she'll grow even more as a writer through this internship with David and Stuart."
Gibbs and Stern say they have been impressed with Camacho's initiative, taking a part-time job at a farmers market to meet people and getting a bicycle to explore the area. "It's about having a life and having friends and having things that you enjoy doing that have nothing to do with the entertainment industry. And she's coming out here, and she is creating that for herself," Stern says.
Camacho and her family are originally from Colombia, but she has spent most of her life in Florida, including her entire Penn freshman year, taking classes virtually. She has only been on Penn's campus one day, for a campus tour before she was accepted to the Class of 2024.
"I'm grateful that I had something in the pandemic that kept me grounded," she says, noting that the freshmen seemed to put a lot of effort into meeting new friends online. "In the clubs that I joined I felt like we were so much more open with one another, and we were looking forward to seeing each other and we became so much closer."
Camacho joined the Penn Social Planning and Events Committee and has become a director of the Connaissance branch for the upcoming school year, tasked with bringing keynote speakers to campus. In the spring semester, she joined the Onda Latina dance club, driven by her upbringing and experience with a traditional Colombian dance group in Florida.
Camacho says she hesitated before applying for the Real Arts internship, thinking that she wouldn't be chosen as a freshman. Then she pulled together the application the day before it was due. She says, "I thought, why not give myself a chance?"
She did have some experience, having worked as an intern virtually during the spring semester with the New York-based film production company Killer Films. "I loved that experience so much and it felt so right for me, I thought maybe this is an option for me for a career," she says.
Even though she is the first freshman and the youngest intern they have chosen, Stern says Camacho has proven to be one of the most mature. "She checks in with us to make sure she gets the work done that we need and is constantly saying, 'Hey, I can also do this, or I could look into that.' And that's what we're looking for," he says. "I think her motivation, her sense of self, is going to take her far."
Staying in Westwood for the summer, Paola says she really enjoys living near the UCLA campus, which she now knows much better than her own Penn campus. "It's been a really great experience as an independent young woman, especially after a year in the pandemic, to be able to go out on my own schedule," she says.
The internship that started June 1 will end Aug. 11, and then she will look forward to moving to Penn's campus for the fall semester, living in Rodin College House. "I am really ready to be on campus and see what is offered to me," she says. "I want to make the very most of my time at Penn."