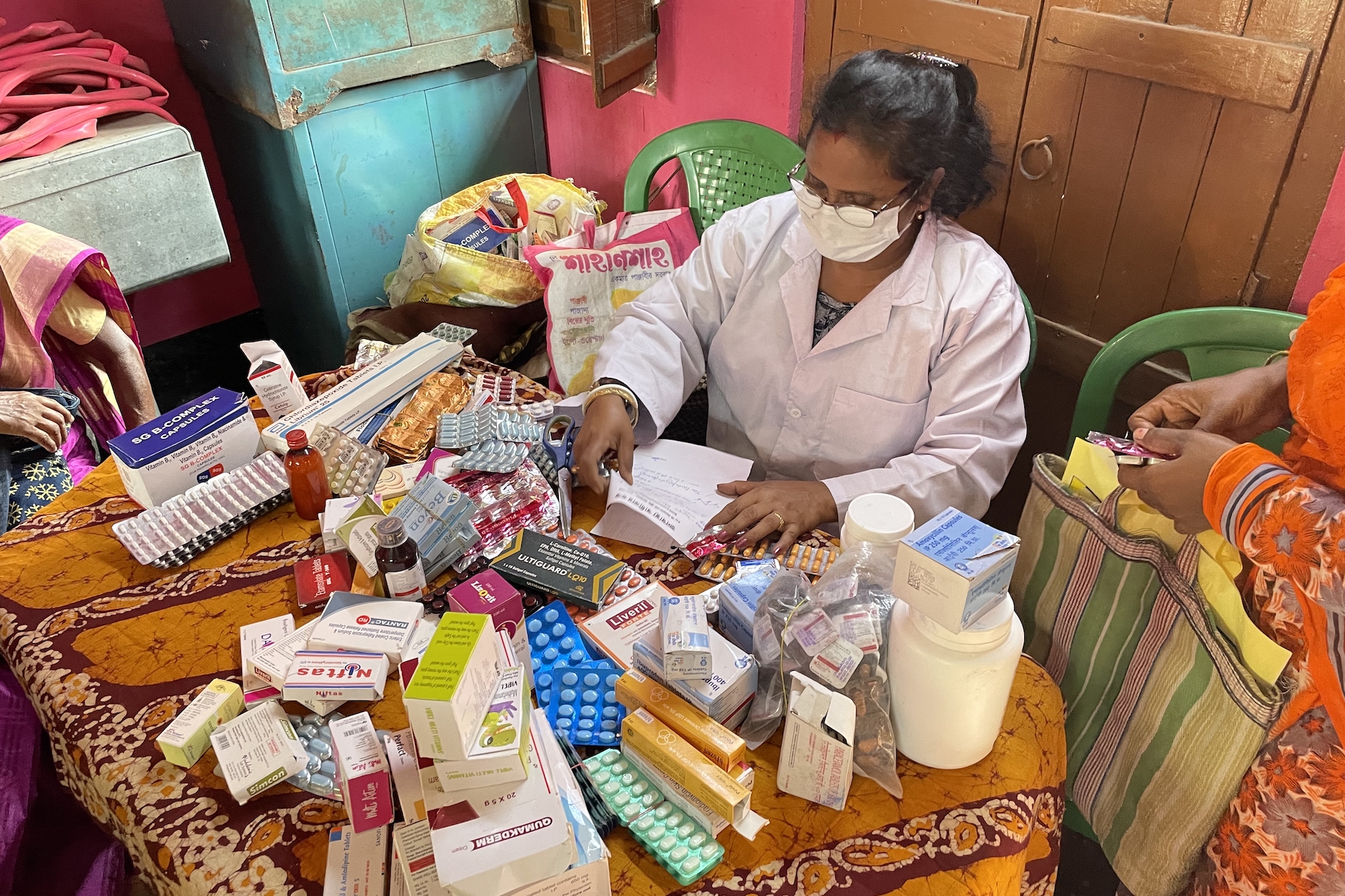 In an empty room in a very old home in the Sonagachi district of Kolkata, a handful of students are learning their letters. The students, ages 7 through 12, file in four days a week to study algebra and geometry, reading, and writing. Once a week, a college student teaches an art class. She's the daughter of the woman who owns this building, a sex worker who, to the best of her ability, has resurrected the crumbling bricks and sagging floors of this 19th-century, three-story home, built directly across the road from some of the grandest estates of Kolkata's upper class.
"Sonagachi was the most well-known red-light district in the world," says Toorjo Ghose, associate professor at the School of Social Policy and Practice (SP2). It still is the largest brothel-based red-light district in Asia, he says. Now, Sonagachi is also the site of a sex workers' rights collective that is fighting for its members' basic needs: food, health care, and bodily autonomy. 
Between members actively involved in advocacy work and those running and attending the clinics, Ghose estimates that about 250 people are involved in the new sex workers' rights movement that has emerged, post-COVID. Its name, Janaswashtha, means people's health. 
"You can call it sex workers rights, but really, it's poor women's rights," Ghose says. 
Although sex work is legal in India, it exists in a no-man's land of stigma and red tape says Ghose. Under a law meant to decrease the influence of predatory pimps, sex workers are not allowed to support anyone besides themselves. This means that they are not legally allowed to support their children or elderly family members through their earnings he says. 
In India, most sex workers are mothers who are supporting children. The illegality of this child support triggers police involvement, Ghose says. "The law was supposed to support them, but it's working against them and making them more vulnerable." 
Yet in areas where the collective is strong, sex workers are left alone, Ghose says. The group is an "amazing social movement no one documents," he says. "You will be hard-pressed to find people who know much about it." 
Ghose has been studying this collective, and the larger one it sprang from, for decades and recently received a Fulbright U.S. Scholar Program award to India. Part of his effort involves creating what Ghose calls a "global classroom." Over Zoom, he teaches students at SP2 and Presidency University in India. 
One of those is SP2 alumnus Grace Hale, who took the course last spring. After graduating in May with a master's degree in social work, Hale bought a ticket to Kolkata and told Ghose, "I'm coming!"
"The class provided a comprehensive introduction to these issues, but the depth of my learning came from engaging with the collective firsthand," says Hale. "I don't know if it's possible to fully grasp the socioeconomic and political contexts without being physically immersed in Kolkata."
While in India, Hale was able to meet up with classmates at Presidency University, engage in field work, and see the school for sex workers' children. Public education is available, says Ghose, however, in practice those schools are overcrowded, sex workers' children face stigma and bullying. Without the collectively run school, sex workers' children would not receive an education he says.
Hale was impressed with the education program. "Seeing this individual creating something potentially life-changing for these kids was pretty powerful and impactive," she says. 
Over the summer months, Ghose, Hale, and classmates from Presidency University studied the effects of the COVID-19 pandemic, which decimated the sex worker community, Ghose says. In Domjur, a rural village an hour and a half outside of Kolkata, there used to be about 200 buildings housing approximately 350 sex workers, Ghose says. Just 20 workers remain. The rest have died or moved away.
"Many, many people have died," Ghose says. And the official records don't include all COVID-related deaths, he said. Swaths of villages were wiped out. Even so, "the numbers are beyond comprehension," he says.
COVID-19 is the second pandemic to affect the sex worker community. The first, says Ghose, was HIV/AIDS, when the original Sonagachi sex workers' rights movement was born. 
"HIV was decimating sex work," Ghose says. "Movement leaders formed the front lines for mobilization around HIV education, safe sex, sex positiveness, and a sex work identity."
HIV provided the sex work community with an opportunity, attracting the attention of the international community, Ghose says. "In 2000, when I was first interviewing the head of collective, she said to me, 'we're glad about HIV. This is the first time that you all are interested in us. HIV is not going to kill us. We're dying of these other things.'" 
While the knee-jerk response of the international community is "let's do good; let's rescue these sex workers," that's an outsider's perspective, Ghose says. The sex workers themselves "don't want rescuing," he says. "They just want protection of what they're doing. And international funding doesn't come in to actually enhance sex work protection. It always goes to rescue sex workers from their lot."
Now, another devastating pandemic is decimating intimacy, decimating poor people's bodies, Ghose says. Even though COVID-19 is destroying entire communities, sex workers have more immediate concerns. "Few of the sex workers I've talked with in the last two weeks are vaccinated," Ghose said in a May interview. "They're struggling to get food on the table."
After almost two years without contact, Ghose was able to reconnect with the collective's leaders over Zoom this spring. The leaders were interested in mapping COVID resources, along with mapping how COVID has affected sex work when people are afraid of physical contact, Ghose says. 
"Finally, one thing emerged," Ghose says. "The community wants resources. They're dying of starvation; they're dying of a lack of basic resources."
Some of the students in Ghose's global seminar researched the feasibility of a resource pipeline from the U.S. into the community, while complying with international regulations. Others worked on health aid. The work of the seminar is designed to support and augment the work that is already going on within the community. "First and foremost, we are organizing to address the community's basic needs," Ghose says.
Ghose remembers working at a Domjur health clinic in May 2020. "We're doing this clinic in 110-degree weather," he says. "Everybody is really hot, they're all sweating. The heat index is super high, but the line is out the front entrance, because people are like, 'Oh, doctors are here. Mental health counselors are here. We can get some help.' So, people are really coming in.
"Then sometime around two o'clock in the afternoon, a massive cheer goes up," Ghose says. "Why? Because ration cards, which are government-issued cards that allow you to get free food, suddenly came in." 
Ghose made inquiries. To get a ration card, citizens need to collect paperwork documenting various details about residency and turn the files over to Kolkata's municipal government, which is several hours and three bus transfers away from the village of Domjur. One of the organizers, the child of a sex worker, organized paperwork for 50 people and went into the city to get ration cards for the village. "Finally, this meant they can have food," Ghose says. 
The attention of the international community pivoted to the plight of sex workers during HIV, and later, COVID-19, but preventing the transmission of disease through safe sex is a tertiary concern, and one that troubles outsiders more than it does the sex workers themselves, Ghose says. 
The collective has expanded beyond condom education and distribution. At its core, the movement is centered on food, health care, and education for children. "This is about poverty and marginalization," Ghose says.