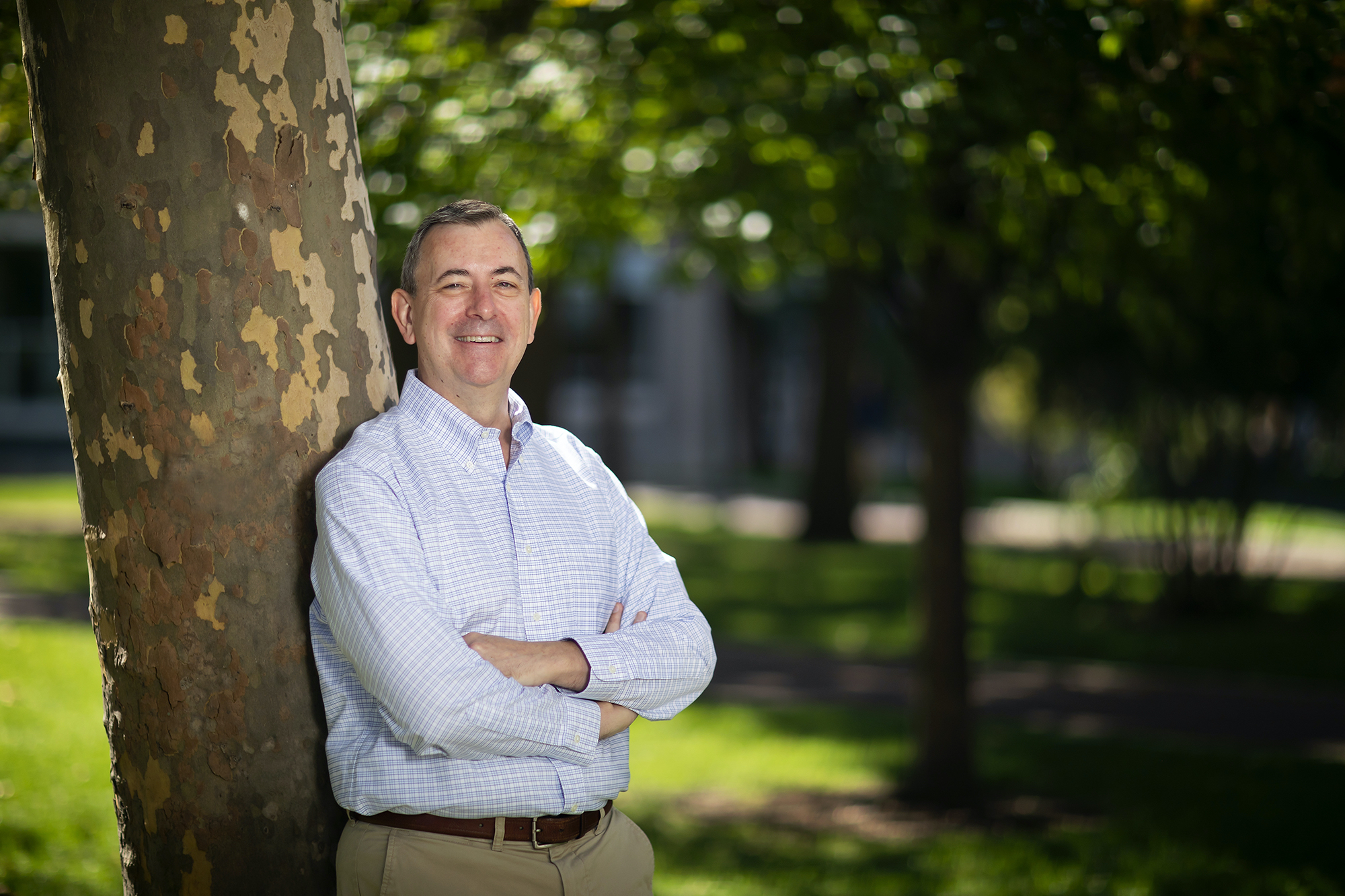 When 47-year-old Gavin Antone was a teenager, he began asking his grandfather about his family's heritage and their traditional language, called Kashaya. "When I was young, I didn't really know too much," says Antone, a descendant of the Kashia Band of Pomo Indians of the Stewarts Point Rancheria. "I really wanted to start being more connected with who I was."
Around that time, he joined the military. "When I would come home or go visit someone, I would ask questions, simple things, like 'How do you say this word or this word?'" His aunt noticed his new interest, offering him a Kashaya dictionary created by a scholar named Robert Oswalt, who had studied and documented the language for decades, in collaboration with Antone's family and others.
Antone started tracking Oswalt's work. Soon, another name began popping up, Penn linguist Eugene Buckley, and the pair started emailing. "Someone who has spoken a language their whole life, that's one perspective, the most valuable perspective," Antone says. But Buckley "understands language in general. Sometimes things a fluent speaker can't explain—they just know it because they know it—he can bridge that gap."
Part of that includes taking up the reins on the work Oswalt left unfinished. One of Buckley's goals is to build a thorough Kashaya resource online, with both English and Kashaya spellings of each word, plus at least one sound file with pronunciation by a native speaker, multiple speakers when possible. Some entries include images, too.
So far, the work features almost 850 words and more than 1,350 sound files. There's still plenty of source material to sift through, however, an ongoing project aided currently by several Penn undergraduates. But the website is now live and frequently updated.
At the peak, about 1,000 people spoke Kashaya; today that number has dropped to just a dozen or so fluent speakers. Buckley says he hopes this project can make the language accessible to anyone who wants to learn it: linguists, nonspecialists, and most of all, people like Antone, who have a cultural connection to the words and stories. "It's important to get as much information preserved as we can for future generations," Buckley says.
Picking up where another left off
Buckley, an associate professor in the Department of Linguistics, first encountered Kashaya in a grad school course at the University of California, Berkeley, in the late 1980s. Almost 30 years prior, linguist Robert Oswalt had published his own UC Berkeley dissertation on this Native American language spoken on the Pacific Coast of Northern California.
It's one of seven Pomoan languages, which are similar to each other yet still quite distinct. Through his research, Oswalt had identified many key generalizations about Kashaya but had presented the information in what turned out to be an unusable way. "It was unapproachable," Buckley says. He updated the work using newer linguistic theories, publishing his own doctoral dissertation on the language in 1992.
Both researchers relied on the willingness of those who knew Kashaya to put their trust in people who didn't.
Essie Parrish, a Kashaya spiritual leader, and her daughter Violet Chappelle along with Herman and Gladys James worked with Oswalt in the 1950s and '60s. Buckley's first contact was Milton "Bun" Lucas, whom he met in grad school. He connected to another, Anita Silva, through a Linguistic Society of America program. "We worked for six hours a day, five days a week. She was raring to go," Buckley says.
Other partners eventually included speakers Otis Parrish, Inez Adam, Freda Davis, and Antone, who has been learning the language himself. "I'm someone who is very concerned with keeping my culture, my heritage going, preserving it, learning it, for my children, my grandchildren. The language is probably the most important thing to me," he says. "This is something I've been doing for a long time and will be doing for the rest of my life."
Seeking patterns
By the time Oswalt died in 2007, he had been working on a Kashaya dictionary for years. Yet it was still incomplete. "I realized I needed to pick up the task," Buckley says. He secured a grant from the National Endowment for the Humanities, through the Documenting Endangered Languages program, and for two weeks each visit, sometimes twice a year, met with Silva in Northern California, until her death in 2015.
In the past five years, the project has ramped up, with help from Penn graduate students and undergraduates like sophomores Gonzalo Ortega, Petros Kaklamanis, and Anthony Burger. "I'm interested in language conservation," says Burger, from Teaneck, New Jersey. "I'm a heritage speaker, meaning I speak a language at home that isn't spoken around me otherwise, Czech, so I really feel for the idea of keeping a language alive for the community. It's so important."
When Burger learned about the Kashaya project, he reached out to Buckley, joining the research as an intern in the Penn Undergraduate Research Mentoring Program from the Center for Undergraduate Research & Fellowships. During the summer, Burger spent much of his time organizing handwritten transcriptions and brainstorming with Buckley how the database might account for nuances in the language. Because suffixes in Kashaya can change a word's meaning, for example, alphabetical order didn't offer the best structure.
Suffixes can also change pronunciations. Buckley explains with an example from English. When the word "cat" becomes "cats," the vocal cords don't vibrate to produce the "s." Instead it matches the "t." Both are called voiceless sounds in linguistics. When "dog" becomes "dogs," however, the hard "g" leads to the suffix being pronounced as "z," what's called a voiced sound.
"We're unconscious of that because when you learn to speak English that's a rule of phonology that you internalize," Buckley says. "We learn to do that automatically."
Such rules are what Buckley, and Oswalt before him, have been exploring about Kashaya. "That's what phonologists do," he says. "They look for patterns or rules that use the same elements of the language realized in different ways depending on the sounds going on around them."
Building the dictionary
The dictionary aims to put these words and sounds together in one place. Initially, students in Penn's Software Design & Engineering Course in the School of Engineering and Applied Science helped Buckley build several Android apps that included pictures and pronunciations. But to make the end-product as accessible as possible, Buckley felt a website would work best. He built the first version himself.
In fall 2020, he hired Tom (Jonghyun) Lee, then a computer science master's student at Penn, to implement a new site, which went live in January 2021. Brandon Cho, a high school senior in California who learned of the work and reached out to Buckley, has been instrumental in adding to and updating the website since then.
Most recently, Buckley and Cho added whole stories to the site, with an ability to click one sentence at a time. "I want people to be able to hear elders from the time telling the stories," Buckley says. "Now people can go through slowly and get a better sense of how to pronounce things traditionally."
Buckley says he is happy with the progress that's been made on this project. And for his part, Antone says he appreciates having a place to get his own questions answered and to use with his children, an effort to share the language with them in the way he now experiences it.
"When you say a word in a way that your ancestor said it since the beginning of time, you just feel that," Antone says. "You feel it so deeply. You just know that makes you who you are. That's the only way I can really explain it."