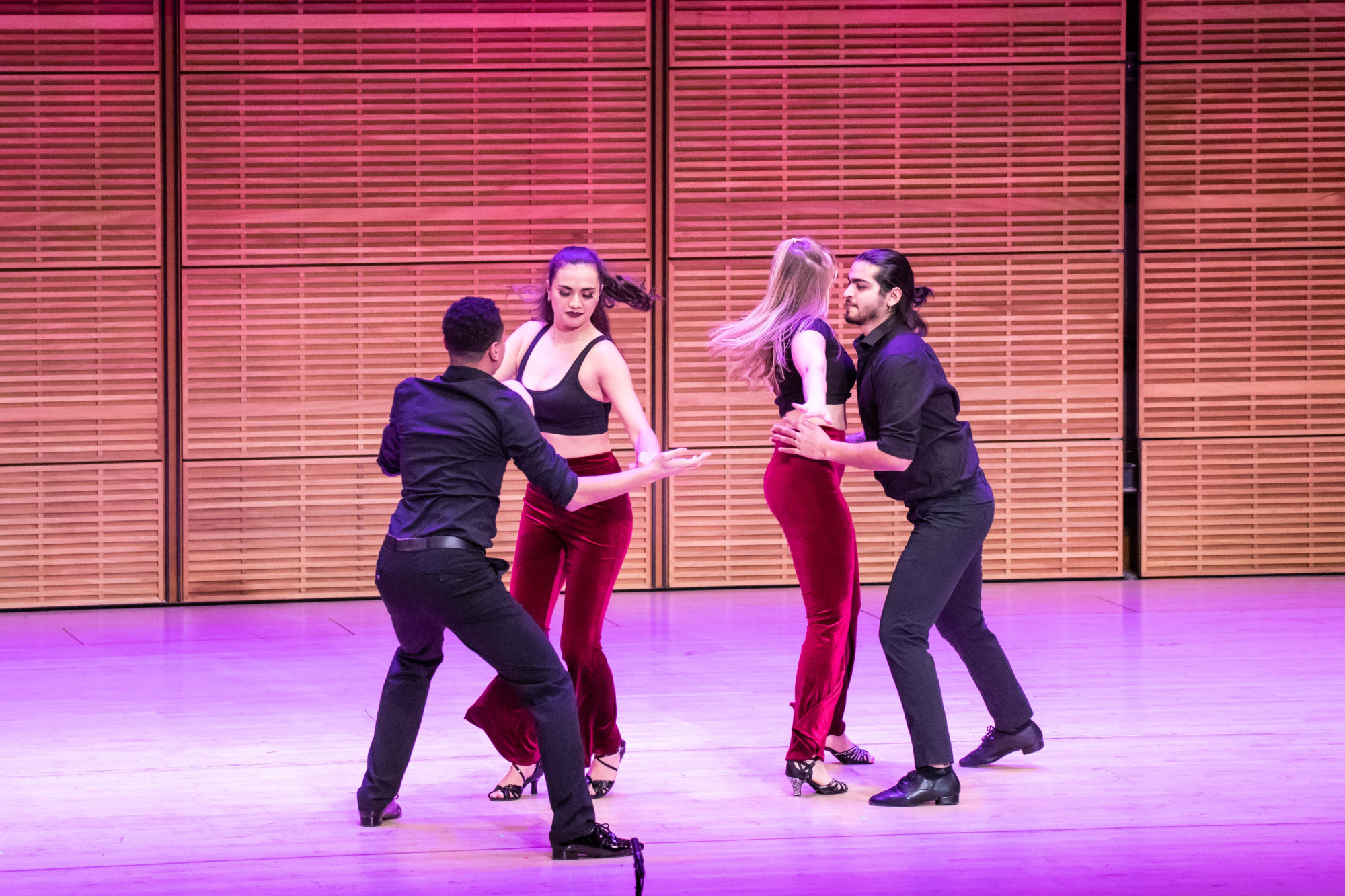 Seven Penn student performing arts groups took the stage at Carnegie Hall in New York City before a near-sellout crowd in the third-annual "Toast to Dear Old Penn" showcase.
The Dec. 10 evening event featured more than 100 students in Dischord and Penn Yo a capella, Onda Latina and Penn Dhamaka dance, Bloomers and Mask and Wig comedy troupes, and the spoken-word Excelano Project. They performed for more than two hours before an audience of about 400 Penn alumni, students, and staff, along with family and friends.
"The vibe was extremely positive and spirits were high. The atmosphere had a tangible electricity to it created by the enthusiasm of the audience and the performers," says Laurie McCall, director of Penn's Platt Student Performing Arts House. "Everyone seemed to enjoy the show and being together at a Penn event."
Co-sponsor Penn Live Arts made possible a virtual livestream that was recorded and is now available for viewing.
There were strict COVID-19 protocols, and no receptions or parties. "It was just the performance," McCall says.
The performers were required to submit vaccination cards, have a negative COVID-19 test 72 hours prior, and wear masks except when on stage. Audience members had to show vaccination cards with identification and wear masks.
"We had to coordinate with the students to make sure we met Carnegie Hall's requirements to get all PCR COVID tests and vaccination cards submitted at the correct time," McCall says. "Thankfully, Penn is set up to manage COVID protocols effectively."
There were several other new aspects to the event this year. The student performers introduced each other, instead of having an alumni emcee. Five of the groups were in the event for the first time, with the two comedy troupes the repeat performers.
It was also the first time spoken-word performances were included. "The poets from the Excelano Project really made their mark," says McCall. "We didn't know how spoken word would blend with the other performances, but the poets were brilliant and impactful."
And 27 students won a lottery for free tickets, riding up to New York in the buses with the performers.
"People seemed to be extremely happy to be at this live event in New York City," McCall says. "The students displayed their passion and talent on the stage and the audience responded with admiration and long and loud applause."
To view a recording of the event and the program listing the names of the performers, visit the Penn Live Arts website.