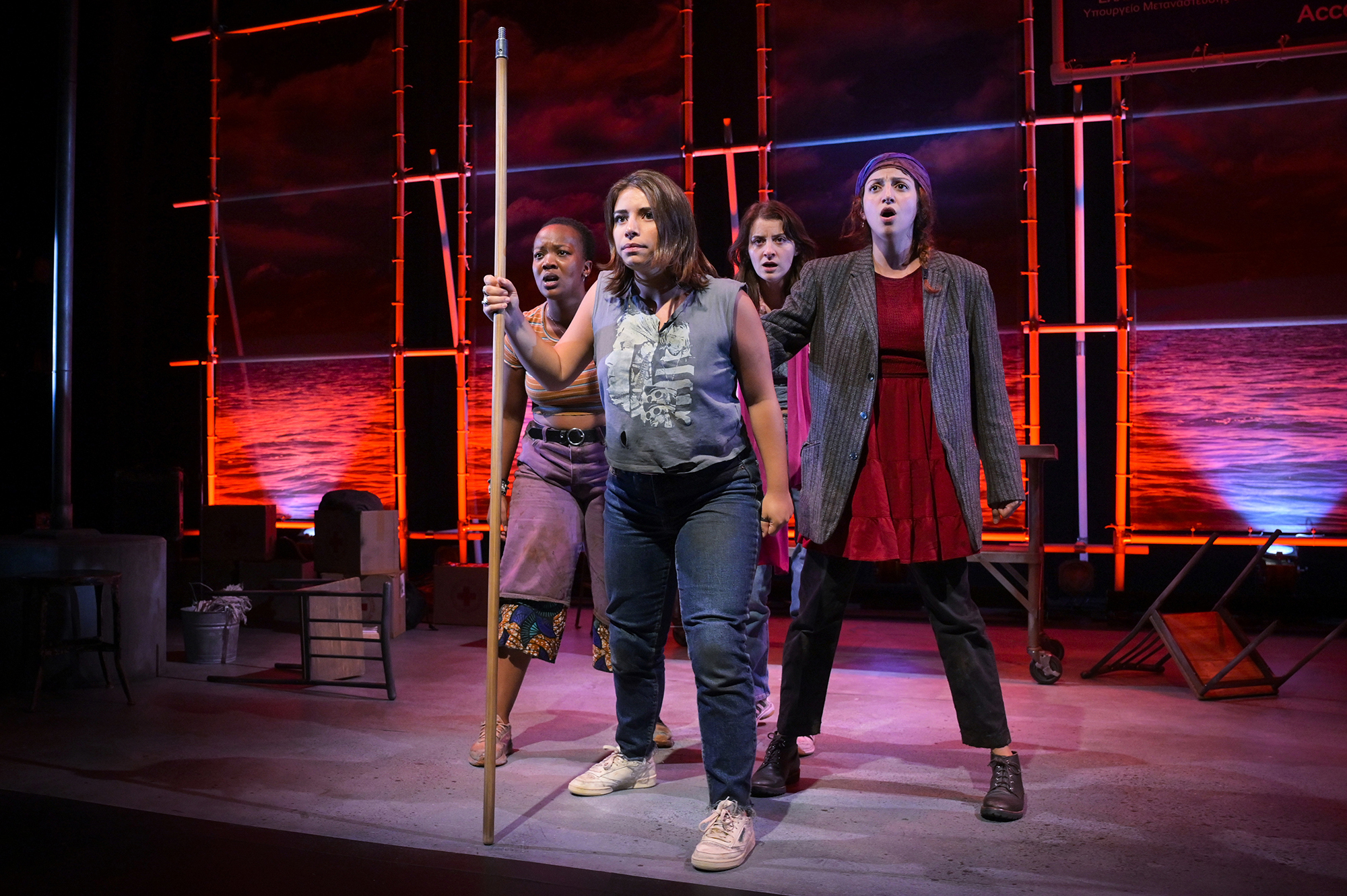 After a successful run of her one-person-show stage adaptation of "The Iliad," Lisa Peterson had been approached several times in the years since about reimagining "The Odyssey." For years, she was skeptical, uncertain that she could find an interesting approach to retelling the epic poem.
Then, along came Emily Wilson's translation in 2018.
"I noticed things about 'The Odyssey' that I hadn't remembered," Peterson recalls. "I hadn't remembered that Athena kicks it off, or that there is this throughline of the question of hospitality, with this Greek word 'xenia,' which can be translated as 'hospitality' but is a moral concept about how we host, how we treat visitors, and what kind of visitors we are."
What clicked at that moment, she says, is that the story isn't just "a hero's journey," but a story about an impossible trip to get home and a hero who stays in—and exits from—various locations. Peterson wanted to explore the moral questions around hospitality and homecoming but sought a novel way to approach this.
Remembering a series of documentaries about the Syrian refugee crisis, and how certain Aegean islands had become refugee relocation centers, the lightbulb brightened, and she found her pitch.
"So, I had this idea of, 'What if four young women came together in one of these relocation centers, and what if it was one of them telling the story?" she muses. "My approach to adaptation, which I've done some of but not all the time, is that it's only worth doing if you can find a contemporary lens to look at the story."
Her reimagining of "The Odyssey," produced by The Acting Company, will travel to the Annenberg Center for the Performing Arts from Sept. 30 to Oct. 1. It will star Layla Khoshnoudi, Zamo Mlengana, Anya Whelan-Smith, and Abiola Obatolu as four refugees who discover a book version of "The Odyssey" and then bring the narrative to life, each passing back and forth the role of Odysseus. At times, they'll use props like a mop handle, a bucket, or a blanket to bring life to the ancient tale in a contemporary way. There will also be musical performances featuring original compositions by Masi Asare.
The 100-minute adaptation will feature approximately half dialogue and narration written by Peterson, with the other half featuring verse from Wilson's translation. Peterson says she looks forward to audience reactions when they realize the verse is directly from Wilson's text, considering the translation is so well-regarded for its more contemporary-sounding language.
"It's kind of exciting to have something out there in the world that can be interpreted in many different ways I haven't foreseen," says Wilson. "There's something really wonderful about that."
Wilson, who was not involved in the creation of the piece, is particularly interested in how lines she's sometimes agonized over will be performed by others. She plans to see the production while it travels in the weeks ahead.
The decision to make the cast all-female, Peterson adds, came about while reading Wilson's translation and realizing that, though the story is about Odysseus, it's also a story about women.
"There are a huge number of female figures in it, and it's not about a woman but [Odysseus is] surrounded by women, and I said 'Let's put women at the center,'" she says. "And as I did it, I thought, 'Oh, I'm actually making the women the hero.' And why can't they be the hero? Why can't the hero's journey be claimed by women, and not just women, but a young woman from Syria, from Tunisia, from Rwanda, and Albania?"
Peterson describes the play as "having a conversation with the material." She hopes audience members will take time to reflect on what home is, as well as the bravery of making the decision to leave home and find a new one.
A post-performance talk will take place after the Sept. 30 performance with Maggie Lee, associate director of Odyssey; Elena Isayev, a professor of ancient history and place at the University of Exeter and visiting scholar at Penn; and Blanca Pacheco, co-director of New Sanctuary Movement of Philadelphia. Several Penn classes will also be attending and engaging with the performance.
Penn Live Arts Executive & Artistic Director Chris Gruits says the piece fits nicely with the 2023-24 season's theme of cross-cultural dialogue and issues.
"It's a highly relevant piece for a few reasons: It's in line with connecting Penn to Philadelphia, connecting with Penn classrooms via the Classics Department and Emily's translation, and connects with the public by bringing the show to a public audience and connecting back to the work at Penn," Gruits says. "In many ways, it's the perfect scenario for what Penn Live Arts does."
"Odyssey" runs Sept. 30 to Oct. 1 with four performances.