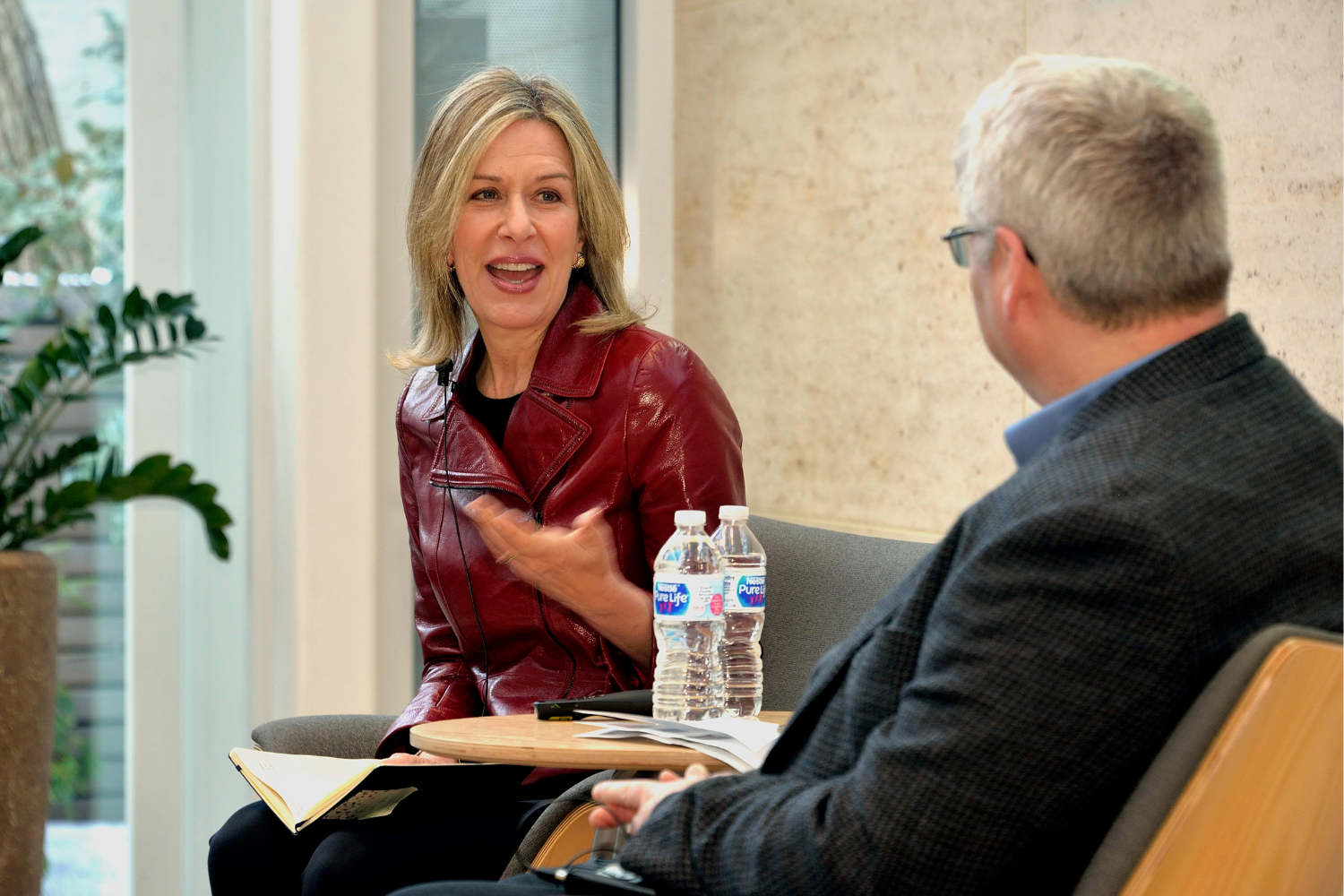 Many researchers working on climate change rarely speak to the policymakers responsible for crafting a strategy for combating the global problem, even as some politicians express skepticism about the basic science that proves it's happening. 
How can scientists bridge that divide? Elizabeth Sherwood-Randall, a Global Order Distinguished Visiting Fellow at Penn's Perry World House and a former deputy secretary at the U.S. Department of Energy, has a simple idea. Researchers, she said, need to talk about what they do—and explain why it's important—at every opportunity, translating their work for non-scientists.
Speaking at Perry World House, Sherwood-Randall urged a group of students and faculty to get into the arena and fight. 
"You can't stay in your lab quietly if you feel this sense of urgency," she said. "I think it's about being multi-dimensional and looking for opportunities to participate in the debate."
Given the current administration's approach, Sherwood-Randall sees universities as crucial players in climate change research, along with U.S. national laboratories and the private sector. Together, they can make change from the bottom up, since it's not coming from the top down, she said. 
In response to a question about how to work with those in power who don't believe in climate science, she argued that scientists need to push back against being censored or silenced when they have information. 
"In these times, it's actually an imperative that we ensure scientific integrity…We need to advocate for the hearing of the truth," she said. 
In a public conversation moderated by PIK Professor Christopher Murray, Sherwood-Randall addressed students and researchers from the U.S., France, and South Korea as part of the annual meeting of Research and Education in Active Coatings Technologies for the Human Habitat (REACT), a project funded by the National Science Foundation and Penn's School of Engineering and Applied Science. 
REACT is focused on using nanomaterials and polymers to invent cutting-edge ways to deal with water purification and management, the spread of infections, and the generation and storage of solar energy—the three "acts" in the project's name. 
The project includes researchers and students at Penn, Alabama State University, Bryn Mawr College, and Villanova University in the U.S., and the six institutions within the Grenoble Innovation for Advanced New Technologies, or GIANT, in France. Solvay, a materials and chemical company, is the industrial partner. 
Sherwood-Randall's remarks closed the meeting, which focused on the intersection of policy, science, and technology. Mark Alan Hughes, a professor at Penn's School of Design and the faculty director of the Kleinman Center for Energy Policy, opened with a broad perspective on the state of climate change. 
Climate change is a problem that requires needs to be addressed with a massive mobilization, akin to the U.S. effort in World War II, he said. But there's no Pearl Harbor-type event to galvanize the public. 
Sherwood-Randall urged everyone to consider spending some time in public service, to learn how decisions are made and influence policy. 
She recalled that when she was a Rhodes Scholar at Oxford University, her faculty adviser was disdainful that she wanted to test her academic theories in the real world, saying she would "dirty her hands" by giving up her academic objectivity. But she was drawn to service, landing a job immediately after receiving her doctorate as a foreign policy adviser to then-Sen. Joseph Biden and alternating between government, academic, and think tank work throughout her career. 
Sherwood-Randall reflected on the value of spending this time at universities: "The opportunity that one has to take time away from service in the public sector to grow intellectual capital and solve hard problems is extremely meaningful."  
That's why Perry World House brings in fellows like Sherwood-Randall, and why the REACT meeting happened there this year. Russell Composto, the director of REACT and an engineering professor at Penn, said he wanted the meeting to focus on the "really big gap" between what's possible and what's being promised. 
As science and technology becomes more important in society, Sherwood-Randall said, it's increasingly important for the people developing new platforms and capabilities to engage with the implications of their work—positive and negative. For example, she said, some scientists involved in creating nuclear weapons eventually became some of the strongest voices against using them. 
"That's really an issue of our times," she said. "I do think that our creative people who are in science and technology need to ask themselves the question, 'What are my responsibilities?'"
Elizabeth Sherwood-Randall served at the Energy Department from 2014 to 2017, and also served on President Obama's national security team from 2009 to 2014, and as a senior Defense Department official in the Clinton administration. She is a Perry World House Global Order Distinguished Visiting Fellow.
Christopher B. Murray, a Penn Integrates Knowledge Professor, is the Richard Perry University Professor of Chemistry and Materials Science and Engineering in the School of Arts and Sciences.
Mark Alan Hughes is a professor of practice at the School of Design and the faculty director of the Kleinman Center for Energy Policy.
Russell Composto is a professor of materials science and engineering, bioengineering, and chemical and biomolecular engineering in the School of Engineering and Applied Science and the director of REACT.