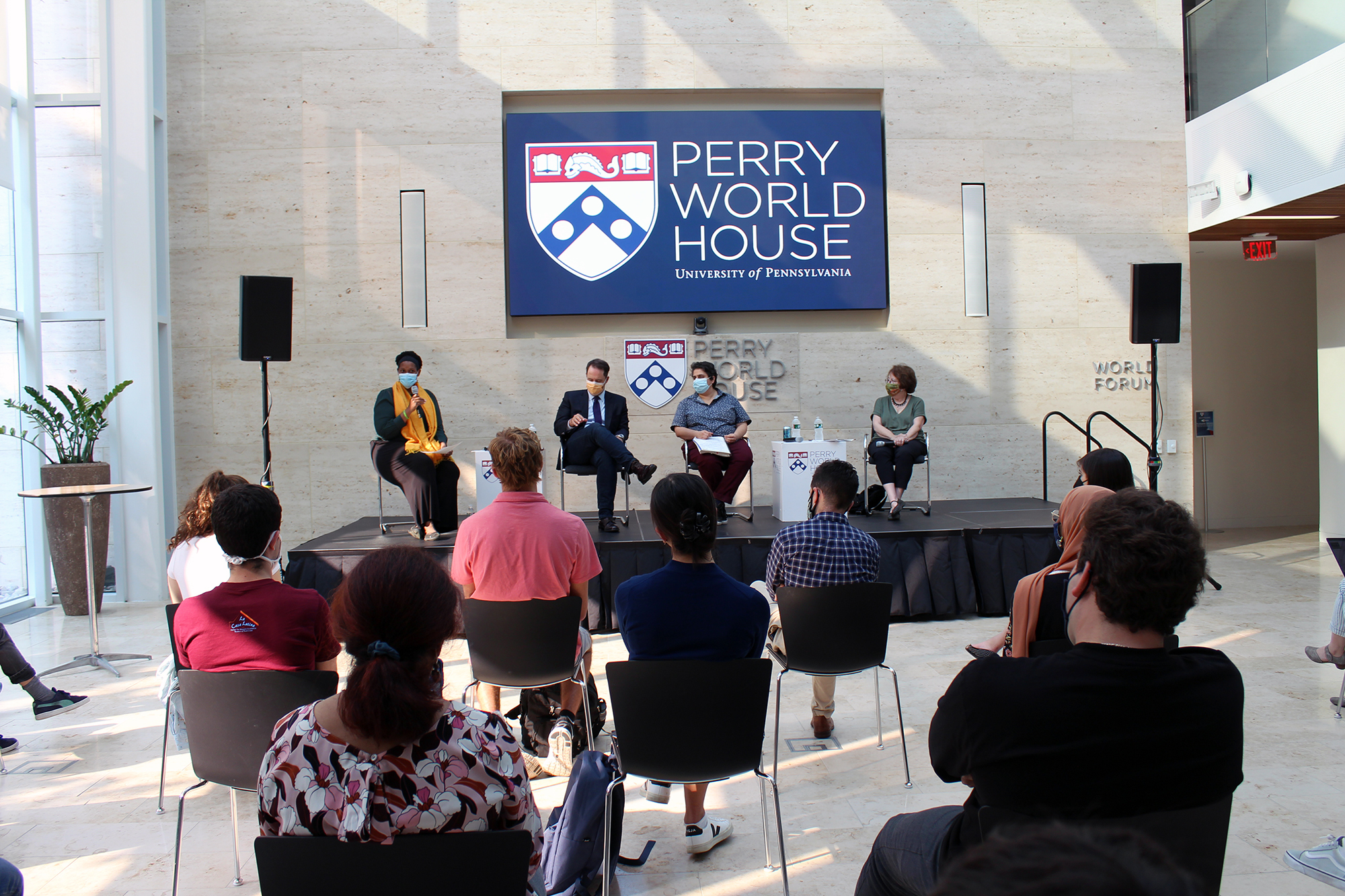 The United States has ended its 20-year war in Afghanistan, and the Taliban is back in charge. What does that mean for the future? Will the Taliban preserve any of the advances in civil liberties and women's rights made under the democratic government? Will the Afghan people fight for democracy independent of a U.S. occupation? What does the end of the war mean for American foreign policy?
Perry World House (PWH) held a hybrid panel this week to address these questions and more, featuring in-person speakers and about 50 audience members, as well as about 150 virtual attendees watching online. 
Speakers included Meg K. Guliford, a Penn Vice-Provost Postdoctoral Fellow-in-residence at PWH, whose research agenda reflects an interest in political violence, conflict processes, and U.S. foreign policy; John Gans, director of communications and research at PWH, worked at the Department of Defense before coming to Penn; and Wazhmah Osman, an Afghan-American academic and filmmaker and an assistant professor in media studies and production at Temple University. The panel was moderated by Trudy Rubin, foreign affairs columnist and a member of the editorial board at The Philadelphia Inquirer.
They discussed the myth of American competence to the myth of Afghanistan as a blank slate and the idea that, whatever the U.S. does or doesn't do in Afghanistan's future, there are plenty of other nations ready to fill the void.
Asked about the internal consequences of the U.S. withdrawal and the Taliban's resurgence, Osman noted that Afghanistan has long been characterized as backward, and after 9/11 these racist stereotypes worsened.
"I was born in Kabul, so both personally and with my academic training, I know there's actually a long history of social activism in Afghanistan," she said.
It's a colonial myth that some countries are a blank canvas and can be recreated as invading forces wish, Osman said.
She says one of the conclusions of her book "Television and the Afghan Culture Wars: Brought to You by Foreigners, Warlords, and Activists" is that it's time to start centering the voices of Afghan human rights workers, professionals, journalists, and intellectuals.
"They have been risking their lives continuously on a daily basis to fight for social justice and also to lay the foundations of democracy," she said.
As for what to expect from the U.S. government in regard to Afghanistan's future, Gans said it's important to distill all the anger and frustration expressed during the withdrawal from Afghanistan and listen to credible voices.
"I think you'll find broad acceptance that America needed to change course in Afghanistan and needed to end its engagement there in some way, but I think those people were profoundly upset with the incompetent withdrawal," he said, noting that many embrace an American "myth of competence."
"The reality of American foreign policy is that it tries to do big, hard things sometimes and it doesn't have the world's greatest track record of doing those things," he said. "It was very disheartening for many people, who perhaps had great hopes for what America was going to do in the post-Trump era."
With the State Department gutted under the Trump administration, the Biden team has a lot of work ahead in a time of real challenges, he said.
Guliford focused on what the Taliban leaders will do now that they've seized control of power.
"This government gets to decide what type of international relationship it wants to engage in with its potential international partners," she said. "The U.S. is not and has not been the only game in town. There are other major powers that may not rise to the level of our traditional 'great powers' that are in play here. You have Pakistan, Iran, Russia, and China involved, as well as the numerous neighbors that Afghanistan has."
The West has frozen aid and Afghanistan's assets and other players have stepped into the gap and provided what the country needs, she said.
"The U.S. has wanted Russia and China to step up and do more in Afghanistan, and now they are," she said. "The issue remains if the United States is OK with a potential loss of prestige and influence in the country. Right now we're all in a holding pattern, waiting to see what's next."
Asked if other countries can influence the Taliban away from imposing severe strictures on women, Osman said other nations have to figure out a balance between punishing them for such actions and trying to work with them to prevent them.
"We don't want the Taliban to entirely collapse because that can create another civil war and people have been so traumatized by 40 years of war," she said. "There has to be a balance between the two, and then from there they can move forward, maybe in some kind of coalition government."
Rubin asked Gans if the Biden administration will have a coherent policy on Afghanistan going forward or if it just wants to be finished with the country.
"I think the Biden administration would very much like to not have to think about, talk about, or defend Afghanistan policy in the years to come," he said. But the war was a response to 9/11 and so is politically very complex.
He noted that Biden campaigned for the Senate in the 1970s opposed to the Vietnam War, and in the 1990s he was opposed to the Gulf War but supported U.S. leadership in the Balkans.
"You see a person who genuinely believes America can only do so much without people on the ground who want the same," Gans said.
As for whether the U.S. will face a terrorist threat from Afghanistan, Guliford said she thinks the immediate threat would be to Afghan civilians and the region overall rather than to the American homeland. One threat is the accuracy of any U.S. attacks on supposed targets, she said.
Now that the U.S. has removed troops on the ground, Guliford worries there will be even more strikes like the one in August that evidence suggests killed an aid worker and his family.
She finds the language the U.S. has used to describe civilian casualties particularly disturbing, like when the government said "only" three civilians were killed in the recent strike.
"The idea of there being 'only' three is problematic and shows us further evidence that the United States continues to discount the value of brown bodies, both internationally and domestically," she said.
The conversation is available on Perry World House's YouTube channel: https://www.youtube.com/watch?v=7iD26G3xoSk&t=129s.