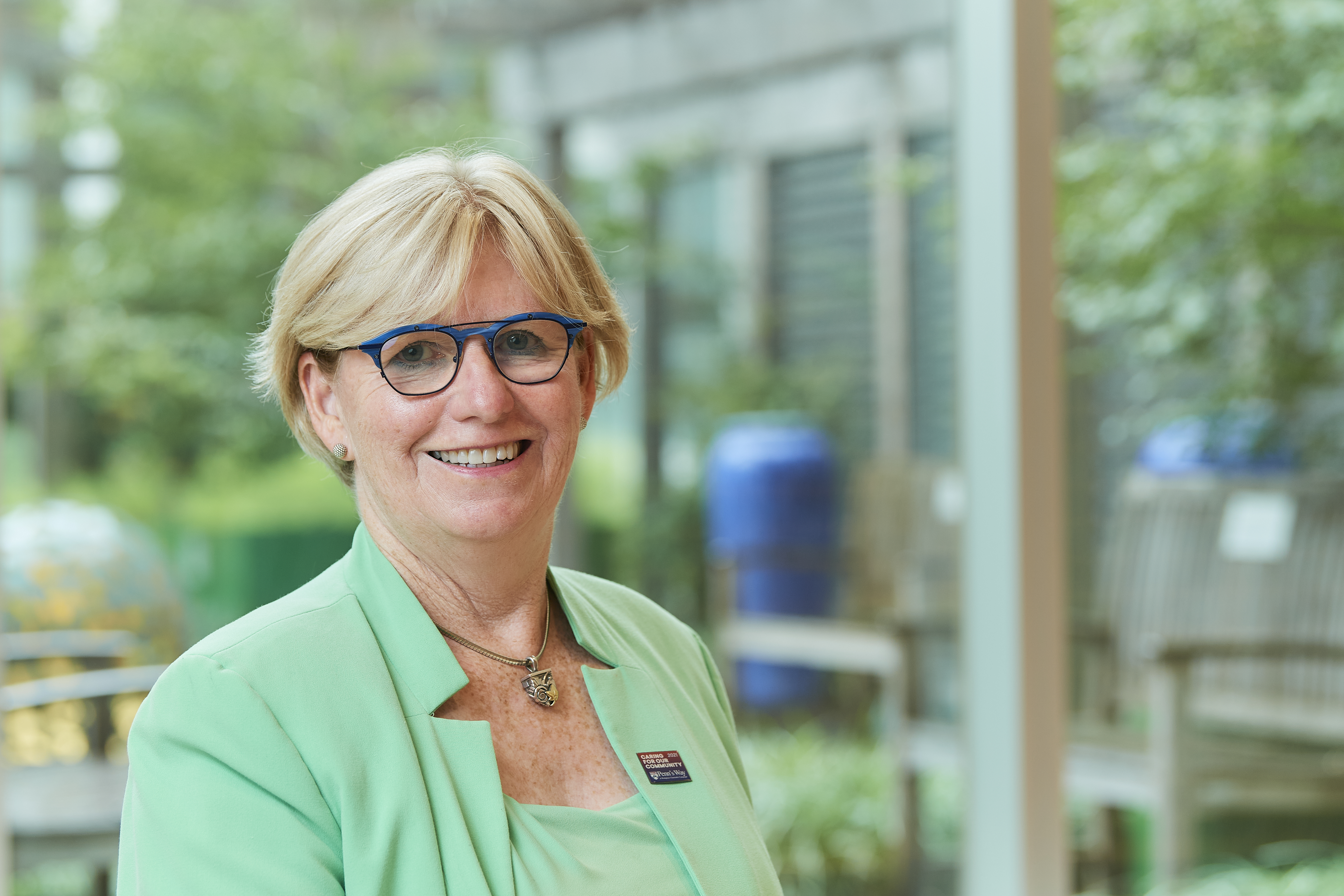 It was 1994 when Maureen Rush took a big career leap, leaving the Philadelphia Police Department—where she worked for 18 years and was on track to become a captain—to join the University of Pennsylvania, where she would serve as director of what was then called Victim Support and Special Services in the Division of Public Safety. By 1996 she was named chief of Penn Police, and in 2001, after a national search, she was appointed vice president for Public Safety.
Twenty-one years later, on a much safer college campus, and with too many stories to count, Rush is set to retire from Penn at the end of December.
"The person who takes her place has big shoes to fill," says Dennis Culhane, the Dana and Andrew Stone Professor of Social Policy, who has been at Penn since the '90s, as well, and has worked closely with Rush on her advisory board. "In my research and my work, I deal with leaders all the time. There are good leaders, there are bad leaders, and Maureen is absolutely among the best leaders I've ever worked with."
Rush's management skills, care for others, and her vision to manage the change process—while always thinking about what can be accomplished next—are her best qualities, Culhane adds. Craig Carnaroli, Penn's senior executive vice president, and Rush's direct boss throughout much of her tenure, agrees, noting that her passion for Penn, too, is unmatched.
"She is really one of a kind," Carnaroli says.
An uncommon trajectory
Rush's path to Penn is anything but ordinary. In fact, so is her path into public safety in general.
"If someone told me when I was younger that I would be a cop riding around in a police car, I would have laughed," Rush says, chatting in a conference room at the Penn Police Department headquarters. "And I never in a million years would have thought I would become a vice president at the University of Pennsylvania."
Originally from Swampoodle, a neighborhood in North Philadelphia, Rush is a proud Philadelphian through and through. She's got the accent, she's got the grit, and she's got a love for the city and its people that's palpable. After high school she opted to not go directly to college, and earned a gig at Beneficial Savings Bank (now WSFS) in the concourse under City Hall. That's where she first felt a spark for policing.
"I started to get to know some of the transit police officers, when they would come in to sign the bank log," Rush recalls. "I am an animal lover, so I got to know all the cops with the dogs, handing out dog biscuits and whatnot."
They were all male, she said, but one day she spotted an undercover female officer, acting as what Rush called a "rape decoy" on the SEPTA subway platform.
"I was shocked because I didn't even know they had women officers," Rush says. "They told me that she wasn't on the street, she was what they called a juvenile aid investigator; they had maybe 30 women who would only work inside doing juvenile issues, stuff like that. But every once in a while the women would work undercover if needed."
Rush, to say the least, was intrigued. A few years later a gender discrimination lawsuit forced leaders in the city to finally allow women to join the police department. And in 1976, Rush, along with 99 other women, entered the police academy in Philadelphia for the first time.
Rush graduated in spite of significant adversity, and went on to participate in a three-year pilot program—where the female cops would be rated upon their completion—in the city's 25th District in North Philadelphia.
"I like to say that was my bootcamp," Rush says. "I learned a lot about community policing, issues of diversity, as well as what it is like to be marginalized."
"That's when we got very close," says Patricia Brennan, director of Special Services at Penn who went through the police academy at the same time as Rush. "All the females did, and even if you didn't really have a good connection, there was absolutely a mutual respect because of what we were going through."
On her "foot beat," typically near Germantown and Lehigh or Broad and Erie, Rush would work around the clock. Sometimes her radio functioned, sometimes it didn't. Her uniform was too big and she always felt, compared to her male counterparts, that she was "unwanted" or "being ignored," and working "50 times harder," she says. Early on Rush encountered an armed robbery in a drug store—the perpetrator's gun cocked on her, her gun cocked on him.
"Long story short, he did not get away," Rush says. "In some ways, the near-death experience helped me with my male colleagues. It was sort of like a badge of honor."
During her later years in the Philadelphia Police Department, more women had joined, and Rush had secured several promotions, along with her undergraduate degree, which she earned part time. She was a lieutenant in the training bureau for veteran officers when she left to join Penn.
In the name of safety
Though she wasn't looking to leave the Philly Police, Rush decided to apply to Penn on a bit of a whim. The way she explains it, she became more fascinated with the University with each of the 13 interviews she was invited to, and by the end she was eager to get started and see how she could best contribute.
It's impossible to imagine what Penn would feel like today without Rush's leadership throughout the years. From her very first weeks on campus, she made Penn and the safety of its students, faculty, and staff the center of her world.
"In the '90s, I don't think I ever went home," Rush says. "It was just one big emergency and we were in a crime war. Compared to that, today it is much less that way. We like to say we spend a lot more time in planning and prevention of major issues, that's what we strive to do. But in a second we need to be ready to pivot."
Rush wasted no time in her initial role, leading a unit to support Penn affiliated crime victims in court. A student homicide near campus would soon rock the University, prompting a reorganization by then-President Judith Rodin of the Division of Public Safety and Penn Police. That's when Rush was named chief of police.
"We started to bring on seasoned police officers who could confront the dangers of the area at the time because parents, trustees, students, staff, researchers, people in general were afraid to come here," Rush said. "We had to get a handle on that."
Another tragic homicide of a Penn researcher in 1997 was pivotal in the creation of the West Philadelphia Neighborhood Initiatives, the strategic, community program that has put safety at the forefront, along with other priorities such as public education, economic inclusion, and support services. Around that time, Rush says, the University began increasing the size of its police department and hiring additional security support from what is now known as Allied Universal.
"It's all in the name of Maslow's theory," says Rush. "At the core, we need to make sure people are and feel safe, so they are able to relax and succeed in whatever their mission is."
In 2000, when the role of vice president for Public Safety opened, Rush became the interim, and put her name into the national search hat. By spring of 2001, she earned the title. In 2013, President Amy Gutmann announced Rush also as superintendent of the Penn Police.
"It's one of the toughest jobs on campus, and it's not a job that would ever be considered 50/50 chance it's going to be a woman," says Culhane. "There is no question she has brought a different, important perspective to the table."
Transformational change
When Jill Castellano was a student at Penn, she said most of her fellow classmates didn't know who Maureen Rush was.
"She's not the president, she's not a provost," says Castellano, a 2016 College of Arts & Sciences alumna. "When they would think of public safety they would think of the Allied guards, or the Penn Police officers, or the Bluelight phones. That's what public safety meant to them. But Maureen was behind all of those operations."
Castellano, while working as a crime beat reporter for the student-run Daily Pennsylvanian, would meet with Rush one-on-one weekly.
"She just struck this balance of being both authoritative but also very friendly," says Castellano, talking from San Diego, where she now works as an investigative reporter. "She is very compassionate and very caring about the students on campus. You can tell she doesn't want to see any harm come to them, even if it's just getting a bike stolen. She takes it all seriously and she wants the campus to be as safe as possible."
Rush's contributions to the Division of Public Safety, which is comprised of 183 personnel within seven different departments, have changed the face of Penn. She has even helped Penn earn recognition by Security 500 as the top higher education institution in the U.S. for public safety for 14 consecutive years.
"Our key ingredient here is communication in Public Safety," says Rush. "I am a need-to-know person, and no one can ever over-communicate with me. Something that they might not think is a big deal, I might know from another area that it is a big deal. There is a ton of communication that goes on throughout the day, into the evenings, over the weekends, and that has helped us be most successful."
A point of pride for Rush is that since the late 1990s, crime has been reduced in the Penn Police boundary by 63 percent. She's helped spearhead longstanding, game-changing initiatives, including the dedicated 898-HELP line, which supports students in distress, which was formed out of Rush's service on the University's Task Force on Student Psychological Health and Welfare. She also helped create the Alternative Response Unit with the Philadelphia Fire Department, assisting students in other emergency situations.
She's made technology a priority, encouraging development of Closed Circuit Television and the PennComm Center, which allows experts in Public Safety to monitor more of the 300-acre campus in an effort to prevent crime. Additionally, Rush, in collaboration with Vice President Marie Witt's team in Business Services, has initiated contactless PennCard entry into facilities and launched the UPennAlert System, Penn Siren Outdoor System, and Penn Guardian. She's also ensured Penn's 24/7 Walking Escort Services have remained widely available.
"When I would leave interviews with her, she would always make sure I never had to walk even a block without a Walking Escort," says Castellano. "She always wanted to make sure I was taken care of." (An unsurprising story, indeed, especially upon learning that Rush is often seen giving her cell phone number to parents when she meets them.)
Rush's partnership with the Health System has, too, been transformational. Specifically, Rush has worked with leadership across the board in the adoption of new physical security measures and critical policies and procedures ensuring patient and health care providers' safety.
"It's hard to say you are proud of one initiative or another," Rush says. "But first of all, I am supremely proud of every person who works here. No matter what our role is, whether a PennComm communicator or police officer or someone from fire safety, there is one reason we exist and that is to figure out the best ways to serve the Penn community and the people of West Philadelphia who traverse through here."
Leading, and leaving, with passion
Asked about the legacy Rush leaves at Penn, Carnaroli notes, for one, her committed, hardworking team.
"There's nothing better to do than to leave a strong foundation for the next leader," says Carnaroli. "From top to bottom, she has recruited great people, she's managed everyone well. I certainly won't be needing to look for a fix-it person because what I have is so solid."
Describing her good friend's best trait, Brennan doesn't hesitate either. She says it is, without a doubt, Rush's passion.
"There are a thousand descriptors about Maureen Rush," says Brennan. "But her passion for safety, for law enforcement, is incomparable."
Brennan has been through it all with Rush. From the Police Academy to the 25th District to the Division of Public Safety—the duo has even accomplished a part-time master's degree in Organizational Dynamics together.
"She is just a role model for everyone," says Brennan, who is also set to retire this year.
Rush's passion for the community is also profound, evidenced by her co-chairing the Penn's Way campaign for the past 20 years, which has raised $25 million to support local and regional nonprofits. Currently, Rush serves as president of the Philadelphia Police Foundation and as secretary of the University City District board, and serves on the executive committee of the Police Athletic League. Also, in response to recommendations from a recent review of the Division of Public Safety, Rush created the University's first commanding officer for diversity, equity, and inclusion—a position dedicated to working within Penn and outside of Penn on issues of diversity.
Upon retirement, Rush says she'll stay involved in her beloved community organizations, and she will even keep close ties with Penn, as she is planning to serve for the next year or so as a senior adviser to Carnaroli, helping with the transition of not only a new vice president for Public Safety but also president of the University. Of course, too, she hopes to take the extra "free" time to enjoy with her family, noting her 26-year-old daughter Amanda who lives in Boston and her wife Dr. Jacqueline Hudak, a couple and family therapist, who she just married in November 2020. Rush also hopes to get the band—literally, she plays drums in a band called House—back together.
"I never set my course in life, and that's how I feel about my next phase," says Rush. "I'm not going to ever have a job that will be this demanding or intense, but I hope whatever I do will still be impactful and helpful to people."