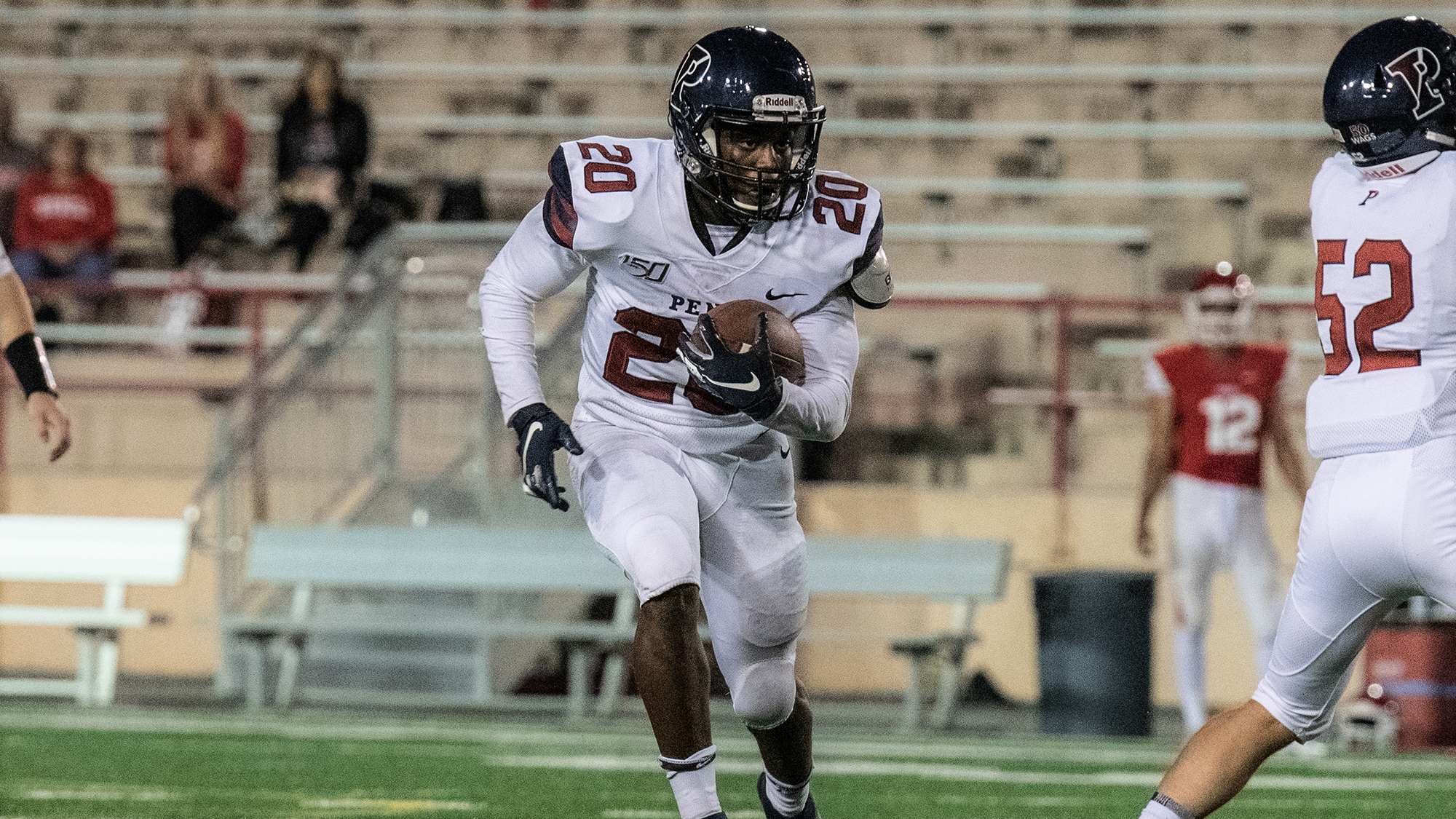 Amassing more than 500 yards of total offense, the sprint football team picked up their first win of the season against Mansfield on Saturday in northern Pennsylvania, mauling the Mounties 55-28.
The Quakers never trailed and built a 28-7 halftime lead. Mansfield cut the lead to 14 twice in the third quarter, but the Red & Blue's potent air and ground attack countered each time.
Senior tailback Laquan McKever ran roughshod, carrying the ball 28 times for 152 yards and three first-half scores.
Junior quarterback Andrew Paolini was on point, finishing 12-21 for 270 yards and four touchdowns—all career highs. He set the tone for the day on the second play of the game with a 55-yard pass to senior wide receiver Brendan McCaffrey. Three plays later, McKever was in the endzone for his first score.
Paolini and senior tight end Ben Klaus connected on a 15-yard score with 5:08 remaining in the first half.
After Mansfield cut the lead to 28-14 in the opening minutes of the third quarter, Paolini and McCaffrey linked up again on the ensuing drive. The 34-yard score gave Penn a 35-14 advantage.
Klaus scored his second TD of the game with 2:34 left in the third, a 34-yard pass from Paolini that put Penn up 42-21. McCaffrey found the endzone for the second time early in the fourth, a 57-yard bomb from Paolini.
Freshman running back Tom Rebstock scored the Quakers' eighth and final touchdown with 5:38 left in the game.
McCaffrey finished with five catches for 163 yards and two scores. Klaus had four catches for 78 yards and two scores.
On the defensive side of the ball, freshman linebacker Jake Inserra had a game-high 16 tackles (10 solo). Senior defensive back Sam Mintz had four tackles (three solo) and an interception. Mansfield quarterback Cahsid Raymond, a Philadelphia native, put up impressive numbers in the loss. He had 235 passing yards, 192 rushing yards, and accounted for all four Mansfield touchdowns.
Penn has never lost to Mansfied; the Quakers are a perfect 13-0-0 in the all-time series.
The Red & Blue's home opener is on Friday, Oct. 8, against Cornell at Franklin Field.