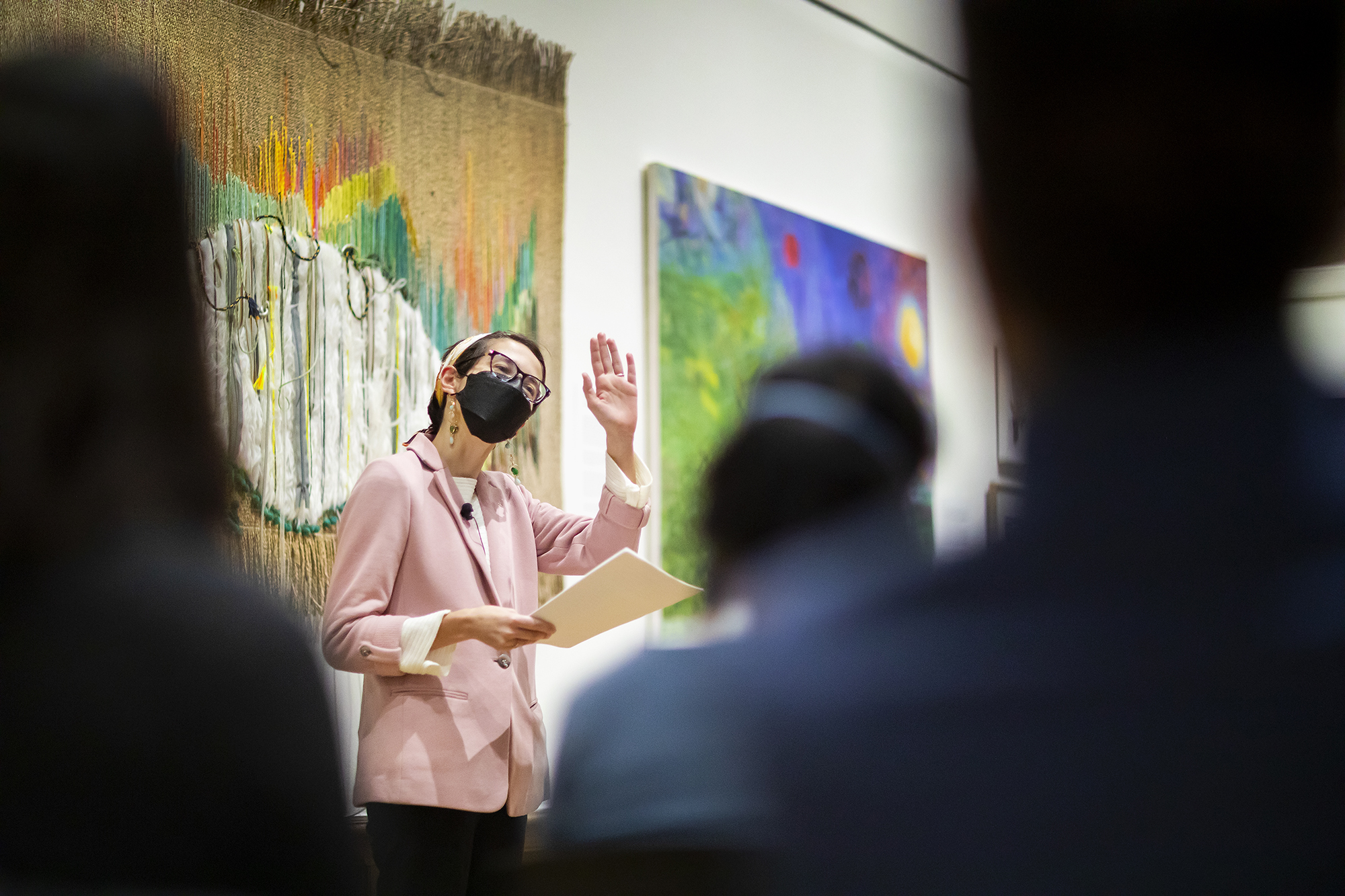 Researching the artists featured in the new exhibition at Penn's Arthur Ross Gallery became an important personal and academic quest for senior Siyuan (Alice) Zhao, from Beijing. During her internship with the Gallery, Zhao sought to understand the cultural identities of Latin American artists who are of Asian descent. 
"I realized that for a lot of these artists the history of their experiences being Asian in Latin America was not often the topic of conversation. I think that's an aspect of what this exhibition brings, to raise awareness and also to encourage conversations about the legacy of this diasporic history," says Zhao, who is a double major in art history and political science in the College of Arts and Sciences. "And I think politically, too, what can we get from that knowledge?"
The traveling exhibition, "No Ocean Between Us: Art of Asian Diasporas in Latin America & The Caribbean, 1945-Present," is on view at the Arthur Ross Gallery through May 23. It gives a view of modern and contemporary art through an exploration of migration flows from Japan, China, India, and Indonesia and the artistic impact in countries including Brazil, Cuba, Guyana, Jamaica, Panama, Peru, Mexico, Trinidad and Tobago, and Suriname.
Adriana Ospina, director of the Art Museum of the Americas (AMA) in Washington, D.C., part of the Organization of American States, curated the exhibition. It previously was on view at the AMA, the Kalamazoo Institute of Arts in Michigan, and the San Antonio Museum of Art in Texas. 
"This university environment is a dream come true because this exhibition is about inclusion; this exhibition is about democracy," says Ospina. "Latin America is more than we think we are, having all these influxes of people coming from different parts of the world in different circumstances, and the Asian aspect is really important." 
For example, Ospina says she learned through curating the exhibition, not while growing up in her native Colombia, that Brazil has the second-largest Japanese population in the world, followed by Peru. 
"This is a beautiful art exhibition, but the stories and the history behind the artists and the works are really what matters," Ospina says. "I think that it's an eye-opening exhibition."
The diversity of the 30-plus artworks on view is immediately apparent: paintings, works on paper, photographs, textiles, sculptures, video installations, even a fully set table. 
"There's a lot of complexity and richness in terms of the cross-cultural interactions," says Lynn Marsden-Atlass, university curator and director of the Arthur Ross Gallery. "It's a story about Asian migration into different cultures. It's the story of how individual artists have melded those experiences. And a lot of this work is about identity."
The exhibition has been six years in the making, Ospina says, with about a third of the works coming from the museum's collection and two-thirds on loan, made possible through a partnership with the D.C. nonprofit International Arts and Artists. 
The original exhibition has 70-plus works, but the Gallery space is not large enough to accommodate them all. Marsden-Atlass worked with her team, including Zhao, to decide what would fit while still keeping the mission of the exhibition intact. 
The path to Penn began four years ago when Ospina stopped by the gallery while she was on campus as a visiting lecturer, invited by Catherine Bartch, associate director of the Center for Latin American and Latinx Studies. Marsden-Atlass inquired about the exhibition and requested that it come to Penn. "We kind of talked them into it," Marsden-Atlass says. 
Ospina and Marsden-Atlass say having the exhibition at Penn is important in part because of the history it brings. 
Large-scale migration from Asia to the Americas began in the mid-1800s to fill labor shortages caused by the abolition of slavery in the Caribbean colonies. The British, Spanish, and Dutch empires, along with new Latin American nations such as Brazil, Peru, Panama, Argentina, and Mexico, brought indentured workers from India, China, Indonesia, and Japan to meet the rising demand for labor. Many settled in their new homelands, setting in motion the histories of assimilation and exchange that are on view in the exhibition. 
"I would like people to understand a little bit more of the history of Latin America, especially this idea of inclusion," Ospina says.
Included in the exhibition is an oil painting "Agonia" by Manabu Mabe, who was born in Japan and at age 10 went with his family to work on a coffee plantation in Brazil. He grew to become a key figure in the Brazilian arts scene. Also represented is the photograph "My Jamaican Passport" surrounded by a copper mat engraved with phrases, by Afro-Jamaican artist Albert Chong, who is of Chinese descent. 
A featured artist with ties to Penn, Suchitra Mattai graduated from the Stuart Weitzman School of Design with a master's in fine arts degree in drawing and painting in 2003 and a master's of art degree in South Asian art in 2001. From Guyana, she of Indian descent and has lived in different parts of the world. The exhibition includes a large woven mixed-media seaweed rug, "El Dorado After All," by Mattai.
"Her heritage, her background, rooted in Indian migration, is so important to the work she does," Ospina says. "She explores the idea of home and colonization, while referencing the weaving practices of her mother and grandmothers, which she uses as a metaphor for the interlacing of cultures." 
The most famous artist represented is Wifredo Lam, a Cuban surrealist whose father was the son of a Chinese immigrant and mother was of African, Spanish, and Taino descent. The exhibition includes three signed and numbered lithographs by Lam, who was influenced by cubists and surrealists during his years in France and Spain, including Pablo Picasso, Paul Cézanne, and Henri Matisse.
In the selection process, Zhao voiced support for a video installation by the Chinese-Trinidadian artist and cultural critic Richard Fung, who grew up in Trinidad and now lives in Canada and who identifies as queer. "I read about his work and his experience, and I thought it was important to demonstrate that viewpoint as part of the show," she says. 
Researching the Afro-Chinese artists Lam and Chong, Zhao says she was surprised that they were identified primarily by their African heritage, while their Chinese heritage was largely ignored. She wrote about her discoveries in an essay posted on the Gallery website. "Unearthing their Asian influence has become a crucially important task for me," she wrote. 
Zhao has applied to graduate schools for art history, specifically to study Asian American art and its curation, in part because of her work with the exhibition, she says. Her paid summer internship, through the Center for Undergraduate Research and Fellowship's Summer Humanities Internship Program, was extended by the Gallery through her graduation in May. 
She says she hopes that Penn students, especially, will come to the Gallery to see the exhibition. 
"This is a space where perhaps students can relate to the artists and feel like they're represented on campus," Zhao says. "It's very meaningful in the sense that it creates a space for students and Penn's cultural organizations to communicate and connect with each other in unprecedented ways."
Two Penn student groups are included in the many events planned around the exhibition: PennYo a capella will perform on Feb. 10, and the Pan-Asian Dance Troupe will perform on Feb. 22. Among other lectures, a panel discussion is planned for March 24, "Asian Diaspora and Migration to the Americas and Caribbean," moderated by Marsden-Atlass, with Fernando Chang-Muy of the Law School and School of Social Policy & Practice and Rupa Pillai of the Asian American Studies Program.