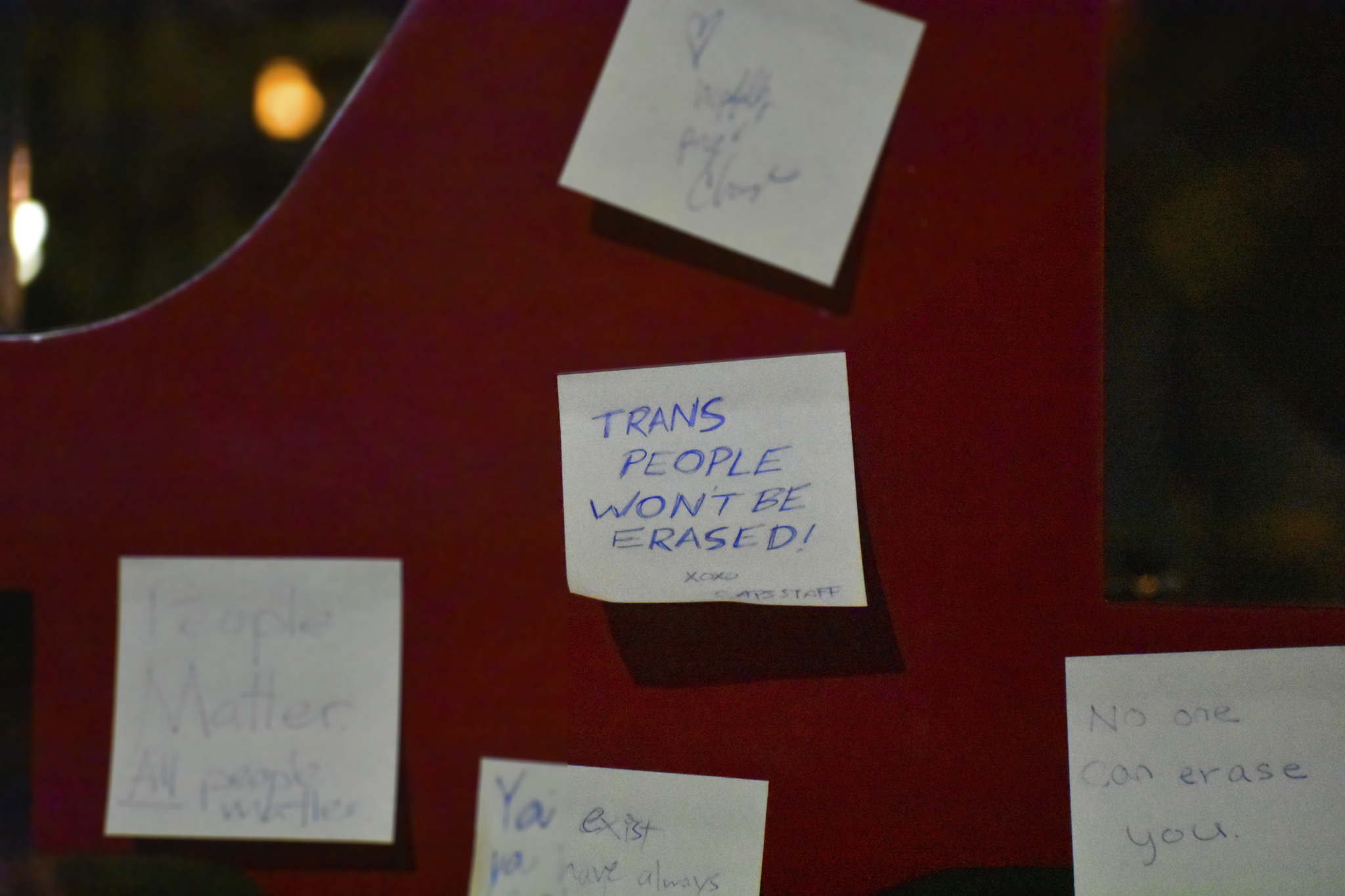 Through an Alice Paul Center for Research on Gender, Sexuality and Women Working Group Grant, awarded this year and co-sponsored by the Department of English, the School of Social Policy & Practice, and the Graduate School of Education, six Penn graduate students are hoping to raise the bar for trans literacy—on campus and beyond.
The working group, dubbed the Trans Literacy Project, was one of five applicants that proposed projects around emerging and under-supported areas related to gender and sexuality, with a goal of developing an interdisciplinary approach to the work and programming. The project's team—one of two awarded a $5,000 grant and institutional support—organizes workshops that facilitate discussions around trans literacy, loosely defined as the promotion of language and practices that affirm the rights of trans and gender non-conforming people, and that enable all people to practice gender-inclusivity in daily life.
The idea of the workshops is to connect perspectives from different schools and spark a dialogue around the topic. 
"We've heard from all sorts of people who were saying, 'I want to support trans people, and I don't know how. What does that mean?'" says Ava Kim, an organizer and Ph.D. student in the English Department. "And then individual trans, non-binary, or gender-non-conforming people, would say, 'Well, I think it might mean this one thing, but…this should involve a lot of voices and not involve just one-on-one conversation.' 
"We have an opportunity to talk more deeply about what it would mean to think that through together."
Aylin Malcolm, a third-year Ph.D. student in English, adds that the project boasts potential to be influential outside of Penn.
"From the start, we conceived this as a project not limited to Penn, that could draw in a lot of people from the community and give those people platforms," Malcolm says, highlighting that members of Philadelphia's larger community have already expressed interest in the project's workshops. "So, whether or not it's specific to here, [the lack of trans literacy] is a specific problem everywhere."
The first two cross-discipline, cross-community events gave special consideration to the classroom environment. The first event, "Teaching Feminist, Queer, and Trans Theory," was held on Oct. 29 and featured Heath Fogg Davis, director of Temple University's Gender, Sexuality and Women's Studies program; Jessa Lingel, an assistant professor at the Annenberg School for Communication; and Melissa Sanchez, an associate professor of English and comparative literature in Penn's Department of English. The speakers explored how English, communications, and political science could include feminist, queer, and trans theories in syllabi, and how to frame cis-normative feminist and queer texts in ways that move beyond their language to model gender-inclusivity. 
The conversation attracted about 60 people. 
"Something great about the group of folks there is there were non-Penn-affiliated people, graduate students, undergraduates, staff, faculty, and it was my experience that it was a group of people not frequently in a room together, and they had different reasons for being there," says Davy Knittle, a Ph.D. student studying English. "And the reason some folks were there, which I thought was awesome, though hopefully more will be in the future, is to think about how to support their students and understand what it looks like to have a trans-inclusive classroom—and that's one of the resources we hope to be able to provide, for people interested in doing that."
In addition to planning more events for the spring semester—the second in the series, "Beyond the Gender Binary," was held on Nov. 15—the group is also working on publishing podcasts with speakers from each event.
"The idea of this project is to improve trans-inclusivity in lots of different spaces—classrooms, and other kinds of institutional and community spaces—and the way to do that is to grow the knowledge base more people have about how to support trans communities," explains Brooke Stanley, who recently received her Ph.D. in English from Penn and is currently a visiting assistant professor of literature at Stockton University. 
Kathleen Brown, director of the Alice Paul Center, says the working group is especially significant to the present political moment. 
"I think there's a critical mass of trans students on campus, and a critical shortage of trans faculty and trans expertise on campus. There's also a political crisis around the lives of trans people that has unfolded during this year that the working group could not have known about when they applied," Brown says, referring to the Trump administration's October memorandum that proposed defining trans people out of existence. "The working group has proved very timely."
Brown is hopeful that the Trans Literacy Project—and the work students have done to push the trans-literacy conversation forward—will move the needle on bigger efforts to support the trans community at Penn. 
"I hope that one of the qualities of a good intellectual university community—a good university community, but also an intellectual community, more broadly—is not just to be good talkers," she says, "but good listeners."