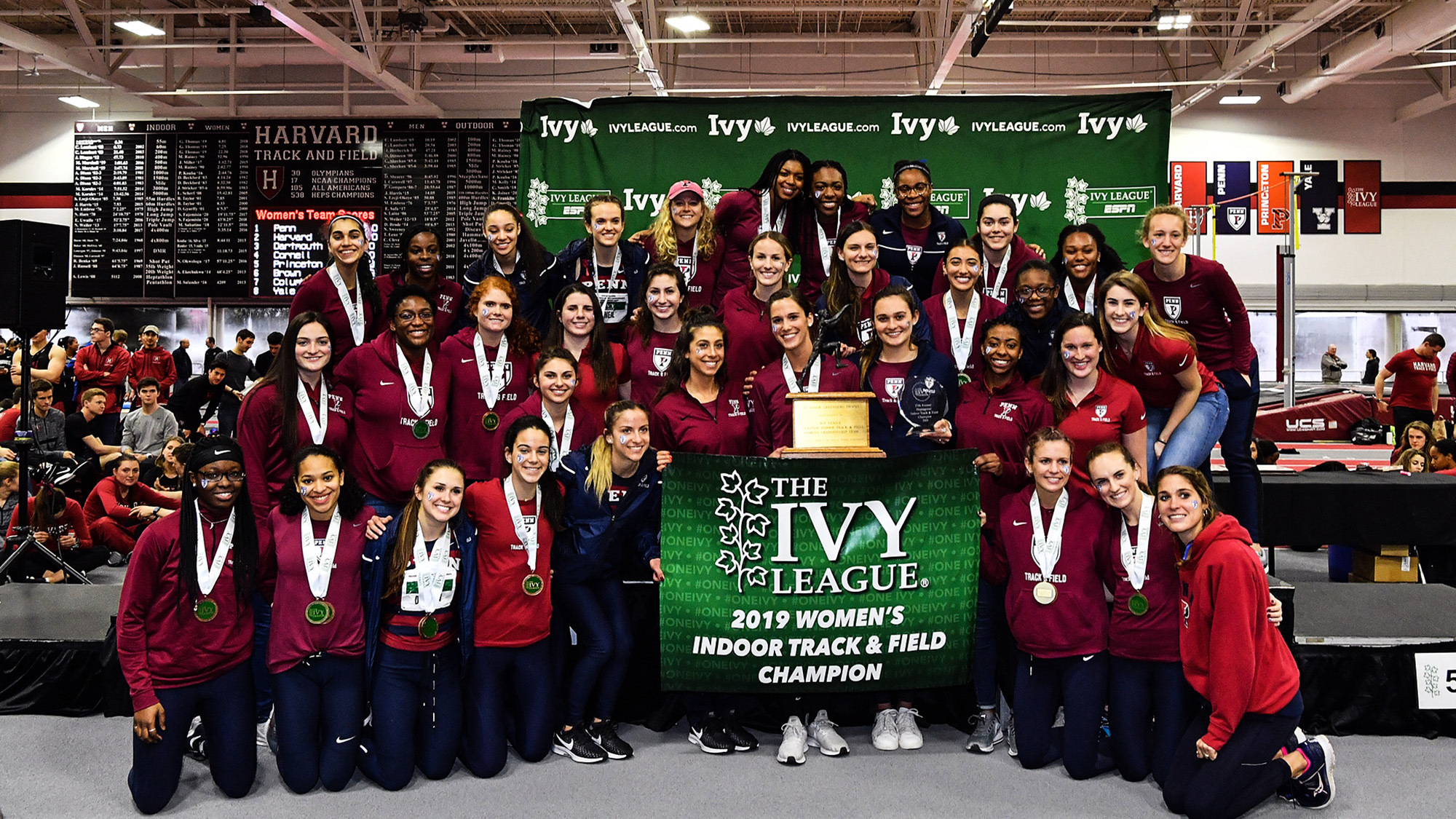 First-place finishes in eight events over the weekend at the Ivy League Indoor Track & Field Heptagonal Championships at Harvard elevated the women's track and field team to their second consecutive Heps title. Penn took the top spot in three field events and five track races.
Three Quakers repeated as champions of the field. Senior thrower Rachel Lee Wilson picked up the Red & Blue's first win on Saturday in the weight throw with a toss of 20.53m. The mark reset her own school record and is the second-best in Ivy League history.
Junior thrower Maura Kimmel won the shot put title on Sunday with a throw of 16.07m; senior Anna Peyton Malizia soared above the competition in the high jump with a leap of 1.74m.
Fantastic feats by middle distance runner Nia Akins on Sunday garnered her the Most Outstanding Indoor Track Performer award, making her the first Penn woman to be so honored.
Akins, a junior, finished first in the 1000m with a time of 2:43.92—a new Ivy League record—and anchored the first-place 4x880 yard relay team, which featured sophomore Melissa Tanaka, junior Katie DeVore, and freshman Caroline O'Sullivan. The quartet raced to a time of 8:52.10. 
Tanaka also placed first in the 800m with a time of 2:07.87.
Junior sprinter Cecil Ene won the 200m with a time of 24.12, and was also a part of the first-place 4x440 relay team. Ene, freshman Skyla Wilson, sophomore Uchechi Nwogwugwu, and junior Elena Brown-Soler sprinted to a time of 3:43.68.
The eight wins by the Quakers are the most in program history, and their 136 points are one short of last year's school record. The Red & Blue repeated as indoor Heps champions for the first time in 31 years.