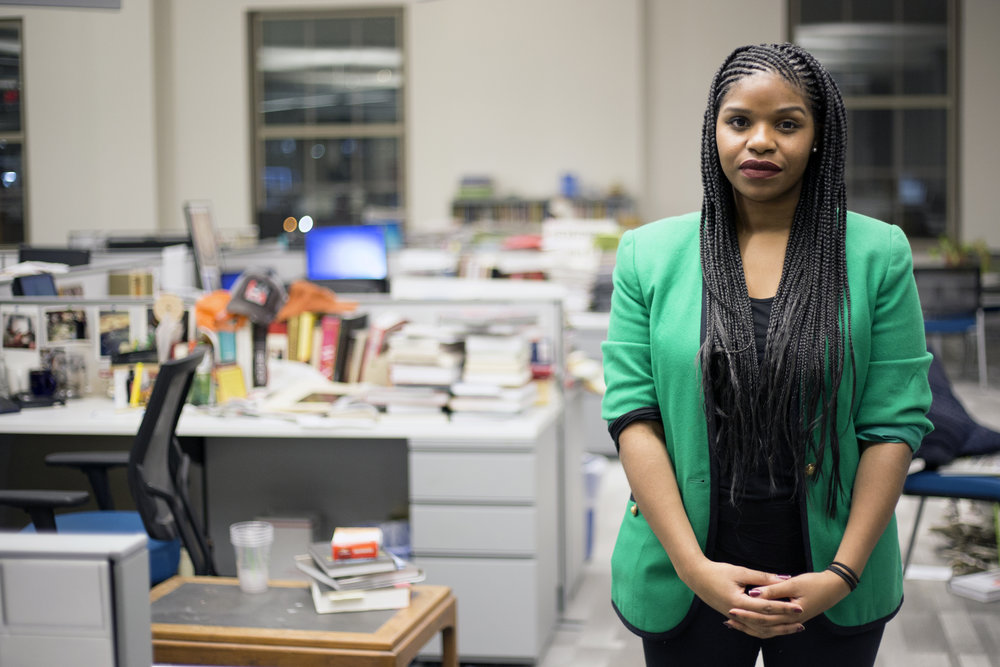 Over the course of 30 minutes, 14 people—artists and academics, activists, and wrongly imprisoned inmates—sit in front of a draped black backdrop to share stories in Sofiya Ballin's film "Black History Untold: Revolution." The film, part of an ongoing oral history project by Ballin, is the focus of a series of virtual events offered by the Penn Museum this month and beyond. A Feb. 10 screening of the film was followed by a discussion with Ballin and collaborative programs manager Zoë Rayn Evans. The series continues with a conversation about honoring Black stories in white institutions on Feb. 17 and a screening for students on Feb. 24.
Local, oral history enlivens the museum's collection in a way that is relevant to the community, says Evans, who organized the series. "In terms of our present moment, I could have never thought the work either of us have been trying to do would be so timely and important."
Throughout history, Black people have continuously resisted oppression, says Ballin, an independent journalist formerly with The Philadelphia Inquirer. "When we talk about enslavement, when we talk about colonization, when we talk about Jim Crow, it's important to also talk about how black people globally have resisted these systems and institutions of oppression, how they fought back, and what that looked like," she says.
While at the paper, Ballin found herself frustrated by the coverage of Black History Month. "It was always the same four or five figures in two or three events. It's just like, your history starts with enslavement, then you're free, then Martin Luther King, Barack Obama, now we're here. There's no nuance, there's no color," she says. "Journalism is about uncovering, right? Why are we consistently telling the same story over and over and over and over and over again, every time February comes around?"
Ballin wanted to showcase a project that centered Black people and Black stories that was Black owned, down to the production, photography, and lighting. "I want to talk to Black people about the stories that they heard that changed their lives."
In the film, the first to take a seat in front of the camera was Saymah Nah, who speaks of her Liberian heritage as a woman of the Kru tribe, which actively and successfully resisted capture into slavery. Nah is a Kru woman on both sides of her lineage, a fact that gives her strength, she says. "To me, revolution is resistance. It's power," says Nah, who works as executive director of the Garden School of Business and Entrepreneurship. While many of the powerful people in her field are white men, Nah says being a Liberian gives her the authority and sense of self to "not necessarily disagree, but tussle with the truth. It's important to know that we are strong and we can control our narrative, because we have done so in the past and we can do it again."
Several others featured in the film talk about the role of women in revolution, including Afaq, an artist, activist, and educator, who speaks about the December 2018 uprising in Sudan, a place she identifies as home. "What's really exciting about the revolution in Sudan, aside from it succeeding, is the fact that it's been led by a Black woman and this is something that I haven't seen in history," she says, referring to Alaa Salah, who catalyzed the movement. "The revolution in Sudan is the greatest modern example of Black Girl Magic," which included the elderly and children as young as five years old. "It's very empowering to see a group of Black people rise up and take back their country."
Zellie Imani and others look to American history for inspiration. Imani relates the story of how Ella Baker persuaded Martin Luther King, Jr. to give the $800 she needed to organize a conference of young Black leaders, out of which emerged the Student Non-Violent Coordinating Committee (SNCC). A community organizer, Imani finds Baker's vision of participatory democracy impactful, a philosophy that laid the groundwork for the Black Lives Matter movement. "We don't need another strong leader in order to move us to freedom," says Imani. "We are the leaders we've been looking for."
Poet Perry "Vision" Divirgilio discusses the history and growth of Black leaders like Malcom X, who changed both his name and advocacy work throughout his career. "Showing your evolution is revolutionary because then we can attain it," says Divirgilio. "The most important part of being revolutionary is being human."
The film, says Ballin, is not designed to "completely educate you, it's to awake your curiosity," to make history accessible and to show its emotional ties to contemporary people. "Museums are meant to preserve artifacts and history," she says, and the Black experience exists largely outside institutions. "Our history was not codified and put in textbooks. So much of what we know is because people pass those stories down."
Evans is committed to continuing these conversations with programming partners, including Ballin, who has a new project exploring Black love, airing Feb. 13. "It's easy for institutions to get caught up in this sort of self-placed pressure to go above and beyond during Black History Month," Evans says, "but it's important for us to center these stories and beyond just one month of the year, because they are directly relevant to our neighbors, audience, and content."
This series was sponsored by The Center for Experimental Ethnography, Wolf Humanities Center, and the Museum Council of Greater Philadelphia Area.