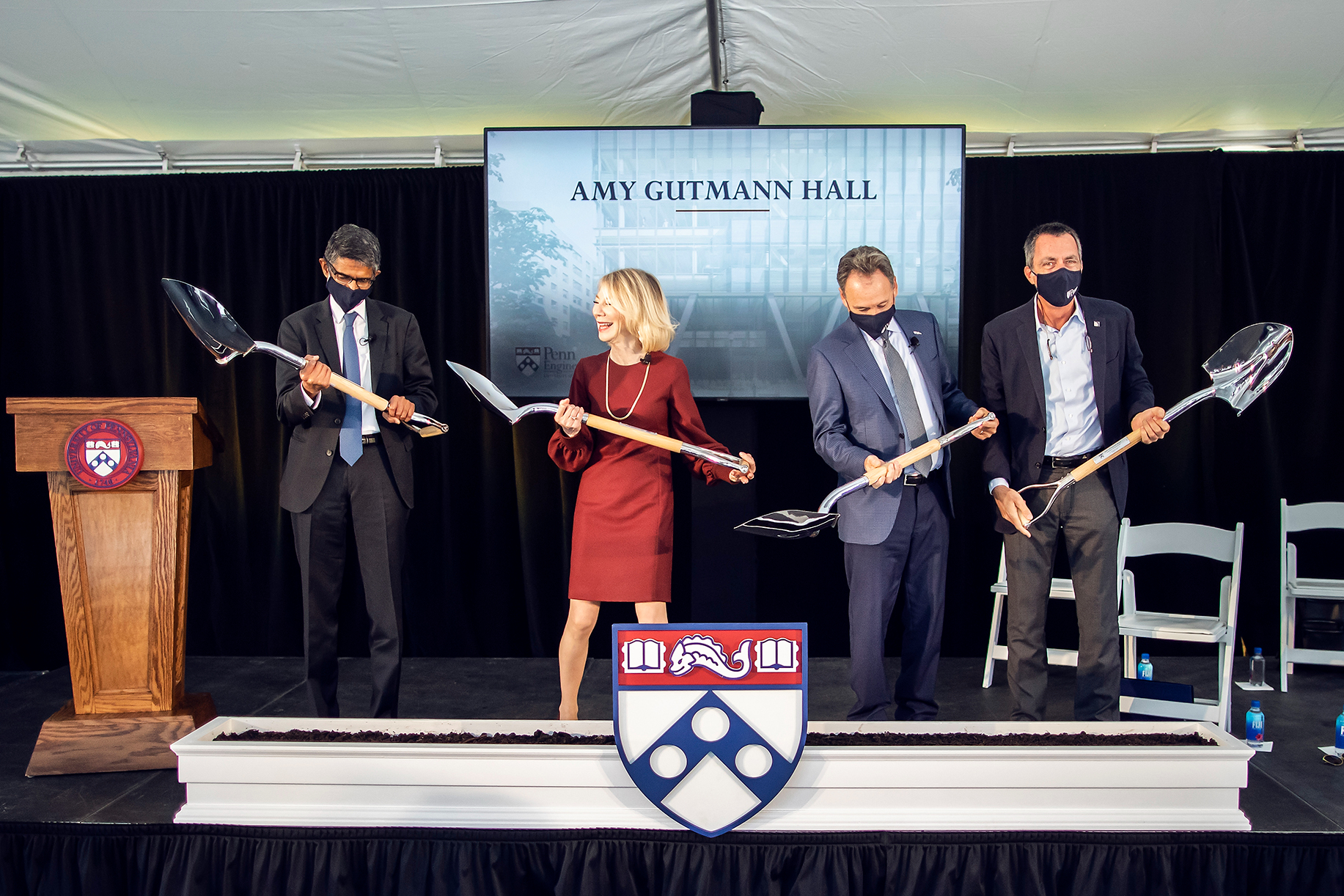 On Friday, invited guests and members of the Penn community celebrated the groundbreaking of the School of Engineering and Applied Science's new data science building and the unveiling of its official name, Amy Gutmann Hall. The event was presided over by President Gutmann, naming donor Harlan Stone, Nemirovsky Family Dean Vijay Kumar, and Penn Engineering Board Chair Rob Stavis.
The 116,000-square-foot, six-floor building, located on the northeast corner of 34th and Chestnut Streets near Lauder College House, will centralize resources for researchers and scholars across Penn's 12 schools and numerous academic centers while making the tools of data analysis more accessible to the entire Penn community.
"I do believe [this building] will be the perfect embodiment of our Penn Compact, to promote inclusion, to drive innovation, and have the utmost positive impact on our community, our society, and our world," said President Gutmann during the ceremony.
Planned academic features include a data science hub, Penn Engineering's translational and outreach arm for data science and artificial intelligence; research centers for new socially-aware data science methodologies and novel, bio-inspired paradigms for computing; and laboratories that will develop data-driven, innovative approaches for safer and more cost-effective health care.
The building, designed by Lake|Flato with KSS Architects, will include research centers, active learning classrooms, a 200-seat auditorium, and collaborative spaces for student projects. The facility is planned to be the first mass timber building, both on Penn's campus as well as in the entire City of Philadelphia, that will contribute to its reduced carbon footprint and a warm and welcoming environment.
Penn Engineering has also partnered with Steppingstone Scholars to launch Inveniam, a first-of-its-kind "STEM Equity and Innovation Lab." Through this partnership, Penn Engineering will help develop initiatives that will provide Philadelphia students with high-quality training and enrichment programs that connect them to STEM education and careers; Amy Gutmann Hall will provide state-of-the-art laboratories and classrooms for these extracurricular programs.
"This is truly an exciting moment," Kumar said during his introductory remarks. "The data science revolution is transforming so many aspects of our lives, from science and discovery, research and development, to technological innovation and education." Kumar added that the features of the new building "will lead to a vibrant ecosystem for data science and engineering that will be sure to transform both Penn and Philadelphia and would not be possible without the transformative gift from Harlan Stone."
Stone's $25 million commitment in 2019, the largest in Penn Engineering's history, made construction of Amy Gutmann Hall possible. During his remarks, Stone publicly unveiled the official name of the new building in honor of President Gutmann's extraordinary vision and leadership.
"Our Penn community has grown, with an impact that is being felt everywhere, led by our fantastic President Amy Gutmann. Her commitment to inclusion, impact, and innovation has transformed this University, and a new chapter in Penn's rich history of innovation and leadership begins today," Stone said.
"Today's groundbreaking achievement just underscores the greatness and the future, not just the present, but the future of Penn Engineering," said Gutmann. "We work on propelling a powerful new tool, with both, as Harlan noted, technical and ethical wisdom—they go together. The Big Data revolution is at hand, and I can foresee just amazing things happening in this revolution because of this building and what's going to go on in it."
President Gutmann then invited Stone, Kumar, and Stavis to officially break ground on the new building before a group of faculty, staff, administrators, advisors, board members, donors, and architectural and construction firm representatives.
"I could not be prouder nor more humbled that this building will bear my name," President Gutmann told the audience at the end of her remarks. "Harlan, yours is a gift and a recognition that exceeds my ability to adequately acknowledge. I am moved, I am honored, and I have to thank you from the bottom of my heart."
Construction will begin in spring 2022 and is slated for completion in summer 2024.
Harlan Stone's gift supporting Amy Gutmann Hall helps Penn Engineering achieve one of its major objectives for The Power of Penn Engineering: Inventing The Future Campaign. Through the Campaign, the School is adding cutting-edge spaces for education, research, and technology innovation; growing its distinguished faculty, including new endowed positions; and cultivating innovation and entrepreneurship among students by creating opportunities for networking within Philadelphia's tech ecosystem.