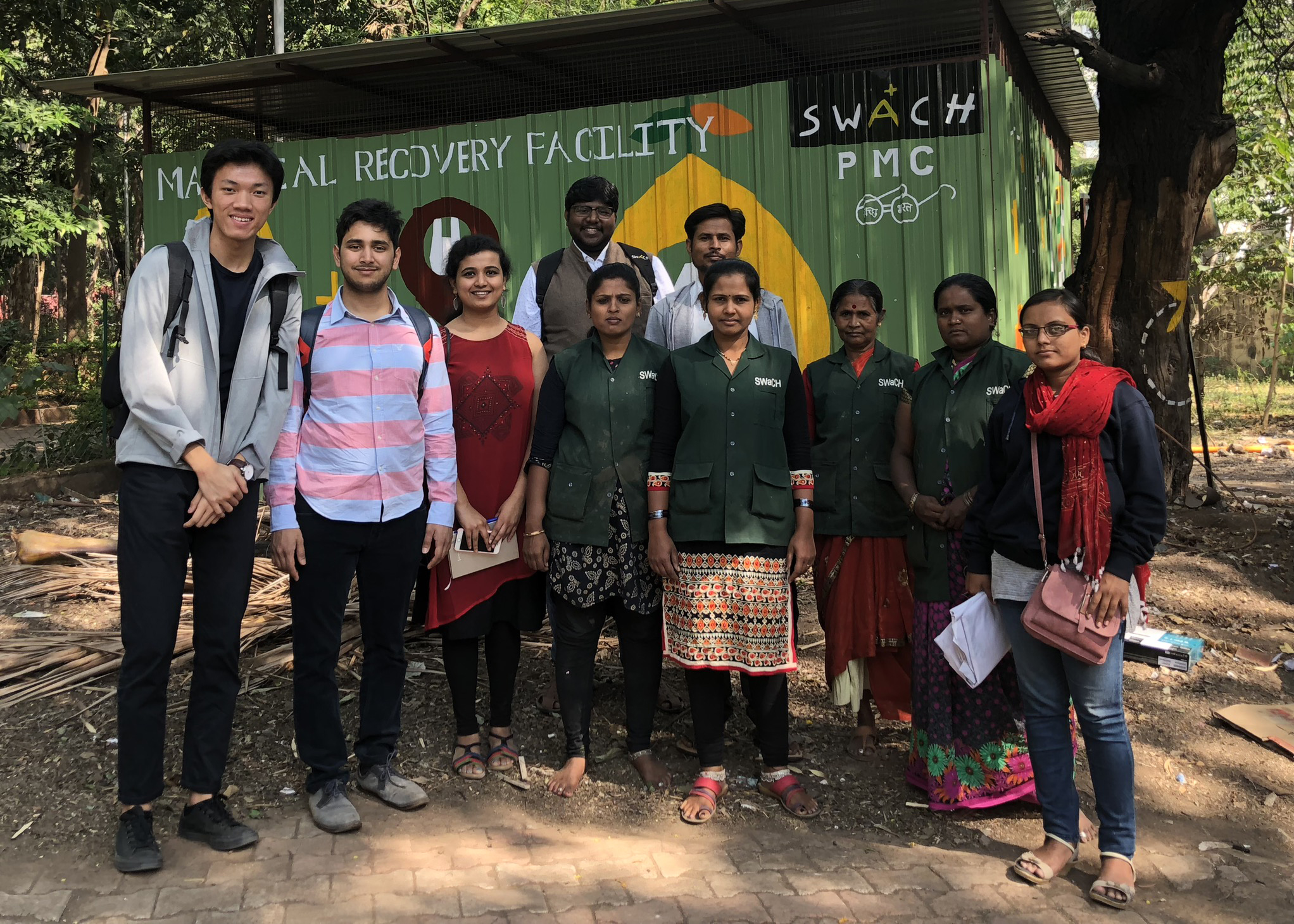 In June, the Indian state of Maharashtra, home to 110 million people and encompassing Mumbai, enacted a ban on single-use plastics, including bags and bottles. A dramatic step, the ban forced a rethink for recent Penn graduates Peter Wang Hjemdahl and Svanika Balasubramanian. Their social enterprise, rePurpose, which won them a Penn President's Engagement Prize earlier this year, had been designed as a digital marketplace that empowers waste workers, known as kabadiwalas, who sort recyclables and sell them for a profit.
Given such abrupt changes, which were compounded by other recent regulatory shocks to the market, many kabadiwalas were forced to rethink their future in this sector.
Along with co-founder Aditya Siroya, who is taking a year off from his studies at Penn to work on rePurpose, Hjemdahl and Balasubramanian saw "an opportunity" in the policy change.
"We didn't see the legal change as an obstacle in any way," Hjemdahl says. "What it did was create a massive wave of consumer and corporate awareness about the waste issue in India."
Pivoting slightly from their original plans, the rePurpose team reaffirmed their original commitment to supporting waste workers and effecting environmental change. Guided by this core mission, the reimagined enterprise aims to create a global movement of conscious consumers who take responsibility for their plastic footprint and mobilize support for innovative waste worker organizations through the rePurpose platform.
The rePurpose team's reshaped effort has two pillars: reBalance, a plastic waste reduction and offset platform through which individual consumers make a payment to "balance out" their plastics footprint—a sum that is matched by like-minded sustainable businesses and then funneled into supporting waste worker organizations; and rePurpose Labs, a middle-school sustainability education curriculum aimed at endowing schoolchildren across India with the right knowledge, attitudes, and skills to become social and environmental changemakers.
"In everything we do, the most important thing for us is to maintain a dedication to our beneficiaries," Hjemdahl says. "For us, that means a longer term vision of creating an inclusive circular economy where waste workers are supported, and individual consumers as well as corporations can engage in a meaningful way."
Sticking to a mission
That dedication began in 2015, when Hjemdahl, together with fellow Wharton students Robert Dowling, Holly Li, and Jake Fischer, began formulating the idea behind rePurpose. It earned them a position as regional finalists for the Hult Prize, a social entrepreneurship competition that prompts students to generate start-up ideas that sustainably address the world's most pressing problems.
Hjemdahl was still developing the concept when he connected with Balasubramanian and Siroya last fall. The three students hit it off, each interested in social entrepreneurship and possessing complementary skills. Together they worked to launch rePurpose, and successfully applied for the President's Engagement Prize.
The Engagement Prizes, offered annually, recognize seniors who develop projects that aim to make a positive and lasting difference locally, nationally, or globally. Awarded by Penn President Amy Gutmann and supported by Judith Bollinger and William G. Bollinger, in honor of Ed Resovsky; Trustee Lee Spelman Doty and George E. Doty, Jr.; and Emeritus Trustee James S. Riepe and Gail Petty Riepe, the prizes provide $100,000 to implement the project, and a $50,000 living stipend for each team member.
Hjemdahl, Balasubramanian, and Siroya started full-time work on rePurpose this summer, joined by intern Aryan Shah, a high school senior at the Dhirubhai Ambani International School. Diving in, they moved to Mumbai and immediately embarked on what they describe as "a crash course in waste management," checking back in with partners and stakeholders to determine how to move forward with their plans.
"In those first three weeks we had about 100 conversations and interviews across the spectrum," says Siroya. "We saw that quite a few kabadiwalas were reluctant to remain in their positions because of the legislative changes, but we also discovered some really effective models of waste-worker cooperatives." Such platforms organize informal waste scavengers working in hazardous landfills, and offer them a formal network and safe and stable livelihoods. "These are inclusive organizations, but they are still underfunded," Hjemdahl says.
Taking a broader view, the rePurpose team recognized that the issue of plastic waste had garnered a global audience, with photos of ocean plastics circulating on social media, and plastic straw bans taking hold across the globe.
To harness this building momentum, they created reBalance, a service that enables environmentally conscious consumers to educate themselves on ways to reduce their consumption of plastic waste, and then offset the remainder with a payment to waste worker organizations, which recycle the corresponding amount of plastic waste ethically and efficiently.
The team is initially working with two waste worker cooperatives, Stree Mukti Sanghatana in Mumbai, and SWaCH in Pune, to roll out reBalance. They're also in talks with local sustainable brands and environmentally focused foundations to match individual donations to amplify their impact. The company's goal is to have 10 of these "coBalancers" on board by next summer. They also have plans to later expand the program to other developing countries with similar waste management models, such as the Philippines and Brazil.
The support will enable cooperatives to not only integrate more waste pickers and sort more plastics, the team notes, but will also allow them to make capacity-increasing capital investments, such as installing solar panels to combat electricity shortages in the facilities, or building sturdy sheds to protect collected materials from monsoon rains.
"It takes around 50,000 rupees to build a shed, that's about $700," says Balasubramanian. "That's the action of just 30 to 40 consumers reBalancing their plastic waste."
Adds Siroya, "That frees up capital for these organizations to enact a whole range of improvements, from building capacity to further improving the lives of the members."
Partnerships are helping rePurpose hit the ground running. In addition to connections with the waste worker organizations, they've also worked closely with Sudhir Naik and Chandrakant Tambe of the Municipal Corporation of Greater Mumbai; Kedar Sohoni of the Green Communities Fund to access buildings generating dry waste; Rahul Nainani of RaddiConnect to reach an established network of kabadiwalas; and the Acorn Foundation's Vinod Shetty to help manage relationships in Dharavi, Mumbai's largest recycling hub.
Empowering students
Hjemdahl, Balasubramanian, and Siroya are using their skill sets, cultivated in part at Penn, in marketing and systems thinking, to gain the attention of consumers and investors and to assist waste workers in meeting their needs. But to take another step in making the impact on the environment even more sustainable, they created rePurpose Labs, to reach the next generation of environmental stewards and innovators.
"In Hindi, there's an overused saying that describes the general attitude of the public, 'Chalta hai,' which translates to 'It's fine, let it be,'" says Siroya. "There can be a feeling of apathy to social problems. We're trying to show students that they can use their skills to solve problems and not just accept them."
This fall, the rePurpose team has been piloting a series of workshops offered to middle school students across Mumbai. So far, they've reached roughly 200 students in five schools, serving both privileged and underserved students. Each workshop is composed of two segments: an interactive seminar to teach students about building a circular economy, and a hands-on session where they use "Makers' Boxes" to transform recycled materials into creative products that can be deployed in their own communities to solve local problems.
"It's been amazing," Siroya says. "All the students have been really engaged, and seeing the light bulb go off for them, realizing, 'I can do something to make my home or community better,' it's a really visible thing you can see and feel. It's been great fun for us as well."
To reach many more students, they are working on a partnership with the Agastya International Foundation, an education nonprofit that works across India to foster hands-on learning. The relationship could enable rePurpose Labs to reach rural and urban students across the country. 
A transformative enterprise
Building on the momentum of the Engagement Prize, the team has gleaned attention from not only corporate partners, but additional mentors as well. A visit back to the U.S. in October allowed them to nurture these connections and seek guidance and ideas to bring back to their operations in Mumbai. In addition to their PEP award mentor, Robert Jensen, now at Yale University, they've sought advice and mentorship from a host of Penn professors, including Wharton's Peter Fader, Jagmohan Raju, Katherine Klein, and Kartik Hosanagar, as well as Kevin Thurm of the Clinton Foundation, and Gaurav Gupta of global firm Dalberg Advisors.
They are also receiving legal and business support thanks to being accepted in the 2018-2019 Ballard Spahr BASE Program, a one-year pro bono program for startups in the Philly area. They received pro bono legal assistance prior to that from Dechert LLP, who helped them create and structure their American entity.
Not all of the learning that has taken place has directly involved their business, however. It's been a journey of personal growth as well, living in the crowded, complicated city of Mumbai.
Whether squeezed on a jam-packed train, learning from waste workers at a landfill, or meeting with corporate leaders in the city's soaring skyscrapers, the experience has inspired a shift in perspective.
"Every day we see something surprising, hear something surprising," says Hjemdahl.
The team is also acutely aware that, despite their education and their skills, they have much to learn.
"We'll never know as much about the waste recycling industry as a kabadiwala who has been doing this for 20, 30, or 40 years," says Siroya. "They are the experts. What we're trying to do is mobilize the resources they need to do their jobs better."
For Balasubramanian, rePurpose represents an unparalleled chance to apply the business acumen she's developed during her time at Penn to create an impact in the country where she was born.
"It's incredibly challenging to mobilize people from so many different walks of life who wouldn't have otherwise crossed paths, but we're committed to building this movement because we believe in its potential," she says. "We're extremely grateful to have this kind of opportunity to use our talents and skill sets in doing something that we care so much about."
Homepage photo: Motivated by a commitment to social entrepreneurship, President's Engagement Prize winners Peter Wang Hjemdahl and Svanika Balasubramanian are using their enterprise, rePurpose, to raise awareness of the crushing environmental burden of plastic waste while lifting up marginalized waste workers. (Photo: Eric Sucar, Office of University Communications)