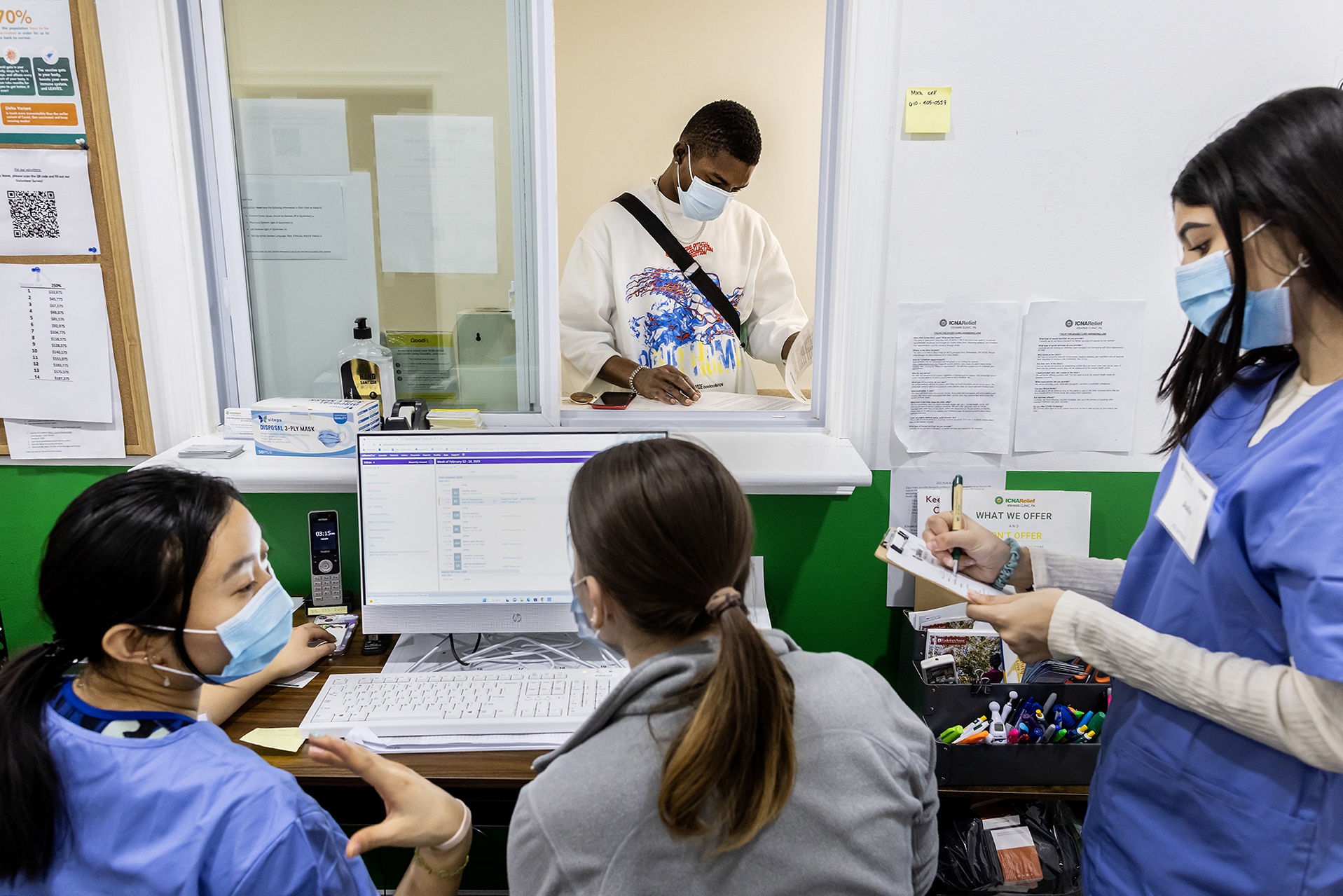 Late on a sunny Tuesday afternoon in February, Milton Odom stopped by the University Lutheran Church at 37th and Chestnut streets for a meal. He left with not only supper, but a COVID-19 booster and a flu vaccine, as well as a connection to a primary care doctor.
Getting the inoculations was "a much smoother" process than previous health care encounters, Odom says, including his previous COVID shots. "If the other three had been that easy I would have come here sooner."
The mobile clinic held at the church was organized by Shelter Health Outreach Program (SHOP), a Penn student group, with support from a Projects for Progress (P4P) award and Penn Medicine. The intent? To nimbly offer convenient health care to those who need it most.
"The team from Penn and Penn Medicine behind the Shelter Health Outreach Program have proven their dedication to improve health care and their commitment to serve the community—with the community—time after time," says President Liz Magill. "The growth SHOP has experienced, thanks to the support of the P4P award, is remarkable. This ambitious work is needed, appreciated, and of keen importance. I am extremely proud of where it is going."
The Projects for Progress initiative was established in 2020 by then-Penn President Amy Gutmann. The prizes, first given in 2021 and managed by the Office of Social Equity & Community, award up to $100,000 to teams committed to making a direct impact to improve equity and inclusion in Philadelphia, working in partnership with existing community organizations.
"The P4P [award] has been really instrumental in allowing us to reach more people in the community," says Joseph Teel, a professor of clinical family medicine and community health in the Perelman School of Medicine, faculty advisor to SHOP, and a member of the inaugural cohort of P4P winners. "The idea around this project is to say, if we are going to do this work in our community, we need to support the work, and have this be part of someone's job and part of our care delivery model. Without the P4P funding, that would not have been possible."
Teel and the rest of the Shelter Health P4P team applied for the award to support health care wholly embedded in the community, with a particular eye toward people experiencing homelessness or other hardships. That care is now rolling out to patients as the team first envisioned, both through mobile clinics at churches and shelters in the city, and through a partnership that places SHOP students and Penn Medicine physicians in the ICNA Relief Social Health and Medical Service (SHAMS) Clinic in West Philadelphia.
"We were really motivated to respond to the needs of our community partners," Teel says. "It was [with them] that we developed this idea of, how can we set up a new access point for care, geographically proximal to feeding sites or shelter sites. The goal was to develop longitudinal relationships with those sites as well as with the people seeking care in those sites."
For the students in SHOP, their volunteer work—expanded with the P4P prize—has allowed them to connect with the people they serve in ever more meaningful ways.
"I've realized that there are a lot of resources that are available for vulnerable populations in Philadelphia, but oftentimes there is a lack of trust between providers and the community, as well as a lack of awareness about the resources available and how to obtain them," says Shobhit Prasad, a third-year undergraduate majoring in biology and sociology in the College of Arts and Sciences at Penn.
Prasad, originally from Baltimore, serves as the SHOP Community Family Care Clinic director, overseeing the club's work at both SHAMS Clinic and the mobile clinics. The P4P support, he says, has underscored both the need and the potential sustainability of this kind of community-based care. It's a model he and others hope will continue long after the funding concludes. "That's only possible because the [award] allowed us to use this as a proof of concept," he says.
Finding a caregiving partner
The goal of the Shelter Health P4P project was to offer community-centered primary care to unhoused and underserved populations. To do so, the team wanted to make that care as easy to access as possible.
SHOP, established in 2019 by undergraduates Evelyn Gotlieb and Megha Bharadwaj, had offered hypertension screening and some care connection, with "a very strong vision of doing that in a way that promoted community and the relationships between the student groups and the individuals they were meeting in the community," says Teel.
When the call for P4P applications was announced, Teel advised a group of four undergraduates—Gotlieb, Junduo Liu, Michael Hagan, and Deepti Tantry—and one medical student—Ian McCurry—in their bid to apply.
"It's been amazing watching the student organization, their tenacity in getting this support," says Teel.
Logistical hurdles delayed the official launch of the project. The clinic where the team had planned to offer care, People's Emergency Center, lost its designation as an emergency shelter site shortly after the P4P was awarded.
Over the course of more than a year, as the original P4P-winning students graduated, Teel and a new group of SHOP students pivoted, eventually identifying SHAMS Clinic as a potential new partner.
"I ran into Dr. Teel about a year and a half ago and he was telling me about this opportunity," says Maaz Baqai, development director and founder of SHAMS Clinic.
SHAMS Clinic had the space and a mission that aligned with that of the P4P team. Meanwhile the Penn team had the drive, the personnel, and the equipment to help support a clinic. Adding to the serendipity, SHAMS Clinic had recently relocated from its original space in Northeast Philadelphia closer to Penn's campus West Philadelphia, in the back of the Imam Muslim Family Center.
After ironing out the details, SHAMS Clinic was able to begin welcoming the SHOP team and Penn Medicine doctors into the clinic last fall.
"It's been an amazing journey," Baqai says. "Not only are providers coming from SHOP, from Penn, but we also have Penn students helping at the front desk, following up with patients, scheduling patients. And I think the biggest area that I've seen in this relationship is the outreach these SHOP students are doing. They're going to shelter homes, they're going to churches, they're bringing in that population that we are seeking to serve."
Connected care
Penn physicians supported by SHOP students and Mira Sadeghi, clinic manager for SHAMS Clinic, now provide completely free health care every Monday afternoon in the clinic, located on Lancaster Avenue. Aside from the actual medical care, which is provided by Teel and a few other Penn Medicine family physicians, Penn undergrads have been immersed in nearly every stage of the process, including spreading the word about the clinic at nearby shelters.
"Through the SHOP partnership we're able to treat patients who are currently unhoused," Sadeghi says. "It's a great way to put a face to a name and build trust within those communities, and it is also an invaluable resource for people who are unhoused or experiencing other hardships in life, because free health care doesn't usually fall at your feet."
During one of the free clinics at SHAMS, undergraduates Sophie Gu, a second-year from Boston majoring in bioengineering, and Julia Badolato, a third-year nursing student from Myerstown, Pennsylvania, staffed the front desk. In a small staff room at the back of the clinic, third-year neuroscience major Julie Elfishawy and fourth-year physics and biochemistry and biophysics major Sam Donovan got acquainted with the clinic's electronic medical chart system as they prepared for the first appointments.
Participating in SHOP is often a prelude to a health care career, but it also gives students a chance to get to know people living in the Philadelphia neighborhoods right near campus.
"Being far from Philly, I knew I wanted to engage with the community," says Elfishawy, who is from Shelby Township, Michigan. "I have ambitions in health care, but this has given me more than I expected in terms of community engagement."
Elfishawy and her peers act as receptionists, medical assistants, and care navigators for the clinic, greeting patients, confirming appointments, taking vitals, shadowing doctors, and following up with referrals or other needs after patients leave.
Kiston Farquharson, the first patient of the day, learned about the SHAMS Clinic from his husband, and he was happy to find a place near where he lives. "It's my second time at the clinic," he says. "I think this will be my go-to place."
That's exactly what the SHOP team and the SHAMS Clinic hope for.
"Our partnership with SHOP has allowed us to open a second day of the week, a huge expansion," says Sadeghi. "Their team of providers comes in very regularly, so they're well established with our patients as well, and that continuity of care has been really, really impactful for our patients."
A vision for a sustainable future
The P4P team has also recently expanded to include a mobile van clinic to serve sites where the demand for care doesn't require a constant or even weekly clinical presence. One such point of connection is University Lutheran, where the church's Feast Incarnate ministry provides meals every Tuesday evening.
"The mobile clinics we're setting up are really meant to eliminate that barrier to care that comes because of transportation," says Prasad. "By coming to shelters and meal sites during mealtimes, we're able to meet them at a place where it's most convenient."
The Shelter Health P4P team's mobile clinic has also visited St. Johns Place, Chosen 300 Spring Garden, Chosen 300 Lancaster, and other sites.
On the February day the SHOP team was at University Lutheran, Isabella Mirro, a fourth-year bioengineering major from Great Neck, New York, and co-president of SHOP, greeted people walking into the church. "Are you interested in getting a blood pressure screening or a COVID vaccine?"
Those who took her up on it were engaged in warm conversation, asking about any other health care needs, and if they chose, were directed into the sanctuary, where Kent Bream, an associate professor of clinical family medicine and community health, and students, including SHOP co-president Thomas Statchen, discussed their needs.
SHOP has engaged at some of these sites since its founding, primarily offering hypertension screening, but with the P4P, "now we can offer expanded medical care," says Statchen, a fourth-year student from Stonington, Connecticut, majoring in bioengineering and urban studies.
Over the course of a couple of hours, Bream delivered vaccines, assessed a broken hand, and advised a patient with high blood pressure about steps to take to address it with both medication and lifestyle changes. Meanwhile SHOP students engaged Feast Incarnate guests, building relationships that they hope will last.
Even as the on ramp the P4P funding provided comes to an end, investment from community-based care programs within Penn Medicine will continue, through Teel's Department of Family Medicine and Community Health as well as the Center for Public Health.
"We're thinking now of what happens after the [award]," says Teel. Among their goals: to expand the work at SHAMS to include pediatric care and perhaps women's health care and to sustain the SHOP mobile van clinics. "And the health system is helping to make an investment in our Division of Community Health, to continue our vaccine outreach and shore up care in community-based sites."
Perhaps the most enduring impact of the P4P Shelter Health, however, will come in the form of formative experiences on the part of those involved—patients and participants alike.
"Something I'm passionate about is social change," says Prasad, "and one thing I hope our SHOP volunteers take away is that hopefully, they'll be able to become agents of social change themselves, wherever they go after Penn."